September 4, 2008
6:29 PM
|
Edit Post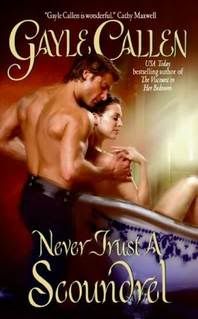 Back Cover:
Miss Grace Banbury was in shock. Her mother put her up as a prize in a high stakes card game, and now the gentleman who won is ready to claim her! But Grace has other plans. She just needs the dastardly rogue to go along with it...

A notorious rake from a scandalous family, Daniel Throckmorten has no use for blushing virgins. Yet there's no denying the attraction for the beauty standing before him, proposing an enticing wager: He will use all his charm and wit to seduce her into his bed...and she only has to resist. If she succeeds, she wins enough funds to secure her own future. If he wins...she'll be his. Daniel has never been so tempted--and has no intention of losing...
Grace Banbury's mother has a gambling habit but when she gambles away her both family homes, Grace sets out to London to salvage what she can for her brother and herself. The man who won the stakes in the card game with her mother is Daniel Trockmorten, cousin to the Duke of Madingley.
When they meet she finds out her mother not only gambled the houses away but also the right to court and marry her own daughter. But Daniel isn't looking for a wife and Grace isn't looking for a husband. He wants a mistress and she wants back what her mother foolishly gambled away: their homes and their father's precious violin. They decide to make a wager for themselves.
If Daniel can seduce Grace in two weeks, she will willingly become his mistress, if he doesn't he will hand over the violin and the homes back to Grace.
This wager is the start of delightful game that neither wants to lose. But soon it's not about winning any longer and they are fascinated by each other.

Grace is feisty, independent and smart, but she does have a somewhat tainted past. Her attraction to handsome, dangerous men almost ruined her so she is determined to resist Daniel. She will not mistake lust for love again. She feels responsible for her mother's faults and her brother's future and is willing to sacrifice her own reputation for them.

Daniel is seductive, roguish and the epitome of a rake. He underestimates Grace at first, thinking he can easily seduce her
There is more to Daniel than his roguish charm and rakish behavior. He uses his reputation for scandal to mask his loneliness and the pain rumors about his parents causes him. He tries to avert the attention from his mother to him with his scandalous conduct.

The dialogues between Daniel and Grace are sparkling and vivid. They challenge each other both sensually and intellectually and they soon fall for each other even when they keep denying it.

The plot is mainly the wager between Daniel and Grace. There is a very small but predictable secondary storyline but that doesn't take away the attention from the main couple and their seductive game.

The romance is build up gradually with love scenes that slowly work up to a sensual high point. The way to that point is written beautifully but the completion was a bit lacking. The scene where Grace finally gives in seemed rushed and brushed away. This was a bit disappointing after the nice set-up towards it.

As in the other Gayle Callen books I read, the influence of parental behavior plays a big role in the book. Both Daniel and Grace's parents' actions determine their respective courses in life. I would have liked to see Grace's mother appear as a secondary character to explain herself but she didn't.
The secondary characters were mostly family members of both Grace and Daniel and they didn't have a very big part in the book except for Grace's brother, Edward.

I must say I liked this first book of Gayle Callen's new Sons of Scandal Trilogy better than the first book of the Sisters of Willow Pond trilogy. It was a nice, easy to read and enjoyable story. Callen's writing style is pleasant and fast-paced. I did miss a bit of intensity but the main couple's dialogues and their chemistry made up for that.
I know the next book in this trilogy is about Daniel's cousin Chris, the Duke. I'm curious as to who will be his heroine and what their story will be.

Nice to meet you!
Pearl

Netherlands
39, married to my real life romance hero, addicted to TV shows, reading romance novels and Twitter. I'm a chronic (e)book hoarder and my absolute favorite genres within romance fiction are contemporary romance and romantic suspense, but I don't shy away from historical, paranormal or erotic romance either. Even the occasional (urban) fantasy romance, futuristic and sci fi romance may make it to my Mount TBR. This is my corner of the world wide web where I let you know what books I'm hoarding, reading and reviewing.
View my complete profile

My Book-Providers
Reviews by Rating

Reviews by Genre
Reviews by Type

Reviews by Publisher

Fellow Bloggers


GR Reading Challenge
Pearl
has read 10 books toward her goal of 50 books.

On My TBR Shelf
Unforgivable - Laura Griffin
Snapped - Laura Griffin
Darkness at Dawn - Elizabeth Jennings
Sizzle and Burn - Alexis Grant
No Mercy - Lori Armstrong
Animal Magnetism - Jill Shalvis
Crazy for Love - Victoria Dahl
Kink - Saskia Walker/Sasha White
So Sensitive - Anne Rainey
Dark Taste of Rapture - Gena Showalter
The Darkest Secret - Gena Showalter
Vampire in Atlantis - Alyssa Day
Vampire Dragon - Annette Blair
Captive Spirit - Anna Windsor
Chosen by Blood - Virna DePaul
Rebel - Zoe Archer
Stranger - Zoe Archer
A Taste of Desire - Beverley Kendall
Mistress by Midnight - Maggie Robinson
To Desire a Devil - Elizabeth Hoyt
To Tame a Dangerous Lord - Nicole Jordan

Digital TBR Next
Driven - Jayne Rylon (reread)
Shifting Gears - Jayne Rylon
Beg Me - Shiloh Walker
Tempt Me - Shiloh Walker
Jazz Baby - Lorelie Brown
Playboy Prankster - Pamela Britton
Just Like That - Erin Nicholas
Sweet Inspiration - Penny Watson
Breathe - Donna Alward
My Gigolo - Molly Burkhart
Scent of Persuason - Nikki Duncan

Blog Archive