March 31, 2008
10:11 PM
|
Edit Post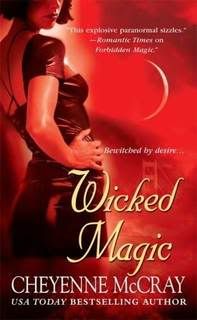 A DARK SECRET
Rhiannon Castle is a D'Anu witch whose Coven sisters know nothing of the Shadows that lurk within her. Rhiannon can't reveal the truth to anyone-least of all Keir, a rugged soldier who walks into Rhiannon's life and awakens her to a reckless desire.

A SEARING PASSION
Keir's Tuatha D'Danann brethren are the only real family he has ever known. He trusts no one-until he is sent to San Francisco and meets Rhiannon, the one woman with enough fire to tame him. Every seductive encounter convinces Keir that she belongs with him-even though Rhiannon knows her powers could put him in peril.

A SHARED DESTINY
A new threat rises from the depths of Underworld. When a demon goddess unleashes her evil upon our world, Rhiannon's secret could prove the ultimate weapon in this epic battle-or forge a pathway to destruction for the only man she's ever loved.
Her parents abandoned Rhiannon Castle when she was a very small child and has only her fellow witches of the Coven to count as her family. She hides a dark secret knowing they will abandon her as her parents did, if they find out her secret. Keir, a bastard son of a D'Danann Fae has learned from early age that he can only count on himself and his fellow D'Danann warriors.
These two lonely and abandoned souls find each other and the connection is instant but before they can explore their feelings and allow the other one to enter their heart they must fight a battle to the death together with their friends and allies against an evil goddess and her army of demons trying to destroy both their worlds.

Rhiannon is Silver's (heroine of book 1) best friend and a witch with a hidden power that she tries to hide and keep hidden from her Coven sisters because she thinks it's a dark and evil power. That is what she was told as a child when she discovered this power. This and her abandonment-issues make her a character that only relies on herself. She is afraid to love because she has lost everyone she has ever dared to love. Like the heroines of the previous books Rhiannon is a strong, brave, determined and powerful gray witch. She is a stubborn loner with a mind of her own and very outspoken. Then she meets Keir, a man who goes after what he wants the way he trains and fights: head on.
Keir is fierce, arrogant and commanding. He too has abandonment issues. He is Hawk's (hero of book 1) the illegitimate half-brother. He grew up being told by his father and stepmother that his mother didn't want him. Their treatment of him was awful and because of this he has learned to protect his heart and his feelings, masking them with harshness and fierceness.
He is used to having his way with women. They can't resist him. But Rhiannon is different. She doesn't fall for him on sight and fights him on every occasion. Despite, or maybe because of her feistiness he comes to care about her and discovers he has a gentle side and is willing to open his heart to the vulnerability of loving another person.

Rhiannon and Keir have very much in common. They are kindred spirits though their first meeting is sizzling with hostility, especially on Rhiannon's side. Keir being the ultimate alpha caveman receives a bout of spell fire on his groin by Rhiannon the moment he hits on her. This sets the stage for a fast-paced, mind-blowing, magic- and action-filled romance.

The cast of secondary characters is a mix of the previous heroines and heroes, the witches of the Coven, the D'Danann warriors, the human Paranormal Special Forces-officers and a whole bunch of magical beings from the Otherworld (Faeries, Elves, Mystwalkers) and the Underworld (the evil goddess Ceithlenn and her army of Formorii demons).
The role of Darkwolf, the Balorite warlock and Junga, the Formorii leader is pushed to the background as Ceithlenn forms the main evil character in this book. Still at the end McCray treated me to a surprising twist concerning Darkwolf. One I truly didn't see coming and it offers interesting prospects for the books to come.

With each book Cheyenne McCray gives me more background, depth and insight in this magical world she's created. Every book has it's own feel and it's own twists and turns in the ongoing plot. Each main couple adds their own unique voice to the series with their love story and their struggles with their feelings, each other and the battle against the evil threatening them and their loved ones.
With each book the battle gets more intense. Answers to earlier questions raise more questions. Pieces of the puzzle fall into place little by little but more intriguing pieces are added at the same time, leaving me eager to read the next book to see how everything will play out.
In this book the evil grows stronger. The battle between good and evil continues and new alliances need to be formed. And in the middle of it all Rhiannon and Keir have to work through their pasts and resentments in able to have a future together.

This series is becoming one of my favorites more and more with each book I read. In every book there's a nice balance between the main couple's love story, the ongoing plot with the battle against evil in different forms and graduations and the erotic scenes. And I must say this balance was the best in Wicked Magic.
Quote:
He gave her one of his supremely arrogant looks that made her want to slap him. "Your room," he commanded in that deep brogue. "Now."
"When witches can fly broomsticks, or Underworld becomes a theme park attraction, whichever comes last." (Rhiannon)

Nice to meet you!
Pearl

Netherlands
39, married to my real life romance hero, addicted to TV shows, reading romance novels and Twitter. I'm a chronic (e)book hoarder and my absolute favorite genres within romance fiction are contemporary romance and romantic suspense, but I don't shy away from historical, paranormal or erotic romance either. Even the occasional (urban) fantasy romance, futuristic and sci fi romance may make it to my Mount TBR. This is my corner of the world wide web where I let you know what books I'm hoarding, reading and reviewing.
View my complete profile

My Book-Providers
Reviews by Rating

Reviews by Genre
Reviews by Type

Reviews by Publisher

Fellow Bloggers


GR Reading Challenge
Pearl
has read 10 books toward her goal of 50 books.

On My TBR Shelf
Unforgivable - Laura Griffin
Snapped - Laura Griffin
Darkness at Dawn - Elizabeth Jennings
Sizzle and Burn - Alexis Grant
No Mercy - Lori Armstrong
Animal Magnetism - Jill Shalvis
Crazy for Love - Victoria Dahl
Kink - Saskia Walker/Sasha White
So Sensitive - Anne Rainey
Dark Taste of Rapture - Gena Showalter
The Darkest Secret - Gena Showalter
Vampire in Atlantis - Alyssa Day
Vampire Dragon - Annette Blair
Captive Spirit - Anna Windsor
Chosen by Blood - Virna DePaul
Rebel - Zoe Archer
Stranger - Zoe Archer
A Taste of Desire - Beverley Kendall
Mistress by Midnight - Maggie Robinson
To Desire a Devil - Elizabeth Hoyt
To Tame a Dangerous Lord - Nicole Jordan

Digital TBR Next
Driven - Jayne Rylon (reread)
Shifting Gears - Jayne Rylon
Beg Me - Shiloh Walker
Tempt Me - Shiloh Walker
Jazz Baby - Lorelie Brown
Playboy Prankster - Pamela Britton
Just Like That - Erin Nicholas
Sweet Inspiration - Penny Watson
Breathe - Donna Alward
My Gigolo - Molly Burkhart
Scent of Persuason - Nikki Duncan

Blog Archive