March 2, 2008
3:48 PM
|
Edit Post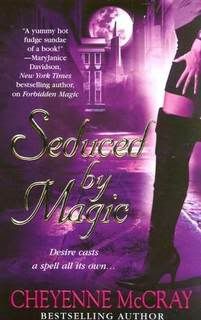 DESIRE
Copper Ashcroft is an accomplished D'Anu witch, but the magic she wields is a potent force-strong enough to hurl her into a mysterious Otherworld when a spell backfires. Before Copper can escape, another being is pulled into her realm-Tiernan, a powerfully virile Tuatha D'Danann warrior. Blond, blue-eyed, and shamelessly seductive, Tiernan could be Copper's savior and his touch sets her body on fire.

DUTY
Like others of his kind, Tiernan stands alongside the D'Anu witches to battle the demons of the Underworld. Obligation to his cause and his people cautions against any entanglement with Copper, yet each second spent with this beautiful, uninhibited woman stirs an insatiable hunger. Desire explodes into carnal bliss, but the visions that haunt Copper's dreams are growing stronger, and they foretell a terrifying evil waiting to be unleashed.

DESTINY
Saving the city will take more than brute strength, more than witchcraft. Only together can Copper and Tiernan find a way to overcome the dark forces-and seize a passion that has bewitched them both.
The book starts with Copper Ashcroft (Silver Ashcroft. the heroine from book 1 is her sister) ending up confined in a bubble in Otherworld after trying to send the evil warlock Darkwolf to Otherworld.
When she tries to spell her way out of Otherworld she spells Tiernan into her bubble, a Tuatha D'Danann Enforcer who fought the Balorites and Fomorii alongside Silver and Hawk in book 1. They are instantly attracted to each other but before they can be together they have a long way to go and many obstacles to overcome.

Copper is a vivacious and willful witch who has more control over her gray witchcraft than her sister Silver. She is brave and opinionated. She knows what she wants and she goes for it. But she also has a big heart and will do anything to keep her loved ones save. She tries to be tough but she does revel in Tiernan's affections and he represents everything she wants in a man.
Tiernan has always lived torn between two worlds: being a D'Danann warrior and also being a member of the D'Danann court (the highest nobility of Otherworld). He is dutiful and honorable and being the heir to his House, he has obligations to his family. Initially he seems a bit arrogant but he's is very tender and caring towards Copper.

Meeting Copper makes Tiernan want to forget his obligations in favor of passion and ultimately love. In the end he has to make a difficult choice between his feelings for and future with Copper and his strong feelings of duty, responsibility and obligation to his family.
The attraction between Copper and Tiernan is explosive and has a sort of clashing character as both of them have a tendency to dominate. They both give as well as they get. They are characters you both like immediately and you understand their motivations and choices.

There is a lot going on in this book but it's brought in such a way it's never chaotic or too much. Even though the plot is much the same as in the first book still this one has a unique and different feel to it. Plot, love scenes and characters are perfectly blended together and give this book it's own vibe that was able to captivate me. With much ease McCray makes magic and paranormal elements understandable and logical. What I absolutely liked about the book is that every action, however small it might be or seem has consequences for the big picture and the main story but you only discover that when everything is said and done. Even though you already know the main plot there are so many unpredictable and surprising elements and twists and that made it a more than agreeable read for me.

The battle of the witches and the Fae warriors against evil continues with a vengeance and an evil far worse than the warlocks and the demons makes itself known and this doesn't bode well for the witches and the warriors.
Many characters from book return and play a big part in the action as we see Silver, Hawk, Darkwolf and Junga locked in battle once again, this time joined by Copper and Tiernan.
New and crucial characters are introduced, both friendly and evil. It's inevitable that they will have bigger roles in future books.
Darkwolf remains an intriguing bad guy. His fascination for Silver and her fear of him continues right where we left it in book 1 and the feeling that there is much more to him than meets the eye grew stronger reading this book.

With the love scenes I had the same feeling as in book 1. They are powerful, explicit and graphic but they form a good addition to the story and a nice alternation with the action-filled plot. If you like your love scenes less erotic or explicit I do not recommend this series. Luckily I like my love scenes hot and steamy so I can this was right up my alley.
Combining urban, paranormal fantasy with erotic romance seems to be a combination that works perfectly in this series. The contrast between the magic and the raw and elemental passion was well written, complementing to the feel of the story. It kept me reading way into the night not wanting to put it down.

In this second installment of the Magic Series the battle between good and evil continues in the world of the D'Danann warriors, the D'Anu witches, the Balorite warlocks and the Fomorii demons. Again McCray demonstrates her thorough knowledge of witchcraft and magic and she combines it with a fast-paced, action-filled plot and erotic scenes that singe the pages.
With the first book in this series Cheyenne McCray captured my attention and with the second she has managed to entice me further and I crave the next installment to see if she'll be able to crack it up another notch.
Quote:
He wanted to be gentle with her, but he could not. Just kissing her slammed him with more need and desire than he thought could ever be quenched.

Nice to meet you!
Pearl

Netherlands
39, married to my real life romance hero, addicted to TV shows, reading romance novels and Twitter. I'm a chronic (e)book hoarder and my absolute favorite genres within romance fiction are contemporary romance and romantic suspense, but I don't shy away from historical, paranormal or erotic romance either. Even the occasional (urban) fantasy romance, futuristic and sci fi romance may make it to my Mount TBR. This is my corner of the world wide web where I let you know what books I'm hoarding, reading and reviewing.
View my complete profile

My Book-Providers
Reviews by Rating

Reviews by Genre
Reviews by Type

Reviews by Publisher

Fellow Bloggers


GR Reading Challenge
Pearl
has read 10 books toward her goal of 50 books.

On My TBR Shelf
Unforgivable - Laura Griffin
Snapped - Laura Griffin
Darkness at Dawn - Elizabeth Jennings
Sizzle and Burn - Alexis Grant
No Mercy - Lori Armstrong
Animal Magnetism - Jill Shalvis
Crazy for Love - Victoria Dahl
Kink - Saskia Walker/Sasha White
So Sensitive - Anne Rainey
Dark Taste of Rapture - Gena Showalter
The Darkest Secret - Gena Showalter
Vampire in Atlantis - Alyssa Day
Vampire Dragon - Annette Blair
Captive Spirit - Anna Windsor
Chosen by Blood - Virna DePaul
Rebel - Zoe Archer
Stranger - Zoe Archer
A Taste of Desire - Beverley Kendall
Mistress by Midnight - Maggie Robinson
To Desire a Devil - Elizabeth Hoyt
To Tame a Dangerous Lord - Nicole Jordan

Digital TBR Next
Driven - Jayne Rylon (reread)
Shifting Gears - Jayne Rylon
Beg Me - Shiloh Walker
Tempt Me - Shiloh Walker
Jazz Baby - Lorelie Brown
Playboy Prankster - Pamela Britton
Just Like That - Erin Nicholas
Sweet Inspiration - Penny Watson
Breathe - Donna Alward
My Gigolo - Molly Burkhart
Scent of Persuason - Nikki Duncan

Blog Archive