March 25, 2008
7:23 PM
|
Edit Post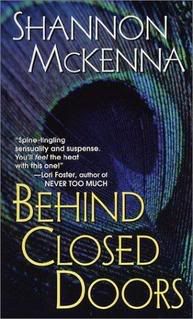 EVERY MOVE YOU MAKE . . .
Surveillance expert Seth Mackey knows everything about the women that his millionaire boss toys with--and tosses aside. Raine Cameron is something different. Night after night, Seth watches her on a dozen different video screens. Her vulnerable beauty haunts him and her fresh innocence stirs a white-hot passion that he can barely control. Raine is pure temptation, but Seth has something more important to take care of first. He's convinced that his boss, Victor Lazar, is responsible for his half-brother's murder. He cannot put his secret investigation at risk, but he can't stop wanting her--craving her--and soon he knows he can't let Victor have her. For Raine may be Victor's next victim . . .

EVERY BREATH YOU TAKE
Raine knows she's being watched--but no one can see the secrets in her heart. She has reasons of her own to seek revenge on Victor Lazar, and she will, despite her fear--and the distracting presence of Seth Mackey. Though Raine has little experience with men, Seth's fiercely masculine good looks and animal sensuality stir her most erotic fantasies when she's alone . . .and lead her to a bold plan. Offering her body to him, surrending totally to his ruthless desire might well push her beyond all emotional limits--and beyond fear itself.
Once again a, for me, new author has gripped me in her claws and she's not going to let go anytime soon.
I've embarked on the Shannon McKenna tour with the first book of the connected books on the McCloud brothers (BEHIND CLOSED DOORS, STANDING IN THE SHADOWS, OUT OF CONTROL & EDGE OF MIDNIGHT). Although Seth Mackay isn't a McCloud, his book is part of the series because he works closely with the McClouds to bring down the criminal responsible for Connor McCloud severe injury and the death of Seth's brother. And it is in his book that we get to meet al the McCloud brothers and get a glimpse of what's to come.

Seth Mackey is cold and detached since the murder of his younger brother. His only goal is to destroy the three men responsible for the murder and he nothing will deter him from his goal. At least that's what he thinks until spying on one of the culprits puts Raine Cameron in his path.
Lorraine (Raine) Cameron is after the same men Seth is seeking revenge against. She lost her father to them and is determined bring them to justice. Even if she has to lie and cheat to get close to them.
Together they set out to execute their revenge and they find something that more valuable along the way: love

Shannon McKenna writes amazing characters. Lifelike and unembellished. She shows their strengths but also their weaknesses and flaws. The complete and elaborate picture of the main couple provided lots of background information on them both and the people surrounding them. Another thing she did excellently was giving several characters' points of view. I hadn't even noticed that not much authors do this, J.R. Ward is one that I can come up top of mind right now.
These multiple points of view give the book depth and substance.

Raine was a heroine who at first seems to be in way over her head but she shows some real fiery spirit, giving Seth a run for his money and not accepting his dominating and rude behavior all the time and it takes a strong woman to tame Seth Mackey. The battle of wills between them gives you insight in their characters and their development.

Seth made me shiver and I mean good and breathless shivers. He has the alpha attitude down to a tooth. His controlled savage passion waiting to surface when unleashed by the right woman. Raine is that woman. She slowly penetrates his cold shell and makes him feel vulnerable. Seth is ruthless, both in his quest for vengeance as in his passion and he may come across as rude or a jerk sometimes in the beginning but he has his heart in the right place. His upbringing and losing everyone he has ever dared to love makes him lash out at people, even at Raine sometimes but he does care deeply for her and would do anything to keep her save.

The secondary characters are intriguing to say the least. McKenna even manages to give one of the alleged bad guys a human side and really make it believable. Connor McLoud and his brother give the book that little bit extra and they also provide the bantering I love in my books...Connor McLoud is a very interesting secondary character and I'm looking forward to his story.

And then there is the plot. Like the characters the plot is excellently written. The reader has more knowledge/information than the characters and normally this endangers the unpredictable twists but McKenna manages to keep the suspense at an amazing high.
It's quite an erotic book but it wasn't the eroticism that kept me enthralled. It was the plot and the characterization. Seeing Seth push aside his coldness and distrust. Seeing Raine develop from a shy, timid woman into a strong one who knows what she wants and goes for it. Those were the things that got to me and made the book a keeper in my eyes. The love scenes are abundant but not annoyingly so. They weren't written to fill the pages but they underlined the development of the characters. Taking the characters' newfound insight in themselves to the bedroom also. They were very intense and sometimes Seth would really touch the boundaries of dominance and manipulation but again well done by McKenna because Raine would pull the brake and put Seth in his place.

McKenna kept me glued to the pages with Seth, Raine, a plot that was original and surprising in all its aspects and she topped it of with some scorching love scenes.
Quote:
She wanted to writhe against him, crawl inside his skin, touch everything, taste everything. He was so strong, bursting with fierce energy, and she ached with hunger for it.

Nice to meet you!
Pearl

Netherlands
39, married to my real life romance hero, addicted to TV shows, reading romance novels and Twitter. I'm a chronic (e)book hoarder and my absolute favorite genres within romance fiction are contemporary romance and romantic suspense, but I don't shy away from historical, paranormal or erotic romance either. Even the occasional (urban) fantasy romance, futuristic and sci fi romance may make it to my Mount TBR. This is my corner of the world wide web where I let you know what books I'm hoarding, reading and reviewing.
View my complete profile

My Book-Providers
Reviews by Rating

Reviews by Genre
Reviews by Type

Reviews by Publisher

Fellow Bloggers


GR Reading Challenge
Pearl
has read 10 books toward her goal of 50 books.

On My TBR Shelf
Unforgivable - Laura Griffin
Snapped - Laura Griffin
Darkness at Dawn - Elizabeth Jennings
Sizzle and Burn - Alexis Grant
No Mercy - Lori Armstrong
Animal Magnetism - Jill Shalvis
Crazy for Love - Victoria Dahl
Kink - Saskia Walker/Sasha White
So Sensitive - Anne Rainey
Dark Taste of Rapture - Gena Showalter
The Darkest Secret - Gena Showalter
Vampire in Atlantis - Alyssa Day
Vampire Dragon - Annette Blair
Captive Spirit - Anna Windsor
Chosen by Blood - Virna DePaul
Rebel - Zoe Archer
Stranger - Zoe Archer
A Taste of Desire - Beverley Kendall
Mistress by Midnight - Maggie Robinson
To Desire a Devil - Elizabeth Hoyt
To Tame a Dangerous Lord - Nicole Jordan

Digital TBR Next
Driven - Jayne Rylon (reread)
Shifting Gears - Jayne Rylon
Beg Me - Shiloh Walker
Tempt Me - Shiloh Walker
Jazz Baby - Lorelie Brown
Playboy Prankster - Pamela Britton
Just Like That - Erin Nicholas
Sweet Inspiration - Penny Watson
Breathe - Donna Alward
My Gigolo - Molly Burkhart
Scent of Persuason - Nikki Duncan

Blog Archive