March 16, 2008
4:31 PM
|
Edit Post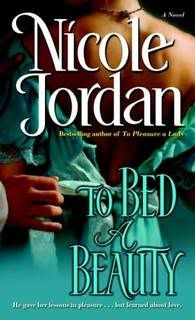 Clever and charming Roslyn Loring, the middle child of three beautiful, independent sisters, knows that true happiness lies in a marriage of the heart – and she has hers set on a love-match with a neighboring earl. Yet her sharp mind has observed an undeniable truth: Gentlemen lavish passion on their mistresses, not their wives. Roslyn realizes that to win her future husband's devotion, she must learn the secrets of kindling a gentleman's ardor. Fortunately, she finds a willing tutor in Drew Moncrief, the Duke of Arden, a notorious rake whispered to be London's most magnificent lover. If his searing kisses are any indication, the duke is the ideal man to teach Roslyn how to be the perfect mistress.

Drew begins schooling Roslyn while coolly guarding his heart. But as best-laid plans are thwarted by unexpected events – including a night of unforgettable passion – Roslyn and her wickedly arousing tutor discover how easily lessons in pleasure can become lessons in love....
When Drew Moncrief, Duke of Arden, agrees to teach the Roslyn Loring how to ensnare the man she wants to marry, he doesn't expect to discover he wants her for himself. After her parents' disastrous marriage Roslyn has vowed to marry only for love and never for convenience. She convinces Drew to teach her how to make the man she wants, fall in love with her but she never knew these lessons would become so enticing that she forgets her intended goal.

What follows is a lovely dance of seduction under the disguise of tutorship. A dance that ends with a love that is so powerful it turns both their worlds upside down.

Drew and Roslyn have totally opposite views of love and marriage. Roslyn believes one should marry out of love and although she is very smart and pragmatic, she also dreams of love, marriage and children despite the poor example her parents were for her. Drew on the other hand doesn't believe in love, being brought up by cold and distant parents who showed him no affection whatsoever, he has no way to know and acknowledge the feeling and he grows into a cynical, dispassionate man who's only goal is to avoid the marry hungry women. But neither Drew nor Roslyn is able to deny the powerful feelings they have towards each other. Drew is both intrigued and annoyed by Roslyn's dismissive behavior towards him. Roslyn is looking for true love and doesn't expect to find this with Drew who claims that true love does not exist.

The second installment of the Courtship Wars trilogy almost reached the intensity level I'm used to from Nicole Jordan.
Although the book began rather tame and sedated, the second half was steamy and intensely emotional. Something I always appreciate in my books.
The build-up of the sensual tension between Drew and Roslyn is delightfully done. Slow and tantalizing, leaving me eager to see the next move in the sensual dance.
In this book the focus is truly on hero and heroine and less on the surrounding characters and situations. I got to know Drew and Roslyn, their fears and dreams and their struggle to accept their feelings for each other. They both are examples of the fact that not everyone is what their outward appearance may lead you to believe.
Again the love scenes were steamy and original, the Nicole Jordan trademark but they also were complementing the story and feelings of the characters.

Still not reaching the level of the Paradise or Notorious Series it is still a book that can keep you entertained with wonderful and well-rounded characters and great sensuality
Quote:
This was what love did to a man...made him a witless, drooling hound panting at the feet of his loved one in his eagerness to win her smile.

Nice to meet you!
Pearl

Netherlands
39, married to my real life romance hero, addicted to TV shows, reading romance novels and Twitter. I'm a chronic (e)book hoarder and my absolute favorite genres within romance fiction are contemporary romance and romantic suspense, but I don't shy away from historical, paranormal or erotic romance either. Even the occasional (urban) fantasy romance, futuristic and sci fi romance may make it to my Mount TBR. This is my corner of the world wide web where I let you know what books I'm hoarding, reading and reviewing.
View my complete profile

My Book-Providers
Reviews by Rating

Reviews by Genre
Reviews by Type

Reviews by Publisher

Fellow Bloggers


GR Reading Challenge
Pearl
has read 10 books toward her goal of 50 books.

On My TBR Shelf
Unforgivable - Laura Griffin
Snapped - Laura Griffin
Darkness at Dawn - Elizabeth Jennings
Sizzle and Burn - Alexis Grant
No Mercy - Lori Armstrong
Animal Magnetism - Jill Shalvis
Crazy for Love - Victoria Dahl
Kink - Saskia Walker/Sasha White
So Sensitive - Anne Rainey
Dark Taste of Rapture - Gena Showalter
The Darkest Secret - Gena Showalter
Vampire in Atlantis - Alyssa Day
Vampire Dragon - Annette Blair
Captive Spirit - Anna Windsor
Chosen by Blood - Virna DePaul
Rebel - Zoe Archer
Stranger - Zoe Archer
A Taste of Desire - Beverley Kendall
Mistress by Midnight - Maggie Robinson
To Desire a Devil - Elizabeth Hoyt
To Tame a Dangerous Lord - Nicole Jordan

Digital TBR Next
Driven - Jayne Rylon (reread)
Shifting Gears - Jayne Rylon
Beg Me - Shiloh Walker
Tempt Me - Shiloh Walker
Jazz Baby - Lorelie Brown
Playboy Prankster - Pamela Britton
Just Like That - Erin Nicholas
Sweet Inspiration - Penny Watson
Breathe - Donna Alward
My Gigolo - Molly Burkhart
Scent of Persuason - Nikki Duncan

Blog Archive