March 21, 2008
12:21 PM
|
Edit Post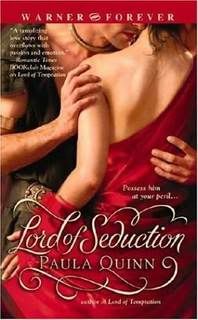 POSSESS HIM AT YOUR PERIL...

Reluctant Bride
By the king's order, Lady Tanon Risande is to be wed to a fierce Welsh prince. Headstrong Tanon has other ideas, and none of them involve submitting to Prince Gareth ap Owain. Yet she can't help but notice how the ladies of the court sigh at his mere glance. And when this rough warrior sets his penetrating gaze on her, Tanon, too, wonders what it would be like to bed a barbarian…

Lady Of Desire
Gareth is determined to prove to his delectable new wife that he saves his savagery for the battlefield, not the bedchamber. He will use far more persuasive methods to lure this lady willingly into his arms—and he looks forward to trying them all. But though Gareth is a prince, he cannot offer Tanon the finery she is used to, nor can he make sure she stays safe in his untamed land. What he can guarantee her is a love unlike any she has ever known…
Gareth ap Owain is a Welsh prince determined to have peace in his homeland. To achieve this he is willing to marry the enemy and sacrifice everything. But the enemy he marries is his childhood friend Tanon Risande for whom he's always had a weakness even when he was a boy. To achieve his precious peace he has to decide what he wants more...peace or the woman he has come to love?
Tanon had always loved the boy who stood up for her when she was a little girl and now that she has become his wife as part of a peace treaty she will do everything in her power to have her love returned. But will her love be stronger than his quest for peace?

From the first page to the last of this final book in the Risande trilogy it was Tanon who captured me. I loved Brynna and Gianelle in their books but Tanon for me was the proverbial "saving the best for last". The peek into her childhood at the beginning set the stage and throughout the book she crept into my heart little by little.
I loved her strength, her bravery, the way she didn't let Gareth intimidate her, the way she took everything that came in her path with courage and enthusiasm. She has become one of my favorite heroines.
Though I loved Gareth -who wouldn't!- he didn't enchant me as Brand and Dante did. I guess the Risande men are unique in their ability to entice women....
Still he was a great character and a perfect match for Tanon. The way he cared for Tanon from when they were kids to their marriage was admirable. He is a man who knows only battle and war but he was caring and patient with her.
Gareth made Tanon shed her mask of dutiful politeness and obedience and show her true and passionate self. Tanon gave Gareth the peace and joy he needed in his battle filled life. They were a couple worthy of closing a wonderful and amazing trilogy.

Again I was drawn to great secondary characters such as Madoc, Cian, Rebecca and Hereward. Of course it was wonderful to see the other members of the Risande family again too. To see how they had done since their own books. Paula Quinn knows how to surround her main characters with an entourage that supports them without taking the attention away from them.

I am sad that I have come to the end of this amazing trilogy.
From the first book to the last, it had everything I look for in the books I love to read: drool-worthy heroes, fierce, brave and outspoken heroines, great secondary characters, a wonderful love story, a well-written plot, sizzling passion and Paula Quinn has the ability to imbed historical facts into the story without them being disturbing, on the contrary: they make the story complete. She describes everything, from clothing and surroundings to food and traditions, with such flair and ease that it's not difficult to picture yourself in medieval England or Wales.

I can't believe I had this trilogy on my bookshelf for almost a year without reading them because if you want a rich medieval tale of love, betrayal, bravery, loyalty and passion...these three books will certainly provide that for you.
To me Paula Quinn is the undefeated champion of medieval romance and the battle to defeat her will be hard and nearly impossible for those who try.

Nice to meet you!
Pearl

Netherlands
39, married to my real life romance hero, addicted to TV shows, reading romance novels and Twitter. I'm a chronic (e)book hoarder and my absolute favorite genres within romance fiction are contemporary romance and romantic suspense, but I don't shy away from historical, paranormal or erotic romance either. Even the occasional (urban) fantasy romance, futuristic and sci fi romance may make it to my Mount TBR. This is my corner of the world wide web where I let you know what books I'm hoarding, reading and reviewing.
View my complete profile

My Book-Providers
Reviews by Rating

Reviews by Genre
Reviews by Type

Reviews by Publisher

Fellow Bloggers


GR Reading Challenge
Pearl
has read 10 books toward her goal of 50 books.

On My TBR Shelf
Unforgivable - Laura Griffin
Snapped - Laura Griffin
Darkness at Dawn - Elizabeth Jennings
Sizzle and Burn - Alexis Grant
No Mercy - Lori Armstrong
Animal Magnetism - Jill Shalvis
Crazy for Love - Victoria Dahl
Kink - Saskia Walker/Sasha White
So Sensitive - Anne Rainey
Dark Taste of Rapture - Gena Showalter
The Darkest Secret - Gena Showalter
Vampire in Atlantis - Alyssa Day
Vampire Dragon - Annette Blair
Captive Spirit - Anna Windsor
Chosen by Blood - Virna DePaul
Rebel - Zoe Archer
Stranger - Zoe Archer
A Taste of Desire - Beverley Kendall
Mistress by Midnight - Maggie Robinson
To Desire a Devil - Elizabeth Hoyt
To Tame a Dangerous Lord - Nicole Jordan

Digital TBR Next
Driven - Jayne Rylon (reread)
Shifting Gears - Jayne Rylon
Beg Me - Shiloh Walker
Tempt Me - Shiloh Walker
Jazz Baby - Lorelie Brown
Playboy Prankster - Pamela Britton
Just Like That - Erin Nicholas
Sweet Inspiration - Penny Watson
Breathe - Donna Alward
My Gigolo - Molly Burkhart
Scent of Persuason - Nikki Duncan

Blog Archive