July 31, 2008
8:33 PM
|
Edit Post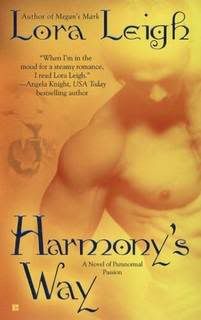 Back cover:
Harmony Lancaster is of the Lion breed, created to be a huntress with a thirst to kill. But the way she seeks justice outside of the law makes her a liability to her own kind. Yet she also possesses information that they need on the existence of the First Leo - who holds the precious secrets of desire.

To save her life, Harmony is paired with Sheriff Lance Jacobs, who tries to tame the killer within her, while protecting the gentle woman he longs to possess. But a dangerous cult leader, bent on destroying the Breeds, could change the way Lance looks at Harmony forever…
Harmony Lancaster escaped the Genetics Council's labs when she was just 15 years old. She was trained to be a cold-blooded assassin called Death. Killing is the only thing she knows and it's what she does best and she continues after her escape but now avenging innocent victims of violence, especially children. When she escaped she took some secrets with her and not only the Council but also the Breeds are after those secrets.
When she is captured by her brother and forced, or we can just call it blackmailed, to work as a Breed Enforcer with a Sheriff's department somewhere in the desert, her life changes drastically. Especially when she's paired up with her mate, Sheriff Lance Jacobs. He shows her that there is so much more in life than death and vengeance. But Harmony knows who and what she is and she's afraid her enemies will use Lance in order to get to her.
Lance would never have guessed that the passionate woman he picked up in a bar would turn out to be the Breed Deputy he was supposed to pair up with for the next 6 months, much less that she is his mate. But having witnessed his cousin Megan mate a Breed he knows his destiny is inevitable. He accepts his fate and embraces and vows to protect his woman, a woman who has only known deception, pain, death and loneliness. But before the both can embrace their future there are many obstacles to overcome.

This is the second book featuring a Breed female and her human mate. And I'm starting to form a preference for this specific combination. I loved Kane and Sherra in their book and I loved Lance and Harmony in this one.

Harmony is stubborn, independent and strong-willed. She is Death and nobody messes with her. But everyone has his or her weaknesses and Harmony is no exception. She is convinced she has no emotions and is not capable of feeling anything but vengeance. But she's so wrong. The moment she mates Lance she's thrown into an emotional rollercoaster. Feeling things she has never known and doesn't want to accept: fear, hopelessness, lust and even love.
But Harmony is not an unfeeling creature. She has compassion and loyalty within her. Her actions since her escape from the Labs show this but she doesn't believe there is redemption for the innocents she was forced to kill when she was controlled by the Council's scientists and trainers. The good qualities have always been inside her but they have never been allowed to develop until Lance and the mating heat. She now has to deal with her own vulnerability for the first time in her life. She has to deal with having someone's trust and giving her trust to someone else.

Lance is perfect for Harmony. He is strong, dominant and he doesn't buy the emotionless tough attitude she tries to maintain, even with him. He sees the vulnerable and honorable woman the tortured child-soldier has grown into and tries to show her that too. He is determined not to let her run from what she is feeling and he is willing to sacrifice everything for her to be happy.

There were quite some very intriguing secondary characters in this part of the Breeds series. Of course there is Jonas Wyatt. He is turning out to be a key figure in this series and in this book a bit more is revealed about him and not all of it is good. He is still playing his manipulative games and uses everybody, even his sister Harmony, to achieve his goal. Whatever this mysterious goal might be is something I still haven't figured out completely. His manipulations are riding on the edge. Because you know there has to be a logical explanation and some kind of greater-good motive for his actions, it doesn't tip to the wrong side of said edge but they were bordering on the brink of unacceptable by the way he used Lance and Harmony. Fortunately a few tidbits at the end attributed to his redemption in this case.
Throughout the books bits of information on Harmony and Jonas and their relationship are revealed. These bits bring insight into both their pasts and motivations.

And then there is Dane Vanderale. He is connected to Harmony. That's all I can say without spoiling but not even Harmony knows the whole story behind Dane. Despite some very interesting information being disclosed in this book, there's still a lot of mystery surrounding Dane and I can't wait to get to the bottom of it.

Again there is an enemy, Reverend Henry Richard (H.R.) Alonzo, bent on the destruction of the Breed couple of this book, only he's not directly a Council member but he is connected by blood to the Council. And the connection is an intriguing one to say the least. Too bad Lora Leigh just left his character hanging after the confrontational climax towards the end of the book. I wonder if he will reappear in future books.

There are more secondary characters that triggered my speculative and imaginative mind, such as the Breed Mercury Warrant who has been briefly mentioned in several books now, Ryan DeSalvo who is Dane's "partner in crime" and Jess Warden, the Breeds attorney who has a sexual relationship with Jonas.
I also liked seeing a bit of Braden and Megan in this one, which was to be expected Megan being Lance's cousin.

I'm really loving the full-lengths in this series! They give Lora Leigh the space and pages to tell the Breeds' elaborate and intricate stories and past. Well-dosed and perfectly timed she unleashes a great blend of intriguing world building and explicit eroticism. The world of the Breeds unfolds little by little, answering questions and at the same time these answers are creating more and new questions. This is a sure way to keep me coming back for more.

The love scenes again are explicit but as I've said before about MEGAN'S MARK, they are a little bit subtler than the Ellora's Cave-installments. They are intense and amazingly emotional. How Lora Leigh manages to write book after book with love scenes like these and make them all different and fresh and unique is beyond me. But you won't hear me complain!!

Even though the series is a coherent and interconnected unity, no book is the same. One binding component is the mating heat between the Breeds and their mate and even there every couple has its own uniqueness that makes them stand out. Another binding element is the dialogues. They are top-notch and it doesn't matter if they are sexually charged or purely non-sexual. The mutual exchange of smart retorts is what makes these books a delight to read.
Every book has its own side story to melt with the ongoing storylines from previous books. It's these things that make me keep coming back to this series no matter how many other great books I have on my To Be Read-pile!

In this book I detected two ongoing storylines in the Breeds series that have started in earlier books and are being continued. One is about a spy/traitor within the Breeds compound, Sanctuary. This storyline is subtly touched in this book and I'm very curious as to where it will lead and who this person is and what his or her motives are.
The other storyline has to do with the first Leo, the first Breed ever created. This storyline also comes in little doses but in this book there were some revelations that had me picking up my jaw from the floor in shock! These revelations have spiked my curiosity to an all-time high. I must know more! NOW!

The end of this installment shook me to the core and my heart just broke for Harmony and Lance. There just weren't enough tissues to get me through the last 2 chapters. Amazing how Lora Leigh can take me from excitement and being all hot and bothered to intense heart wrenching emotions! She's a master within the erotic romance genre, without a shadow of a doubt!

Lora Leigh has done it again, or should I say she keeps on doing it!! She has delivered another intriguing, erotic, fast-paced, keep-me-addicted installment of her Breeds!
Quotes:
Harmony had admitted long ago she wasn't necessarily a sexual being, despite some of her more animal-like genetics. But this man, he made the feline inside her stand up and roar.

"Ready?" His voice was dark, the rasp of a sexually aroused primal male ready to claim a female.

Nice to meet you!
Pearl

Netherlands
39, married to my real life romance hero, addicted to TV shows, reading romance novels and Twitter. I'm a chronic (e)book hoarder and my absolute favorite genres within romance fiction are contemporary romance and romantic suspense, but I don't shy away from historical, paranormal or erotic romance either. Even the occasional (urban) fantasy romance, futuristic and sci fi romance may make it to my Mount TBR. This is my corner of the world wide web where I let you know what books I'm hoarding, reading and reviewing.
View my complete profile

My Book-Providers
Reviews by Rating

Reviews by Genre
Reviews by Type

Reviews by Publisher

Fellow Bloggers


GR Reading Challenge
Pearl
has read 10 books toward her goal of 50 books.

On My TBR Shelf
Unforgivable - Laura Griffin
Snapped - Laura Griffin
Darkness at Dawn - Elizabeth Jennings
Sizzle and Burn - Alexis Grant
No Mercy - Lori Armstrong
Animal Magnetism - Jill Shalvis
Crazy for Love - Victoria Dahl
Kink - Saskia Walker/Sasha White
So Sensitive - Anne Rainey
Dark Taste of Rapture - Gena Showalter
The Darkest Secret - Gena Showalter
Vampire in Atlantis - Alyssa Day
Vampire Dragon - Annette Blair
Captive Spirit - Anna Windsor
Chosen by Blood - Virna DePaul
Rebel - Zoe Archer
Stranger - Zoe Archer
A Taste of Desire - Beverley Kendall
Mistress by Midnight - Maggie Robinson
To Desire a Devil - Elizabeth Hoyt
To Tame a Dangerous Lord - Nicole Jordan

Digital TBR Next
Driven - Jayne Rylon (reread)
Shifting Gears - Jayne Rylon
Beg Me - Shiloh Walker
Tempt Me - Shiloh Walker
Jazz Baby - Lorelie Brown
Playboy Prankster - Pamela Britton
Just Like That - Erin Nicholas
Sweet Inspiration - Penny Watson
Breathe - Donna Alward
My Gigolo - Molly Burkhart
Scent of Persuason - Nikki Duncan

Blog Archive