July 16, 2008
11:52 AM
|
Edit Post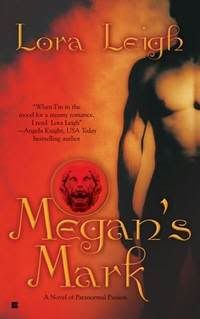 BACKCOVER:
Cursed with the extraordinary power to feel other peoples' emotions, Megan Fields has tucked herself away in a remote corner of New Mexico, working as a small-town sheriff's deputy. She finds solace in the silence and heat of the desert. But when Breeds begin dying on her watch,
Megan realizes that the secrets from her past can't stay buried forever. Someone is out for blood - her blood.

An arrogant Feline Breed, Braden Arness broods with feral intensity. His mission to solve the mysterious murders brings him to Megan, a woman who accosts his senses like no other. Only with him can she let down her guard - and surrender to the insatiable hunger that wracks her body. But as they team up to hunt the elusive killers, Braden and Megan find themselves becoming the prey…
After the short story on Breed Enforcer Tarek Jordan (in the Anthology HOT SPELL) this is the first full-length book in the Breeds Series. It centers on Megan Fields, a deputy sheriff who is hiding in the desert from a gift she considers a curse, she's an Empath and is unable to block other people's feelings. She feels their fears, angers and frustrations as well as all other emotions. After trying to go follow her dreams of being in law enforcement, she has to give it up because her inability to block the emotions she senses causes danger for herself and others. When the Genetics Council targets her, Braden Arness is sent in to protect her and to help her find out why she's targeted. She discovers that with Braden there's peace from the emotions, but another complication rises when they find out she is his Breed mate

Megan is feisty, brave, not easily scared, sharp-tongued, challenging and defiant. She gives Braden hell when he tries to dominate her and tell her what to do. Her gift isolates her from others, both literally and figuratively. From relationships and men, from family, friends and colleagues. I loved Megan; she is just as fierce as all the other females mated to the Breeds.

Braden is a Breed Enforcer, a trained assassin who has turned his training in the Labs to the good of the Breeds, taking down people who are a threat to the Breeds.
Megan and Braden's interactions sparkle from the very start and it only gets fierier throughout the book, fueled by the danger they find themselves in. Though they are both alpha personalities they complement each other to the extreme. Together they work the best, even if they irritate the hell out of each other and fight the mutual attraction and the mating heat to the limit. They both life for adventure and freedom, despite their constricting circumstances, for Braden it's being a Breed, created to kill and not to be compassionate or have human feelings and longings. For Megan it's being an Empath and driven to hide herself in a desert where she can live without fearing other people's emotions.

There are many secondary characters, mainly other Breeds and Megan's family members. The most important ones are the Head of Breed Affairs, Lion Breed Jonas Wyatt, the senator who is after Megan, Macken Cooley, her cousin Lance Jacobs (who is the hero of the next Breed book) and Dr Elyiana Morrey.

The glimpses of Jonas Wyatt I got from previous books were just the tip of the iceberg. He is calculating and manipulative and plays an important role in this book, one that prepares me to expect much more of him in the future books.

Elyiana Morrey is a Breed doctor who conducts the tests on the Breeds, their mates and everything concerning the Mating Heat. She is interesting to say the least and there is much more to her than you would guess at a first glance.

In this book the Genetics Council is made more specific in the form of Megan's enemy, Cooley. In the previous installments the Genetics Council was a nameless, faceless threat, always hovering in the background but now it's starting to have names and people representing the Council and making it more tangible.

This Breed story takes place in 2023, nearly ten years after book 1, placing that book in about 2012/2013. It was nice to have a more specified timeline; this was something that didn't become very clear in the previous books.

Lora Leigh again did not fail to please me with this installment of the Breeds; being the first full-length book it's more elaborate, with much more plot to it than the previous parts. This did not mean that the explicit and graphic sex scenes were lost in it. They were masterfully imbedded into the plot, as functional as in all the Breed books.

It was a delight to read with everything I'm used to in this series: action, humor, sex and emotions.
In every book there is more development concerning the Mating Heat and this one brought some additional information that broadens the knowledge on it a bit further. This part of the books remains intriguing and gives this series it's uniqueness I admire so much.
There is a surprising outcome of the plot I really didn't see coming but I should have known that Lora Leigh would give the plot a nice twist and she surely knows how to keep me wanting more, especially with the more than intriguing epilogue that only raises questions I most definitely want answers to!
Quotes:
Megan and Braden:
"I don't want or need you. And next time you manhandle me, I'm going to shoot you."
"You try and shoot me, and I might have to bite you again."
"Keep your damned vampire teeth to yourself and let me go or I'm going to scream bloody murder on your ass. This is called harassment, you know. Sexual harassment."
Hmm, that's not sexual harassment, baby. When I decide to get sexual, trust me, you'll know it."

That just felt way too good. Good enough that she couldn't still the hard exhalation of breath that nearly turned into a whimper of greedy need. Talk about a banquet. A smorgasbord of hard, tight male flesh.

Nice to meet you!
Pearl

Netherlands
39, married to my real life romance hero, addicted to TV shows, reading romance novels and Twitter. I'm a chronic (e)book hoarder and my absolute favorite genres within romance fiction are contemporary romance and romantic suspense, but I don't shy away from historical, paranormal or erotic romance either. Even the occasional (urban) fantasy romance, futuristic and sci fi romance may make it to my Mount TBR. This is my corner of the world wide web where I let you know what books I'm hoarding, reading and reviewing.
View my complete profile

My Book-Providers
Reviews by Rating

Reviews by Genre
Reviews by Type

Reviews by Publisher

Fellow Bloggers


GR Reading Challenge
Pearl
has read 10 books toward her goal of 50 books.

On My TBR Shelf
Unforgivable - Laura Griffin
Snapped - Laura Griffin
Darkness at Dawn - Elizabeth Jennings
Sizzle and Burn - Alexis Grant
No Mercy - Lori Armstrong
Animal Magnetism - Jill Shalvis
Crazy for Love - Victoria Dahl
Kink - Saskia Walker/Sasha White
So Sensitive - Anne Rainey
Dark Taste of Rapture - Gena Showalter
The Darkest Secret - Gena Showalter
Vampire in Atlantis - Alyssa Day
Vampire Dragon - Annette Blair
Captive Spirit - Anna Windsor
Chosen by Blood - Virna DePaul
Rebel - Zoe Archer
Stranger - Zoe Archer
A Taste of Desire - Beverley Kendall
Mistress by Midnight - Maggie Robinson
To Desire a Devil - Elizabeth Hoyt
To Tame a Dangerous Lord - Nicole Jordan

Digital TBR Next
Driven - Jayne Rylon (reread)
Shifting Gears - Jayne Rylon
Beg Me - Shiloh Walker
Tempt Me - Shiloh Walker
Jazz Baby - Lorelie Brown
Playboy Prankster - Pamela Britton
Just Like That - Erin Nicholas
Sweet Inspiration - Penny Watson
Breathe - Donna Alward
My Gigolo - Molly Burkhart
Scent of Persuason - Nikki Duncan

Blog Archive