July 30, 2008
5:41 PM
|
Edit Post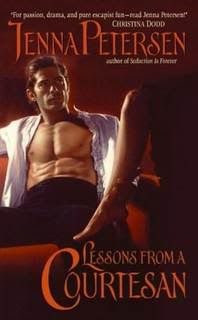 Back cover:
Blackmailed into a marriage five years ago, and forced by their overbearing families to consummate that union so it could never be legally questioned, Victoria and Justin Talbot have been more than happy to live apart ever since, although neither one has quite forgotten the one night they shared.

But now Victoria has been forced to come to London in the disguise of London's most talented and sought after courtesan. Invading Justin's world, she is on a desperate search to find a missing friend and stay clear of her very angry, suddenly possessive husband. Only this time, one taste is not going to be enough for Justin. He is determined not only to uncover Victoria's secrets, but to claim her, body and soul.
When her father forces her into a marriage with the Earl of Baybary, Justin Talbot, Victoria Reed resigns and tries to adjust to the idea of a marriage of convenience until Justin leaves her after one pleasure-filled wedding night. Heartbroken she stays in the country running the estate as Justin tells her to. Now, three years later, Victoria has her own reason for coming back to London Society, posing as a courtesan.
The last thing she expected though was finding her husband who proves to be a problem for her one-woman mission.

Since their one and only night of passion, Justin has tried to forget the woman he was blackmailed into marrying, by her father, three years ago. He hasn't quite succeeded but now that she has come to London he's sure he won't be able to. But first he has to discover why his wife has come to London posing as a courtesan.

Victoria is brave and kind but defiant and resourceful at the same time. She has learned, not in the least because of the way Justin abandoned her, how to fend for herself and take care of her business and the people she cares about. Beneath her strength there is a sense of vulnerability and innocence that make her a character you can easily empathize with. Little by little her life after Justin's abandonment is disclosed and you understand the motivation for her actions.

Justin is passionate, masculine, intelligent and seductive. He has made some decisions in the past concerning Victoria that may seem harsh but he too has understandable reasons for his actions, which Ms Petersen discloses in small amounts throughout the story.

The chemistry between them is explosive and immediate. Despite their respective reasons to maintain some emotional distance toward each other, they are drawn to each other like bees to honey and they can't resist the pull. They try to conceal their feelings but in the very sensual and tantalizing love scenes their hearts and feelings are laid bare to one another.

There are quite some secondary characters but they fit in the story nicely. Like in the LADY SPIES-series friendship is an important theme in the book and I hope to see some of the characters supporting Victoria and Justin take center stage in their own stories. If I am not mistaken some set-ups were already made but I will have to wait for the next book to see if I was right.


I have been a fan of Jenna Petersen's work ever since I read SCANDALOUS. She captivated me with that book and enthralled me with her LADY SPIES-series. Now she has thrilled me further with his book. It gave me everything I loved in the other books and more. It had great characters with a full-bodied story between them. It has a secondary plot next to the romance that holds the attention without distracting from the main couple.
The search for the villain in the story and the conclusion of the plot were truly perfectly done. It was the combination of the sensual romance and the wonderful and carefully executed storyline that made this one of Jenna's best novels so far.

This book reads like clockwork! Before I knew it I was at the end of this lovely story. The writing style is easy and fluent, it's fast-paced, the dialogues are witty and smart, the characters are wonderful and endearing and the plot is set up really well and provides plenty mystery to intrigue and captivate the reader.
In short, a fast-paced story that I finished in the bat of an eye because I couldn't stop reading it.
Quotes:
Their bodies ground together, warring and merging at the same time. It was a battle for pleasure, a battle for truth, a battle for everything being waged between them.

Justin and Victoria:
"Do you remember how you are to approach Alyssa?"
"I have not forgotten in the last five minutes, I assure you. I am your erotic plaything, not touched in the head, if you remember."

Nice to meet you!
Pearl

Netherlands
39, married to my real life romance hero, addicted to TV shows, reading romance novels and Twitter. I'm a chronic (e)book hoarder and my absolute favorite genres within romance fiction are contemporary romance and romantic suspense, but I don't shy away from historical, paranormal or erotic romance either. Even the occasional (urban) fantasy romance, futuristic and sci fi romance may make it to my Mount TBR. This is my corner of the world wide web where I let you know what books I'm hoarding, reading and reviewing.
View my complete profile

My Book-Providers
Reviews by Rating

Reviews by Genre
Reviews by Type

Reviews by Publisher

Fellow Bloggers


GR Reading Challenge
Pearl
has read 10 books toward her goal of 50 books.

On My TBR Shelf
Unforgivable - Laura Griffin
Snapped - Laura Griffin
Darkness at Dawn - Elizabeth Jennings
Sizzle and Burn - Alexis Grant
No Mercy - Lori Armstrong
Animal Magnetism - Jill Shalvis
Crazy for Love - Victoria Dahl
Kink - Saskia Walker/Sasha White
So Sensitive - Anne Rainey
Dark Taste of Rapture - Gena Showalter
The Darkest Secret - Gena Showalter
Vampire in Atlantis - Alyssa Day
Vampire Dragon - Annette Blair
Captive Spirit - Anna Windsor
Chosen by Blood - Virna DePaul
Rebel - Zoe Archer
Stranger - Zoe Archer
A Taste of Desire - Beverley Kendall
Mistress by Midnight - Maggie Robinson
To Desire a Devil - Elizabeth Hoyt
To Tame a Dangerous Lord - Nicole Jordan

Digital TBR Next
Driven - Jayne Rylon (reread)
Shifting Gears - Jayne Rylon
Beg Me - Shiloh Walker
Tempt Me - Shiloh Walker
Jazz Baby - Lorelie Brown
Playboy Prankster - Pamela Britton
Just Like That - Erin Nicholas
Sweet Inspiration - Penny Watson
Breathe - Donna Alward
My Gigolo - Molly Burkhart
Scent of Persuason - Nikki Duncan

Blog Archive