July 28, 2008
4:59 PM
|
Edit Post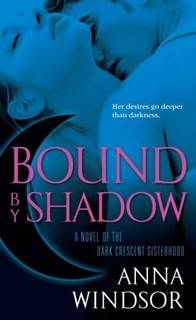 Back cover:
Falling for a demon can be hazardous to your heart.
Riana Dumain is a fully trained Sibyl, a warrior priestess battling evil whose practical magic keeps her grounded in earthly science--and desires. She knows that gorgeous NYPD detective Creed Lowell is dangerous, and possibly a foot soldier for the evil Legion cult, using his badge and drop-dead looks to consolidate demonic power.

Creed's low profile Occult Crimes Unit pulls Riana and her two sister Sibyl into the case of a politician's son, murdered in a ritualistic sacrifice. Soon, Riana's instincts prove true. Creed, the hottest half-human she's ever known, a demon in bed and out, is guarding a trapdoor to hell. And unless Riana can find a way to tame her mystery man's treacherous inner self (and her heart), all of Manhattan may be enveloped by darkness.
Riana Dumain is the leader of her Sibyl triad fighting the evil "Legion" in New York, an enemy who is out to destroy all Sibyls. The Sibyl triads form the Dark Crescent Sisterhood, female warriors of the Dark Goddess. They are blessed with elemental powers. Riana is the mortar and the earth Sibyl, she is specialized in research and investigation. Cynda is pestle and the fire Sibyl, specialized in communication through wind chimes and mirrors. Merilee is the broom and the air Sibyl, specialized in the gathering of information and archiving. They come from their respective Motherhouses where the eldest and wisest Mothers trained them. Riana comes from the Russian motherhouse, Cynda from the Irish and Merilee from the Greek.

They protect the New York Upper Eastside against any supernatural evil that may threaten them. When a break-in in a museum and the brutal murder of a Senator's young son brings up more questions than the Occult Crimes Unit officers Andrea (Andy) Myles and Creed Lowell can answer, they seek Riana's triad's help. Soon they discover that the Legion is behind both crimes and they are turning up the heat for the Sibyls and everyone associated with them.
This is the start of a cooperation that will reveal more than the ones responsible for the crimes. It's the start of an action-packed battle filled with unexpected twists and turns and in the middle of it all Creed and Riana have to fight more than the enemy in order to have their HEA.

The attraction between Creed and Riana is instant and hot. Both characters are fleshed out very well, along with the secondary characters.
It's clear very early in the story that Riana and Creed want each other and this desire grows into a deep love but they have a lot of obstacles to overcome before they can be together: The Legion, Creed's "other" demon half, Riana's triad-sisters who disapprove of Creed, the crimes they have to solve.
Both Creed and Riana have a healthy dose of self-mockery. They are not afraid to question their own sanity in some circumstances, especially concerning each other.

I truly adored Andy (Creed's partner). She really held her own, being the only "normal" human between all these supernatural and elemental beings. I loved her attitude and her sharp-edged wit. She had some lines at exactly the right moments that put a smile on my face. I hope she will have an even bigger part in the next books of the trilogy.

When this trilogy was mentioned as a suggestion on the RealmsOnOurBookshelves-messagebord it appealed to me right away because of the combination of suspense, paranormal/supernatural and romance it promised. I can honestly say that Anna Windsor certainly delivered on that promise. This is the kind of book that keeps you reading and won't let you go, even when you're not reading it.

I have this big weakness for emotional and character-driven books and this book that's very plot-driven and action-filled has given me the best of both worlds. I can't mention a single thing that bothered me or didn't sit well with me. I can only praise Anna Windsor for her hero and heroine, her plot and world building, her secondary characters, her pace and conclusion and her writing style and timing.
It has everything I want and need in a book and everything forms a harmonious entirety. Suspense, conflict, humor, passion, the paranormal elements, pain and sex, all of them are mixed in the right proportions. Every element on its own intrigues and entices but put together they utterly captivated me like few books have been able to do.

Though the basic components for the book are well known and written by many authors before her, Anna Windsor manages to be refreshing with her contribution to this genre that is being overflowed with new authors and new series.
This is not the first book I've read where the hero has an "other" inside him (think J.R. Ward's Rhage or Gena Showalter's Lords of the Underworld, or Grimm of Moning's Highlanders) but Windsor gives it an amazingly different twist, which I won't give away here due to the spoilerish nature, you'll have to read it for yourself.

The world Anna Windsor builds up in this first book of the DARK CRESCENT SISTERHOOD-trilogy is an intriguing one to say the least. She has managed to create a world of supernatural beings and kick-ass female warriors. She combines this world with witty banter, steamy love scenes and thrilling suspense. She held me entranced from the first page to the last and in the end had me craving the next book like nothing else.

This first taste of the DARK CRESCENT SISTERHOOD has left me hungry for more, craving the next installment, which I'm sure will grace my bookshelves shortly and will be read as soon as it arrives.

If you're looking for an escape into a refreshing paranormal world of demons, half-demon cops, female warriors with elemental powers and a battle against an enemy that is utterly evil, you won't regret picking up BOUND BY SHADOW. It has it all and then some. I have the utmost admiration for what sprouts from Anna Windsor's imagination. This is top-notch storytelling, leaving me completely spellbound and awaiting the next book by her hand with eager anticipation.
Quotes:
Russian mustard. So sweet you want the whole jar, so fiery it'll burn you inside out if you eat it. Figures. Just like her.

God, but she was killing him, stroking that contraption and talking about power, and tasting and smelling and feeling...Any second now, his aching c**k would give up and just fall the hell right off his body.
Rating: 10 out of 10
Nice to meet you!
Pearl

Netherlands
39, married to my real life romance hero, addicted to TV shows, reading romance novels and Twitter. I'm a chronic (e)book hoarder and my absolute favorite genres within romance fiction are contemporary romance and romantic suspense, but I don't shy away from historical, paranormal or erotic romance either. Even the occasional (urban) fantasy romance, futuristic and sci fi romance may make it to my Mount TBR. This is my corner of the world wide web where I let you know what books I'm hoarding, reading and reviewing.
View my complete profile

My Book-Providers
Reviews by Rating

Reviews by Genre
Reviews by Type

Reviews by Publisher

Fellow Bloggers


GR Reading Challenge
Pearl
has read 10 books toward her goal of 50 books.

On My TBR Shelf
Unforgivable - Laura Griffin
Snapped - Laura Griffin
Darkness at Dawn - Elizabeth Jennings
Sizzle and Burn - Alexis Grant
No Mercy - Lori Armstrong
Animal Magnetism - Jill Shalvis
Crazy for Love - Victoria Dahl
Kink - Saskia Walker/Sasha White
So Sensitive - Anne Rainey
Dark Taste of Rapture - Gena Showalter
The Darkest Secret - Gena Showalter
Vampire in Atlantis - Alyssa Day
Vampire Dragon - Annette Blair
Captive Spirit - Anna Windsor
Chosen by Blood - Virna DePaul
Rebel - Zoe Archer
Stranger - Zoe Archer
A Taste of Desire - Beverley Kendall
Mistress by Midnight - Maggie Robinson
To Desire a Devil - Elizabeth Hoyt
To Tame a Dangerous Lord - Nicole Jordan

Digital TBR Next
Driven - Jayne Rylon (reread)
Shifting Gears - Jayne Rylon
Beg Me - Shiloh Walker
Tempt Me - Shiloh Walker
Jazz Baby - Lorelie Brown
Playboy Prankster - Pamela Britton
Just Like That - Erin Nicholas
Sweet Inspiration - Penny Watson
Breathe - Donna Alward
My Gigolo - Molly Burkhart
Scent of Persuason - Nikki Duncan

Blog Archive