July 12, 2008
8:00 AM
|
Edit Post
This book was released on June 24th and I reviewed it for REALMS ON OUR BOOKSHELVES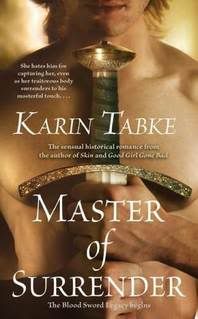 The year is 1066. William, bastard Duke of Normandy, has claimed the English throne by right of conquest. To quell the Saxon unrest, William sends out his most trusted knights to secure the land. One of those knights is his cousin, Sir Rohan de Luc, known far and wide for his bloody deeds as The Black Sword. . .

Bold and courageous, Saxon maiden Isabel of Alethorpe is the only one left to protect the people of the manor and its lands. When Rohan de Luc seizes Alethorpe, he offers to spare the life of Isabel's young squire in exchange for her willing gift of the charms of her body. Betrothed to another, she vows to that while he may take her maidenhead, her heart will remain her own. But even as her lips say no, Isabel's traitorous body is awakened to desire by the seductive attentions of this potent invader. Can she remain true to her own people, or will Sir Rohan's skilled touch capture her unwilling heart as surely as his prowess with his sword captured her father's lands?
With Rohan du Luc as their fierce and ruthless captain the Blood Sword Knights form William the Conqueror's most feared death squad. They march into Rossmoor, Lady Isabel of Alethorpe's home, and claim it and its inhabitants.
Lady Isabel is not about to let this happen and resists with all her might. But a woman alone (her brother, father and betrothed went to battle) can only do so much. So she allows the Norman to take over her manor and village. Soon Rohan's claim is also laid upon the lady herself and she is tempted to give in to this enigmatic knight who surprises her every time she let's down her guard. But he is still the enemy...Can a Saxon lady give her trust and her heart to a Norman knight who is out for blood?

Rohan is every bit the knight, hardened by suffering and battle. He tells it like it is and is bold and direct. He is fiercely loyal to the people he trusts.
Isabel is the quintessential medieval maiden, the lady of the manor. Loyal and dutiful at any cost, willing to fight for her people and offer them protection and support. But she's also intelligent and fierce and compassionate. She knows how to pick her battles and when to cooperate in order to survive.

Rohan is tempted by Isabel's strength and innocence and Isabel is impressed by Rohan's commanding presence and slowly more feelings of respect and admiration develop between them. But Rohan does not welcome his feelings for Isabel to the point he starts to lash out at her every time they threaten to thaw his cold hart. Isabel takes it in stride and parries him verbally just as hard, despite her treacherous bodily response to him.

I was familiar with the concepts of brotherhoods of warriors in the paranormal genre but with the Blood Swords Karin Tabke has created an intriguing and promising band of mercenary knights who are there for each other at all times, womanizing, drinking, conquering and bantering. I loved the interactions and the camaraderie between the knights. Both their history and future are fascinating and I hope we will get to read all their stories.

The secondary cast is an enrichment to the story, some have crucial roles in the plot, others are more important regarding the development of the main characters, but they are all complementary in their own way.

From the first page of the prologue, I felt swept back in to time, taken to the past, medieval times where brave knights endure horrifying times in enemy prisons, staring death in the eye after endless torture. Where the Saxons and Normans are at each other's throats, fighting over crowns and lands. But also where as in all times, past or present, love conquers all. Even between sworn enemies.

If you enjoy the kind of captivating, historically well founded and thoroughly researched medieval romances like Paula Quinn's or Monica McCarty's (as I do) then you can add Karin Tabke to your list! She writes with an authenticity that takes you away to past times. She combines it with a heartfelt and emotional romance and an action-packed and fast-paced plot. All depicted against the background of battle and war.

The basics in this historical romance are known and familiar: A Norman knight takes a Saxon manor and claims its lady to be his. She resists, he chases and she ultimately submits. This books starts as any medieval historical romance, but Tabke's eye for detail and her descriptive talent make it a full, rich and original story, with a mesmerizing and compelling quality to it. There are scenes that were rather bloody, violent and ruthless but they fit the authentic historical feel of the book.

This is a novel of bloodshed and passion, trust and loyalty, conflict and desire, friendship and sacrifice. It's a solid first book in a promising new historical series that has left me waiting for the next installment with a healthy dose of eager anticipation.

Nice to meet you!
Pearl

Netherlands
39, married to my real life romance hero, addicted to TV shows, reading romance novels and Twitter. I'm a chronic (e)book hoarder and my absolute favorite genres within romance fiction are contemporary romance and romantic suspense, but I don't shy away from historical, paranormal or erotic romance either. Even the occasional (urban) fantasy romance, futuristic and sci fi romance may make it to my Mount TBR. This is my corner of the world wide web where I let you know what books I'm hoarding, reading and reviewing.
View my complete profile

My Book-Providers
Reviews by Rating

Reviews by Genre
Reviews by Type

Reviews by Publisher

Fellow Bloggers


GR Reading Challenge
Pearl
has read 10 books toward her goal of 50 books.

On My TBR Shelf
Unforgivable - Laura Griffin
Snapped - Laura Griffin
Darkness at Dawn - Elizabeth Jennings
Sizzle and Burn - Alexis Grant
No Mercy - Lori Armstrong
Animal Magnetism - Jill Shalvis
Crazy for Love - Victoria Dahl
Kink - Saskia Walker/Sasha White
So Sensitive - Anne Rainey
Dark Taste of Rapture - Gena Showalter
The Darkest Secret - Gena Showalter
Vampire in Atlantis - Alyssa Day
Vampire Dragon - Annette Blair
Captive Spirit - Anna Windsor
Chosen by Blood - Virna DePaul
Rebel - Zoe Archer
Stranger - Zoe Archer
A Taste of Desire - Beverley Kendall
Mistress by Midnight - Maggie Robinson
To Desire a Devil - Elizabeth Hoyt
To Tame a Dangerous Lord - Nicole Jordan

Digital TBR Next
Driven - Jayne Rylon (reread)
Shifting Gears - Jayne Rylon
Beg Me - Shiloh Walker
Tempt Me - Shiloh Walker
Jazz Baby - Lorelie Brown
Playboy Prankster - Pamela Britton
Just Like That - Erin Nicholas
Sweet Inspiration - Penny Watson
Breathe - Donna Alward
My Gigolo - Molly Burkhart
Scent of Persuason - Nikki Duncan

Blog Archive