July 22, 2008
8:09 PM
|
Edit Post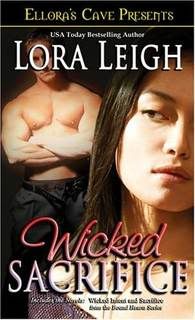 WICKED INTENT (book 4)
Backcover:
Control has meant everything to Tally Raines. Control of the office she ran as Jesse Wyman's secretary, and now control of Lucian Conover's office as well.
But Lucian isn't content to be controlled by his fiery secretary. As a matter of fact, Lucian thinks she needs to loosen up and let the sexy, sensual woman hiding beneath her cool exterior free. And he will dare her to do just that… With a little help.
From the moment Lucien and Devril Conover meet Tally Raines, they both know she is the only woman for them. But convincing her of this is going to be one hell of a job. Lucian does the preliminaries by insisting that she becomes his personal assistant after his the merger between his and Jesse Wyman's companies. Then he starts his game of seduction and persuasion, one step at a time.
But Tally drives a hard bargain and doesn't give in without a fight.

Tally is smart-mouthed and sharp-tongued. She is stubborn. She's had a thing for Lucian for a while but is too stubborn to admit it, though she did not like seeing him as the third with Jesse and her friend Terrie, not that she would ever admit that to him.
Another heroine in this series with control-issues who is about to be dominated by passion, desire, need and love, in this case provided by two men: the twins Lucian and Devril, they have an inseparable natural bond that entails that the woman who chooses one of them as her life-partner will automatically get the other one included in the package.
This is why they search for the perfect woman who is willing and able to take on both of them. They are two halves of a whole...differing in coloring like night and day but similar on the inside and together they form male perfection. In character they also differ. Lucian is the social and ever present one; Devril is the quiet one on the background.

At first for me it was Lucian who was the hero in this story and Dev a secondary character being the third in the ménage, albeit permanently. In the beginning Lucian is the character who is most fleshed out, along with Tally's but later (in the second part) Lora Leigh gives Dev the center stage in a crucial scene and this changed it for me. They are both the heroes, nothing secondary about Dev at all.

Both Tally and Lucian want the other off-balance in order to maintain the upper hand and alone Lucian would not be able to convince Tally to take a chance on him and his brother. It's the combination of them both that brings Tally to her knees but she certainly does not give in easily and tries to suppress her desires and fantasies, which she knows they can fulfill. But she has an emotional secret, linked to her need for self-control, she doesn't want them to discover, fearing it might turn them away from her. She tries to turn the tables on them and does this in a magnificent way even if it means sealing the deal on her own feelings for them.

There are few secondary characters, but that is a recurring thing in this series, it's carried mainly by the primary characters and their emotions and battles with their desires and needs. Terrie as Tally's best friends plays a part in Tally's decision how to proceed with Lucian and Devril, Jesse, Terrie's husband makes a quick appearance and there's a very small set-up for the next book with a scene at The Club with the heroine of that book.

In this book, the second part was the best. There everything came together emotionally when Tally finally lets go and admits her own flaws and her feelings to herself and decides to take action, the part where Lucien and Dev will no longer let her hide behind her precious control.

The first part felt like it was rather preparing for this part, laying the groundwork for the second and more emotionally intense part. Normally Lora Leigh does this more fluently than in this book but I can imagine it was hard to make the story work in the mere 140 pages it counts. Because it's still a story that's more than some explicit sex scenes put together. It has depth, emotion and intensity and is very character-driven.
This series is all about combining intense contradictory emotions and the desire to control, dominate with explicit and graphic love scenes that underline those emotions and desires. Lora Leigh is a master at it.

Though I liked the previous book in this series better I still enjoyed this story, even if the idea of a permanent three-way relationship is not something that I would endorse, Lora Leigh does give the reader a story with all the elements to understand that there could be people who do accept that as a way of life. Because of Lora's writing style, which is easy, flowing and fast-paced you keep on reading and because these stories aren't very long (an average of between 120 and 200 pages) you go through them in a heartbeat, looking forward to the next. Every story is a build-up for the next introducing future characters with just the right amount of mystery to entice you.
Quote:
"Do you really think you can control me with sex, Lucian?" she asked him, her voice cold, filled with loathing. "Do I really appear to be such a twit that all you have to do is f**k me to handle me? You have another thing coming." She punctuated her words with a forceful jab of her finger into his hard, muscular chest. "No one handles me. No man controls me. Not now. Not ever." He glanced down at her finger. Slowly. A second later his gaze speared into hers once again. "I'll control you, Tally," he told her, the tone of his voice whispering of a sexual dominance, an excitement she had only imagined before. "We'll control you, and I promise you, when we do, you'll beg for it."

SACRIFICE (book 5)
Backcover:
Kimberly has run from Jared for a year now, sensing the weakness he could be to her future. But she never expected the sacrifice he would make for her. One that will rock her soul, and destroy the very foundations of all her beliefs. Her sexuality, her heart, and all she's fought for in the last six years will be tested when an assignment takes her to Jared's farm, and into his bed. There she will learn the true meaning of hunger, of love…as well as the deception and the lies that have governed her life for so long. Anything worth having is worth sacrificing for. Kimberly is about to find out if she can pay the price, and risk not only the inheritance that should be hers, but also her heart to the one man who can still the fires that rage in her soul.
Kimberly Madison's father married Jared Raddington's mother a year ago and the relationships in the Madison-household are complicated ones. Kimberly and her father are battling out a fight that started years ago and Jared and his mother are in the middle of it. But Jared has a thing for Kimberly, he wants her bad and he has plans for their future.
To release the tension of what her father puts her through she has become one of the very few single female members of the Club and once every three months she goes there to have her fun. But when Jared also joins the Club and circumstances throw them together, everything changes

Determination is Jared's middle name. He's determined to get Kimberly to admit she wants him.
Jared not only wants Kimberly out of passion but he wants to give her the freedom she's desperately seeking. A freedom he has the power to give her if she only would let him.
Stubborn is Kimberly's middle name since she's not giving him an inch in his passionate pursuit of her. There is too much at stake for her, but also for him.
Kimberly is on a path to self-destruction because of what the conflict with her father is doing to her.

Jared's mother Carolyn Raddington Madison and Kimberly's father Senator Daniel Madison are two of the few secondary characters in the book. They are the ones with the biggest supporting roles but still the focus is mostly on Kimberly and Jared.

The third in this book is Ian Sinclair; he is the owner of The Club and hero of book 7 in the series. But the whole ménage-thing is secondary in the story, where in previous books the story was kind of centered on it, here it's just a small element in the whole of issues Jared and Kimberly have to deal with.

I liked the previous installments in this series best. This one left me with a feeling of something missing...the intensity between the characters I did find in the previous ones. Maybe it was the complications Kimberly and Jared encountered and the way they dealt with them and the issue between Kimberly and her father. I can't go into details because it would spoil too much of the story but I didn't connect with both Jared and Kimberly the way I did for example with Tally, Terrie, Lucian, Jesse, Ella and James from the previous books. Also the balance between the erotic scenes and the emotions was a bit more tipped toward the eroticism in this one, this is not necessarily a bad thing but it is the perfect balanced out mix of the two that makes me a fan of Lora Leigh's writing and in this book it was not quite there.

Though this story has the same elements as all the previous stories in this series: the Trojans, the Club, the dominant alpha hero, the fierce and stubborn heroine, the explicit and graphic love scenes and the struggle for control and dominance, it has a totally different feel from the previous books. I think it's because of the much more complicated journey to happiness Kimberly and Jared have to undertake. There are obstacles in their way that make the issues of the previous couples seem like child play. Also it's the first in the series with a plotline besides the relationship between the hero and heroine. But it's a very small one and unfortunately it's just not worked out properly. There's a hint of it but it's brushed off in favor of the sexual and relationship-issues between Kimberly and Jared and the problems between Kimberly and her father.

Still Lora Leigh has delivered another heart wrenching, scorching hot and emotionally satisfying story of love conquering any obstacle, no matter how big it might be. The end certainly proved this, regardless of the fact that it wasn't as fluently put together as the previous books. The end made up for all a lot that I missed throughout the book and Lora Leigh provided an emotional and believable solution to the issue between Kimberly and her father.
Quote:
He managed to stay silent, just barely, by clenching his teeth and jerking her robe from a nearby table. She was pushing him though. Before he could wrap it around her shoulders, she jerked it from his hands and shrugged it on with deliberate provocation. A slow, teasing move that made him want to growl with the need rising like a hungry beast in his loins.

Nice to meet you!
Pearl

Netherlands
39, married to my real life romance hero, addicted to TV shows, reading romance novels and Twitter. I'm a chronic (e)book hoarder and my absolute favorite genres within romance fiction are contemporary romance and romantic suspense, but I don't shy away from historical, paranormal or erotic romance either. Even the occasional (urban) fantasy romance, futuristic and sci fi romance may make it to my Mount TBR. This is my corner of the world wide web where I let you know what books I'm hoarding, reading and reviewing.
View my complete profile

My Book-Providers
Reviews by Rating

Reviews by Genre
Reviews by Type

Reviews by Publisher

Fellow Bloggers


GR Reading Challenge
Pearl
has read 10 books toward her goal of 50 books.

On My TBR Shelf
Unforgivable - Laura Griffin
Snapped - Laura Griffin
Darkness at Dawn - Elizabeth Jennings
Sizzle and Burn - Alexis Grant
No Mercy - Lori Armstrong
Animal Magnetism - Jill Shalvis
Crazy for Love - Victoria Dahl
Kink - Saskia Walker/Sasha White
So Sensitive - Anne Rainey
Dark Taste of Rapture - Gena Showalter
The Darkest Secret - Gena Showalter
Vampire in Atlantis - Alyssa Day
Vampire Dragon - Annette Blair
Captive Spirit - Anna Windsor
Chosen by Blood - Virna DePaul
Rebel - Zoe Archer
Stranger - Zoe Archer
A Taste of Desire - Beverley Kendall
Mistress by Midnight - Maggie Robinson
To Desire a Devil - Elizabeth Hoyt
To Tame a Dangerous Lord - Nicole Jordan

Digital TBR Next
Driven - Jayne Rylon (reread)
Shifting Gears - Jayne Rylon
Beg Me - Shiloh Walker
Tempt Me - Shiloh Walker
Jazz Baby - Lorelie Brown
Playboy Prankster - Pamela Britton
Just Like That - Erin Nicholas
Sweet Inspiration - Penny Watson
Breathe - Donna Alward
My Gigolo - Molly Burkhart
Scent of Persuason - Nikki Duncan

Blog Archive