July 15, 2008
11:39 AM
|
Edit Post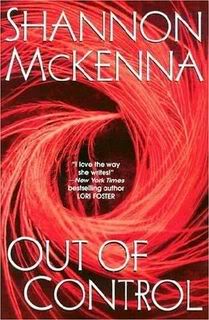 In Behind Closed Doors and Standing in the Shadows, Shannon McKenna introduced the McCloud Brothers: intense, rugged, super-sexy, and deliciously sensual. Now, Davy McCloud is about to meet a woman he can't trust--or live without . . .


Disillusioned P.I Davy McCloud has learned the hard way not to follow blind impulse when it comes to women. He'd rather
play it safe, and keep his life simple, calm and uncomplicated. But he's prepared to make an exception when Margot Vetter shows up to teach at the gym next door. The luscious, mysterious woman stirs a hunger he hasn't felt in a long time, as well as a fierce protectiveness he can't quite explain, especially when her background check reveals she's hiding secrets--secrets of the ugly, deadly kind.



Margot is at the end of her rope. It's bad enough that she's broke and on the run, framed for a murder she didn't commit. Now, she's being terrorized by a malevolent stalker. The only person she dares to turn to is buff, scarily gorgeous Davy McCloud, a man who seems like nothing on earth could intimidate him. But Davy has questions of his own, and the closer she gets to him, the more Margot discovers that she can't hold herself back from this enigmatic, sensual man in any way.

Neither of them expected passion to flare this quickly--or to drag them into a danger as real as their love. Margot's past has finally caught up with her. And for Davy McCloud, life is about to get more than complicated . . .It's turning deadly. .

From the moment Davy McCloud sets eye on Margot Vetter (Margaret Callahan) he knows he's looking at trouble and we're not only talking about a Margot being framed for murder, stalked by some crazy assassin and his manipulative brother who's seeking power and world-domination.
Davy knows his life, always on a tight and controlled leash, is going to be turned upside down by the strong and willful Margot.
Margot has never gone for the big, silent dominant types but Davy stirs something in her that makes her change her mind about that. When they pair up to tackle the problems in Margot's life they both discover that those problems are the least of their worries compared to the emotional thunderstorm they unleash in each other.

Margot is smart-mouthed, compassionate and a very different type of heroine compared to the previous books. She's out there, strong and willful from the very beginning.

Davy is the most quiet of the McCloud brothers. But there is so much more to him. He is the responsible one, the one that never lets down his guard, the one to keep everything and everyone together. The responsibilities bestowed upon him ever since he was a small boy don't permit him to let go and feel what he wants and needs to feel, to allow his control to make room for caring about anyone but his brothers. He's definitely as tormented as the other McCloud brothers by their weird upbringing, if not to say even more tormented because of him being the eldest boy. He doesn't waste words or time on pleasantries, humor or fun. He's very intense and dominant, but Margot doesn't bow down to him, she gives as good as she gets, even it means putting herself out there to be hurt.
Margot takes his control away and forces him to feel and care. He fights this with all he can but it's a losing battle. She rips him wide open and leaves him vulnerable like he's never been ever before.

Davy and Margot are perfect for each other. They have so many similarities and yet they are so different. Each one able to bring out unwanted emotions, they long for deep inside, in the other. They are straightforward, open, direct and honest. But where Margot is light-hearted and has an amazing ability to bounce back and go for it all, Davy is stern and silent, thinking that as long as every emotion is under control, nothing can go wrong and nobody gets hurt.
They both push each other's buttons, both consciously as well as unintentional, making each other feel and say things they don't want to. They ignite feelings in each other that scare them both. They both have control issues, however their motives for wanting control and exert dominance are very different.

The "bad-guys" in this book were absolutely evil and terrifyingly scary.
In every one of her books I've read so far there's been something McKenna amazes me with. In this one it was her knack for writing psychopaths to the teeth, life-like psychopaths such as Marcus and Faris. The way she describes them and their motives, the way she describes Faris' thought patterns, left me awestruck. I even started to believe in them myself, as horrifying as they were.
Marcus was the true evil one, he is so deranged, depraved it really scared me. He pulls all the strings with his mind games and mind control over Faris. These characters really had me wondering where McKenna comes up with this. At the same time I was admiring her thorough research that gives her books the depth and the compelling characters I like so much.

I got a nice taste of previous main characters with glimpses of Erin, Connor and Raine and a bit more of Seth. But also former secondary characters as Sean, Tamara, Miles and Cindy made an appearance, the one more lingering than the other. Every secondary character performing their supporting roles, giving Margot and Davy the back-up needed and putting them in the spotlight when it counted.

The youngest McCloud, Sean, is very intriguing. The tidbits on him were very promising to say the least. If I go by what I've learned about him in this book and the previous ones, I can't wait to know what is behind his cheerful and happy-go-lucky exterior. As it was, Davy also blew me off my socks turning out to be much more intense than I ever thought.

The intriguing first chapter sets the stage for a true Shannon McKenna book, filled with thrilling suspense, fast-paced action and heart wrenching emotions. Paired up with some steamy erotic scenes I took it all in and savored it.
The suspense plot is set up perfectly, nicely dosed, disclosing small amount of details along the way, building up to a climax that the reader sees coming but still blows you out of the water. The fighting sequences between Davy and Faris are mindboggling and so lifelike I was cringing in my seat while reading them.
The love scenes between Margot and Davy were tantalizing, breathtaking and spine tingling. They portrayed their characters and dilemmas so well they were a true addition to the character-development of both of them.
This book kept me riveted to the pages, not wanting to let go for a single second. Everything was right: the incomparable plot with its mind-blowing conclusion, the strong and well-written characters, both primary and secondary and the heart throbbing romance. It all fit together perfectly.
The end had me goose-bumped and teary-eyed. The balance between plot, character-development and the erotic romance is as I've grown accustomed to by Shannon McKenna: exquisite!
Quotes:
Then she'd strip him naked, rub him down with oil, knock him onto his back and ride him of into the sunset. At a hard gallop.

Sean to Davy about Margot after Davy asks Sean if he's put the moves on her:
"I've tried, sure. Any straight guy with a pulse would try. (…) She just wasn't into me. It's just like when I got that crush on my high school French teacher. She just sort of pats me on the head while I pant and drool."(...)"I think it's you she likes."

Nice to meet you!
Pearl

Netherlands
39, married to my real life romance hero, addicted to TV shows, reading romance novels and Twitter. I'm a chronic (e)book hoarder and my absolute favorite genres within romance fiction are contemporary romance and romantic suspense, but I don't shy away from historical, paranormal or erotic romance either. Even the occasional (urban) fantasy romance, futuristic and sci fi romance may make it to my Mount TBR. This is my corner of the world wide web where I let you know what books I'm hoarding, reading and reviewing.
View my complete profile

My Book-Providers
Reviews by Rating

Reviews by Genre
Reviews by Type

Reviews by Publisher

Fellow Bloggers


GR Reading Challenge
Pearl
has read 10 books toward her goal of 50 books.

On My TBR Shelf
Unforgivable - Laura Griffin
Snapped - Laura Griffin
Darkness at Dawn - Elizabeth Jennings
Sizzle and Burn - Alexis Grant
No Mercy - Lori Armstrong
Animal Magnetism - Jill Shalvis
Crazy for Love - Victoria Dahl
Kink - Saskia Walker/Sasha White
So Sensitive - Anne Rainey
Dark Taste of Rapture - Gena Showalter
The Darkest Secret - Gena Showalter
Vampire in Atlantis - Alyssa Day
Vampire Dragon - Annette Blair
Captive Spirit - Anna Windsor
Chosen by Blood - Virna DePaul
Rebel - Zoe Archer
Stranger - Zoe Archer
A Taste of Desire - Beverley Kendall
Mistress by Midnight - Maggie Robinson
To Desire a Devil - Elizabeth Hoyt
To Tame a Dangerous Lord - Nicole Jordan

Digital TBR Next
Driven - Jayne Rylon (reread)
Shifting Gears - Jayne Rylon
Beg Me - Shiloh Walker
Tempt Me - Shiloh Walker
Jazz Baby - Lorelie Brown
Playboy Prankster - Pamela Britton
Just Like That - Erin Nicholas
Sweet Inspiration - Penny Watson
Breathe - Donna Alward
My Gigolo - Molly Burkhart
Scent of Persuason - Nikki Duncan

Blog Archive