July 15, 2008
8:00 AM
|
Edit Post
This book was released on July 1st and I reviewed it for REALMS ON OUR BOOKSHELVES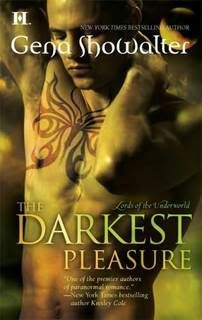 He can bear any pain but the thought of losing her…
Reyes is a man possessed. Bound by the demon of pain, he is forbidden to know pleasure. Yet he craves a mortal woman, Danika Ford, more than breath and will do anything to claim her—even defy the gods.

Danika is on the run. For months, she's eluded the Lords of the Underworld, immortal warriors who won't rest until she and her family have been destroyed. But her dreams are haunted by Reyes, the warrior whose searing touch she can't forget. Yet a future together could mean death to all they both hold dear. . .
Reyes is the Lord of the Underworld possessed by Pain. He must ease his torment by hurting himself physically; only physical pain brings him relief from his demon. Emotional pain doesn't count. He has a heart wrenching choice to make, between his love for Danika and his loyalty to the Lords. He tries to prevent his fellow Lords from getting hurt and at the same time his every action is motivated by his feelings for Danika.

A holiday to Budapest, in memory of her grandfather, has changed Danika's life forever. She used to be safe and protected in the cradle of her family. Now she's alone, on the run for her life and used as a pawn by both sides in the search for Pandora's Box. She proves to be a key figure in this search. She has to make a choice too between her loyalty and love for her family and her new and unwelcome feelings for a warrior possessed by a demon. Soon she realizes that she is not capable of betraying or hurting Reyes, not even for her family.

I read this third book of the Lords of the Underworld without reading book 2 and though I did miss some details on the main plot, this didn't prevent me from enjoying this story, but still I would recommend reading the series in order for complete enjoyment.

Gena Showalter promised us dark and intense and I have to say that she does that just as well as she does fun and witty. With this book she has underlined the saying that pleasure and pain go hand in hand.
The book had a really raw, dark and intense feel, even more than THE DARKEST NIGHT, and it worked for me. There was no other way to tell Reyes and Danika's story. Their struggles don't leave much room for wit or bantering although I did have an occasional smile at some of Danika's internal dialogues when her jealousy would rear its ugly head.

For me this was a novel of conflicting feelings and interests, choices and dilemmas. Not only for Danika and Reyes but for Sabin and Paris, who also have their difficult dilemmas to deal with.

Showalter also knows how to capture the essence of the Lord and his demon in throughout the entire book. THE DARKEST NIGHT depicted Maddox's raging violence and THE DARKEST PLEASURE oozes with Reyes' agonizing pain. I was truly moved by the utter desperation for peace Reyes showed. He knows Danika is the woman for him from the start because she is the only one who can calm both him and his inner demon. I was also impressed by Danika's strength and determination.

The Lords, expanded by a few other interesting characters, mainly form the secondary cast. The war with the Hunters and the search for Pandora's box intensifies in this book which make the Lords more desperate. The camaraderie and bond is still there but there is a lot at stake and this is portrayed in the dialogues and the interaction between the Lords. Paris and Aeron monopolized my attention on every page they appeared and to say they were intriguing is a major understatement. Also, Sabin was another Lord who certainly held my attention. Their scenes really have me anticipating what's to come.


The first part of the book sets the stage for the fast paced, action-filled and mind-blowing climax in the second part of the book.
The plot is intricate and compelling and Gena Showalter did a great job in carefully and meticulously building up the world and the plot. She interlaced several subplots with the main plot, offering a promise of intriguing things to come. The build-up of the story is done perfectly, disclosing just enough to make me hunger for the next development.
Every time I thought I had the plot figured out, a surprising twist was thrown into the mix or a totally unexpected turn was taken. At the end of the book I can only guess where Gena Showalter will be taking me in the next installment of this series and I also know my guesses won't come even close.

THE DARKEST PLEASURE turned out to be a terrific part in a series that's darker, more intense and more promising with each new installment.
This series is a definite keeper for me, combining mythology, romance and action in one compelling package!
Quote:
He was Reyes, a combination of man and demon, drawing and repelling her at the same time. He was right and wrong wrapped in the same sensual package, with a kiss and a flavor that transported her at once to the heights of heaven and the depths of hell.

Nice to meet you!
Pearl

Netherlands
39, married to my real life romance hero, addicted to TV shows, reading romance novels and Twitter. I'm a chronic (e)book hoarder and my absolute favorite genres within romance fiction are contemporary romance and romantic suspense, but I don't shy away from historical, paranormal or erotic romance either. Even the occasional (urban) fantasy romance, futuristic and sci fi romance may make it to my Mount TBR. This is my corner of the world wide web where I let you know what books I'm hoarding, reading and reviewing.
View my complete profile

My Book-Providers
Reviews by Rating

Reviews by Genre
Reviews by Type

Reviews by Publisher

Fellow Bloggers


GR Reading Challenge
Pearl
has read 10 books toward her goal of 50 books.

On My TBR Shelf
Unforgivable - Laura Griffin
Snapped - Laura Griffin
Darkness at Dawn - Elizabeth Jennings
Sizzle and Burn - Alexis Grant
No Mercy - Lori Armstrong
Animal Magnetism - Jill Shalvis
Crazy for Love - Victoria Dahl
Kink - Saskia Walker/Sasha White
So Sensitive - Anne Rainey
Dark Taste of Rapture - Gena Showalter
The Darkest Secret - Gena Showalter
Vampire in Atlantis - Alyssa Day
Vampire Dragon - Annette Blair
Captive Spirit - Anna Windsor
Chosen by Blood - Virna DePaul
Rebel - Zoe Archer
Stranger - Zoe Archer
A Taste of Desire - Beverley Kendall
Mistress by Midnight - Maggie Robinson
To Desire a Devil - Elizabeth Hoyt
To Tame a Dangerous Lord - Nicole Jordan

Digital TBR Next
Driven - Jayne Rylon (reread)
Shifting Gears - Jayne Rylon
Beg Me - Shiloh Walker
Tempt Me - Shiloh Walker
Jazz Baby - Lorelie Brown
Playboy Prankster - Pamela Britton
Just Like That - Erin Nicholas
Sweet Inspiration - Penny Watson
Breathe - Donna Alward
My Gigolo - Molly Burkhart
Scent of Persuason - Nikki Duncan

Blog Archive