July 16, 2008
12:18 PM
|
Edit Post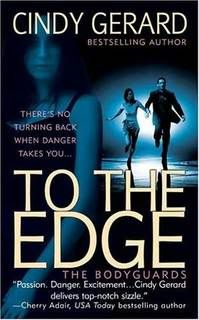 BACKCOVER:
THE FIRST RULE OF BODYGUARDS:
The daughter of a wealthy businessman, Jillian Kincaid grew up with bodyguards shadowing her every move-and she hated it. Now a TV anchorwoman, she refuses to let another hired thug follow her around. Not even when she begins to receive terrifying death threats. Not even when the bodyguard is the darkly seductive Nolan Garrett...

NEVER FALL IN LOVE...
Trained in Special Ops, bodyguard Nolan Garrett has been hired by Jillian's father to keep her out of danger. But it's clear from the start that Jillian isn't going to make his job easy. Far from the spoiled princess he expected, Jillian is tough, independent, and totally sexy. And she's fighting him every step of the way.

WITH THE WOMAN YOU'RE PROTECTING.
As Jillian's stalker raises the stakes, Nolan must keep her close if he wants to keep her alive. But being so close can only turn up the heat that's been simmering between them-a heat that could explode into passion at any moment...
Nolan Garrett's life has hit rock bottom. Guilt over many things has him drinking it away when he finds a new purpose in life by being Jillian Kincaid's bodyguard, at the request of her father and as a favor to his brother. Though he sees it as being forced and unwanted he is determined not to let anyone down again who is depending on him. This new purpose has the potential of changing his life forever.
Jillian Kincaid is also determined, determined to make a life for her own without the smothering protection from her high profile father. She doesn't want some bodyguard following her like a shadow. But death threats issued by a stalker and her father's tenacity force her to accept Nolan, but this doesn't mean she's going to make it easy for him.

Jillian is stubborn, feisty and not easily taken off her guard by anything. At first she sees the threats as some kind of sick joke on her but soon she understands that they are for real and she copes with it as well as she can. She also isn't fooled by Nolan's attitude towards her, she sees in him what he tries very hard to deny.

Cindy Gerard also does a great job with Nolan, she paints a perfect picture of a hardened and tough ex-military who has seen war and death and has trouble keeping his feelings professional and his focus on his job to protect his client. The dilemmas he faces and battles are described with a reality that shows Cindy Gerard's great writing skill, descriptive talent and thorough knowledge or research of the subjects touched in the book.

Neither Nolan nor Jillian is what the other seemed to be expecting. Nolan isn't the stoic, arrogant, smart-mouth bodyguard he pretends to be. He's fighting guilt and shame and fighting the fact he doesn't think he deserves someone like Jillian to like him, let alone love him.
Jillian isn't the pampered socialite she seems to the superficial eye. She's strong-willed and compassionate with a huge longing for independence from her father. These hidden sides are what surprises them and attracts them to each other.
I loved the interactions and the dynamic between Jillian and Nolan. They were sarcastic and feisty. Neither giving an inch, nor giving into the simmering feelings between them.

There is a very big cast of secondary characters. Mostly connected to Jillian; coworkers, friends, family. And of course Nolan's family. Nolan is the youngest of the Garretts, with Ethan and Dallas as his older brothers and Eve as his twin sister. The glimpses from them have bumped up my anticipation level for their own books to an amazing high.
Despite the many secondary characters, they are never bothersome and it's easy to keep track of them because of Gerard's clear and vivid writing style. They all complement the story and the main characters in their own way.

Cindy Gerard is great at fleshing out the characters, complete with background, motivation and the rollercoaster of emotions running through them. Her lively description of emotions like anger, fear, lust, confusion, hate and love make the book a terrific read.
Despite some flashback scenes on Nolan's part, the book is extremely fast-paced (I read it in almost one sitting), it's filled with nail biting suspense and heartbreaking romance. The love scenes are absolutely not explicit but certainly well written and explosive in attraction and sensuality.
Slowly but surely it builds up to an all-consuming climax, providing a perfect fit for the thrilling suspense plot that builds up in the same exceptional way. Both are well dosed and the suspense plot keeps you guessing as to who Jillian's stalker is and why. The answers to this are both horrifying and heart wrenching at the same time. But as with all the characters in this book, again the motivations and background are fleshed out in an amazing way.

This was my first taste of Cindy Gerard's writing and I must say I'm longing for more. With this book she has put herself in the higher ranks of the romantic suspense genre on my bookshelves, giving me the emotional ride I search for in the books I read.
Quotes:
He snorted.
"So sorry," she bit out with the sweetness of alum, "but you're going to have to translate that one for me. I'm not fluent in brooding male grunting."

He almost lost it then. Almost forgot everything he knew, about right, about wrong, about who she was and who he wasn't. He almost tipped her face up to his to see if that amazing mouth tasted the way he knew it would. Of sex and hunger and a salvation a man like him had no business seeking from a woman like her.

Nice to meet you!
Pearl

Netherlands
39, married to my real life romance hero, addicted to TV shows, reading romance novels and Twitter. I'm a chronic (e)book hoarder and my absolute favorite genres within romance fiction are contemporary romance and romantic suspense, but I don't shy away from historical, paranormal or erotic romance either. Even the occasional (urban) fantasy romance, futuristic and sci fi romance may make it to my Mount TBR. This is my corner of the world wide web where I let you know what books I'm hoarding, reading and reviewing.
View my complete profile

My Book-Providers
Reviews by Rating

Reviews by Genre
Reviews by Type

Reviews by Publisher

Fellow Bloggers


GR Reading Challenge
Pearl
has read 10 books toward her goal of 50 books.

On My TBR Shelf
Unforgivable - Laura Griffin
Snapped - Laura Griffin
Darkness at Dawn - Elizabeth Jennings
Sizzle and Burn - Alexis Grant
No Mercy - Lori Armstrong
Animal Magnetism - Jill Shalvis
Crazy for Love - Victoria Dahl
Kink - Saskia Walker/Sasha White
So Sensitive - Anne Rainey
Dark Taste of Rapture - Gena Showalter
The Darkest Secret - Gena Showalter
Vampire in Atlantis - Alyssa Day
Vampire Dragon - Annette Blair
Captive Spirit - Anna Windsor
Chosen by Blood - Virna DePaul
Rebel - Zoe Archer
Stranger - Zoe Archer
A Taste of Desire - Beverley Kendall
Mistress by Midnight - Maggie Robinson
To Desire a Devil - Elizabeth Hoyt
To Tame a Dangerous Lord - Nicole Jordan

Digital TBR Next
Driven - Jayne Rylon (reread)
Shifting Gears - Jayne Rylon
Beg Me - Shiloh Walker
Tempt Me - Shiloh Walker
Jazz Baby - Lorelie Brown
Playboy Prankster - Pamela Britton
Just Like That - Erin Nicholas
Sweet Inspiration - Penny Watson
Breathe - Donna Alward
My Gigolo - Molly Burkhart
Scent of Persuason - Nikki Duncan

Blog Archive