August 29, 2007
6:04 PM
|
Edit Post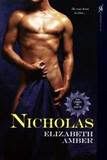 The last in a fabled line of otherworldly aristocracy, the Lords of Satyr are born to wealth, power, and a talent for sensual delight that mere mortals only dream of. Commanded to marry, these passionate men will travel to Rome, Venice, and Paris—and along the way will explore desires both shamelessly wicked and blissfully divine…

HE HAD SWORN TO TAKE A PROPER WIFE. HE HADN'T BARGAINED FOR MEETING HIS MATCH…

Nicholas looks very much like what he is—a handsome, successful heir to a vineyard in Tuscany. But Nicholas is much more for he is one of the last in an ancient line of Satyr men. And the dying king of ElseWorld wants him not only to marry, but to wed one of the king's own daughters—a half-human, half-faerie woman unaware of her heritage. Nicholas won't shirk his duty to produce heirs to guard his race's legacies, but he never planned to make his bride his only lover. A Satyr's sexual hunger and sexual skills are legendary. One woman will never satisfy him.

Or so Nick believes until he meets Jane. As spirited as she is fey, as beautiful as she is innocent, she is nevertheless determined to make her new husband hers alone—and she's eager for him to teach her every deliciously carnal secret he knows.
This new voice in the erotic romance genre has certainly found an admirer in this reader. I'm hearing it loud and clear. Not to mention feeling it! There just aren't enough words for me to describe this book: mindblowing, enthralling, raw, pure, bold, moving, fascinating and many more!

This is one of the best erotic novels I've read sofar. Not only enticing me with hot, sensual and carnal erotic scenes but also with a plot that's utterly intrigueing. Amber's writing style is vivid, colourful and sensual. Pulling you into a story that's so much more than just a few erotic scenes held together by a love story! This book satisfies the reader in me that longs for more than sex in an erotic romance.

An amazing tale of love wrapped in a magical and sensual world. Both story and characters are enticing and heartthrobbing. It sizzled and sparkled in the erotic department and at the same time it was endearing and touching to see Nick and Jane come to accept and grow to love each other. The balance between Nick and Jane is perfect. Nick is a strong and dominant alpha male but Jane really stands her ground and doesn't let Nick become to overbearing. In her own manner she is his perfect match both in intelligence and wit as in the sensual aspect of their relationship.
Nick is just what Jane needs to feel wanted and loved again, despite of who and what she is. Jane is just what Nick needs to have the joy, pleasure and support of a soulmate.

Not only Jane and Nick are wonderful characters, the secondary characters are extremely well written and crucial to the story. Nick's brothers, Jane's sister and Jane's aunt are as intrigueing characters as Nick and Jane are.

When you read this book, you're swept away in a world of magical creatures the likes of satyrs, faeries and maenads. This world Elizabeth Amber creates is an intrigueing one, leaves the reader wanting to know more about the ways and rules of it and let me tell you: after reading this book the male body, child-conception and pregnancy take a whole other meaning!
Although there were some uncomfortable scenes (multiple partners/female only) for the faint-hearted among us as a reader you accept and appreciate them because they are a natural part of the story and essential for the excellent worldbuilding Elizabeth Amber does.
All the -for me- new terms and concepts (the Satyr World, The Calling, the Sisters of Bacchant) would have been overwhelming but Elizabeth Amber's writing style and worldbuilding-skills will pull you in with hardly any effort.

Even though the story concentrates on Nick and Jane you catch a good glimpse the brothers Raine en Lyon. Raine is the serious somewhat withdrawn brother. Lyon is the bold, brawny, playful brother. And at the end of the book these brothers have taken their rightful place among the alpha-males but it's Lyon who has captured my interest the most. I think he's going to be my favourite Lord of Satyr.
Quote:
Jane to her sister Emma:
We are half sisters by blood and full sisters by love

Nice to meet you!
Pearl

Netherlands
39, married to my real life romance hero, addicted to TV shows, reading romance novels and Twitter. I'm a chronic (e)book hoarder and my absolute favorite genres within romance fiction are contemporary romance and romantic suspense, but I don't shy away from historical, paranormal or erotic romance either. Even the occasional (urban) fantasy romance, futuristic and sci fi romance may make it to my Mount TBR. This is my corner of the world wide web where I let you know what books I'm hoarding, reading and reviewing.
View my complete profile

My Book-Providers
Reviews by Rating

Reviews by Genre
Reviews by Type

Reviews by Publisher

Fellow Bloggers


GR Reading Challenge
Pearl
has read 10 books toward her goal of 50 books.

On My TBR Shelf
Unforgivable - Laura Griffin
Snapped - Laura Griffin
Darkness at Dawn - Elizabeth Jennings
Sizzle and Burn - Alexis Grant
No Mercy - Lori Armstrong
Animal Magnetism - Jill Shalvis
Crazy for Love - Victoria Dahl
Kink - Saskia Walker/Sasha White
So Sensitive - Anne Rainey
Dark Taste of Rapture - Gena Showalter
The Darkest Secret - Gena Showalter
Vampire in Atlantis - Alyssa Day
Vampire Dragon - Annette Blair
Captive Spirit - Anna Windsor
Chosen by Blood - Virna DePaul
Rebel - Zoe Archer
Stranger - Zoe Archer
A Taste of Desire - Beverley Kendall
Mistress by Midnight - Maggie Robinson
To Desire a Devil - Elizabeth Hoyt
To Tame a Dangerous Lord - Nicole Jordan

Digital TBR Next
Driven - Jayne Rylon (reread)
Shifting Gears - Jayne Rylon
Beg Me - Shiloh Walker
Tempt Me - Shiloh Walker
Jazz Baby - Lorelie Brown
Playboy Prankster - Pamela Britton
Just Like That - Erin Nicholas
Sweet Inspiration - Penny Watson
Breathe - Donna Alward
My Gigolo - Molly Burkhart
Scent of Persuason - Nikki Duncan

Blog Archive