August 22, 2007
6:03 PM
|
Edit Post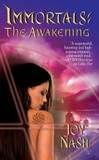 Kalen, Immortal Warrior, has lain down his weapons. Scornful of what the human race has become, he's rejected everything modern humans have invented—until a young, badly dressed American witch arrives at his remote Scottish castle bearing tales of demons and Death Magic.

Christine Lachlan is determined to gain Kalen's aid in the looming battle between Immortals and the demon. But first, she'll need every feminine skill she possesses to outwit Kalen's beautiful and vengeful Sidhe lover...

Christine was everything Kalen had been desperate to capture in his art—and in his bed. But Kalen has a dark secret of his own to fight before he and Christine can join the others for the last battle.
In this third book of the Immortals the battle against evil continues when Christine Lachlan, a water-witch and love muse starts her search for the third Immortal, Kalen, in order to convince him to join the fight against death magic.

But the climbing feeling of anxious anticipating has some what died down in this book. The rollercoaster-ride Ashley and Popp took me on has slowed down a bit. Luckily it hasn't come to a full stop for I would be very disappointed.
But I am a bit ambiguous about this on, delivered by Joy Nash. On the one hand I can't say I found it really good, but I can't say I found it bad either...

It started very promising with the first three sentences setting a tone I was absolutely willing to follow but somewhere in chapter two I was lost in the very long journey of Christine trying to find Kalen.
I did refind the feeling I had with the previous books, but only in the last 100 pages or so. The chapters in between were definitely not drawing me in and were certainly not what I've grown used to in this series.
Sometimes I was a bit lost in all the new magical creatures that were being introduced: Sidhe, Unseelie, Halflings, Gnomes, Selkies, Ogres, Brownies, Pookahs. A lot of the time I missed the humor and bantering. There was some, mostly by Mac but it was not to my satisfaction.
It took me quite a while to get into the book after the first chapter.

Because it took a while for Christine and Kalen to meet in the book it took away the strong connection between hero and heroin I did feel in book 1 and 2.
And Kalen was not my kind of Immortal. He was so detached and indifferent to the human world. Of course he had perfectly good reasons for this as it turns out later in the book but still where Adrian and Darius were very dominant and overpowering offering a good counterpart for Amber and Lexi, I felt here that Kalen was overshadowed by Christine's strenght and determination, also by the way he just resigned to some things that had happened in his past.

But of course there were definitely some very nice things about the book too.
When Kalen and Christine finally meet the interactions, attraction, sensuality and magic between them is palpable and immensly present.
I admired Christine. She is so feisty and brave, willing to do anything to save the world from evil.
I loved Kalen's housekeeper Pearl, I adored Mac (oh man if only Mac good get a book of his own too.... but alas he's not an Immortal). Leanna was the proverbial evil bitch, seriously disturbed by her thirst for power and immortality.
And when the battle against Tain and the ancient demon, called Culsu in this book, started, that's when I really had that familiar feeling again that this series ignited in me.
And it's the end that saved this book from a low rating.

I guess when you have a multi-author series, the risk that there's one author's style you like less, is always there.
Book 4 is written by Jennifer Ashley, who also started the series with book 1. I really hope that one will tip the scale to amazing again. Because this series really deserves it.
Quotes:

Kalen and Leanna:
"There will be no child, Leanna."
"But –you can't just walk away! I'm leannan-sidhe! No man can resist me!"
He gave her a slight, mocking bow. "I just did."

Uni to Kalen:
"Guard your human witch well. She is a true treasure. Her love for you, and yours for her, is your true salvation."

Nice to meet you!
Pearl

Netherlands
39, married to my real life romance hero, addicted to TV shows, reading romance novels and Twitter. I'm a chronic (e)book hoarder and my absolute favorite genres within romance fiction are contemporary romance and romantic suspense, but I don't shy away from historical, paranormal or erotic romance either. Even the occasional (urban) fantasy romance, futuristic and sci fi romance may make it to my Mount TBR. This is my corner of the world wide web where I let you know what books I'm hoarding, reading and reviewing.
View my complete profile

My Book-Providers
Reviews by Rating

Reviews by Genre
Reviews by Type

Reviews by Publisher

Fellow Bloggers


GR Reading Challenge
Pearl
has read 10 books toward her goal of 50 books.

On My TBR Shelf
Unforgivable - Laura Griffin
Snapped - Laura Griffin
Darkness at Dawn - Elizabeth Jennings
Sizzle and Burn - Alexis Grant
No Mercy - Lori Armstrong
Animal Magnetism - Jill Shalvis
Crazy for Love - Victoria Dahl
Kink - Saskia Walker/Sasha White
So Sensitive - Anne Rainey
Dark Taste of Rapture - Gena Showalter
The Darkest Secret - Gena Showalter
Vampire in Atlantis - Alyssa Day
Vampire Dragon - Annette Blair
Captive Spirit - Anna Windsor
Chosen by Blood - Virna DePaul
Rebel - Zoe Archer
Stranger - Zoe Archer
A Taste of Desire - Beverley Kendall
Mistress by Midnight - Maggie Robinson
To Desire a Devil - Elizabeth Hoyt
To Tame a Dangerous Lord - Nicole Jordan

Digital TBR Next
Driven - Jayne Rylon (reread)
Shifting Gears - Jayne Rylon
Beg Me - Shiloh Walker
Tempt Me - Shiloh Walker
Jazz Baby - Lorelie Brown
Playboy Prankster - Pamela Britton
Just Like That - Erin Nicholas
Sweet Inspiration - Penny Watson
Breathe - Donna Alward
My Gigolo - Molly Burkhart
Scent of Persuason - Nikki Duncan

Blog Archive