March 18, 2008
3:26 PM
|
Edit Post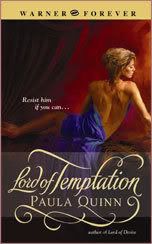 RESIST HIM IF YOU CAN...

Every Woman's Desire
Norman Lord Dante Risande never met a woman he couldn't seduce. Until a lovely slave named Gianelle refuses his bed and piques his interest. So when she's accused of murder, he can't sit idly by. As the King's right hand, it's his duty to investigate. But in order to save her, he must buy her.

No Man's Possession
A slave all her life, Gianelle wants nothing to do with men. Especially this silver-eyed, velvet tongued warrior. What she wants is her freedom, not to become another of Dante's conquests. But as the only suspect in the killing of her last master, she has no choice except to put her faith in Dante...a man who questions everything, including her innocence.
From the moment Dante Risande lays eyes on Gianelle, he's captured by her and when she's accused of murder he does everything in his power to protect her. But other than her well being he also wants her heart for she is the first woman able to tempt him into giving his own.
Gianelle Dejiat has never met anyone as enthralling and compassionate as Dante. But she trusts no man, certainly not one who has paid for her. Still Dante's is so very different from all the other men she's known. His compassion and passion melts her heart and defenses.
But before they can live happily ever after they have to battle their own feelings while fighting of a shared enemy who's bent on destroying them both.

Gianelle is not the subdued slave you would expect. She has learned to put up a meek front but underneath that mask is an outspoken and defiant woman. She is brave, spirited and lovely, with a strong sense of justice. Men have abandoned, betrayed or mistreated her so she relies on no man for her happiness.
Dante is a hero who is masculine, passionate and seductive. Until Gianelle he is what I would call a medieval playboy. But beyond the temptation incarnate there is a man who is loyal to the bone and when he learns true love he gives into it with all he has.
Gianelle is a challenge for Dante because she doesn't melt at his feet like all the other women he knows. She has a sharp tongue and doesn't hesitate to let him know exactly what she thinks. The dialogues between Dante and Gianelle are delightful. They are lively and between his seduction and her defiance they set the pages on fire.
They both touched my deepest emotions and the chemistry between them was utterly sensual and palpable.

Next to the hero and heroine who enticed and endeared me there are a number of compelling secondary characters that form the perfect addition to the story. It was lovely to see Brand, Brynna and their children, but Casey, James and Balin captured my heart immediately with their roles in the whole plot.

Again Paula Quinn delivers a captivating medieval tale that touched my every emotion. From laughter to anger, from pity to admiration. My heart throbbed and my breath caught. The love story and the plot were perfectly dosed and mixed, it was nicely paced keeping me reading long into the night, not wanting to put it down. Paula Quinn really knows how to pull her readers deep into the medieval times with the excellent plot, descriptions of habits and ways and historical facts. Add the love story with it's sensual, captivating love scenes and the characters that touch you deeply and you never want to leave this world again…

I can't get enough of Paula Quinn's Risandes and the people who surround them. These books are the perfect way to escape into a medieval paradise!
Quote:
Gianelle: "I am helpless against my own emotions, held prisoner by a man who needs no locks or shackles to keep me, just his smile, (...) his kiss, his kind words. I'm a prisoner to this land that is also you. For I love it here, and even if I have to suffer your cold indifference, I never want to leave."

Nice to meet you!
Pearl

Netherlands
39, married to my real life romance hero, addicted to TV shows, reading romance novels and Twitter. I'm a chronic (e)book hoarder and my absolute favorite genres within romance fiction are contemporary romance and romantic suspense, but I don't shy away from historical, paranormal or erotic romance either. Even the occasional (urban) fantasy romance, futuristic and sci fi romance may make it to my Mount TBR. This is my corner of the world wide web where I let you know what books I'm hoarding, reading and reviewing.
View my complete profile

My Book-Providers
Reviews by Rating

Reviews by Genre
Reviews by Type

Reviews by Publisher

Fellow Bloggers


GR Reading Challenge
Pearl
has read 10 books toward her goal of 50 books.

On My TBR Shelf
Unforgivable - Laura Griffin
Snapped - Laura Griffin
Darkness at Dawn - Elizabeth Jennings
Sizzle and Burn - Alexis Grant
No Mercy - Lori Armstrong
Animal Magnetism - Jill Shalvis
Crazy for Love - Victoria Dahl
Kink - Saskia Walker/Sasha White
So Sensitive - Anne Rainey
Dark Taste of Rapture - Gena Showalter
The Darkest Secret - Gena Showalter
Vampire in Atlantis - Alyssa Day
Vampire Dragon - Annette Blair
Captive Spirit - Anna Windsor
Chosen by Blood - Virna DePaul
Rebel - Zoe Archer
Stranger - Zoe Archer
A Taste of Desire - Beverley Kendall
Mistress by Midnight - Maggie Robinson
To Desire a Devil - Elizabeth Hoyt
To Tame a Dangerous Lord - Nicole Jordan

Digital TBR Next
Driven - Jayne Rylon (reread)
Shifting Gears - Jayne Rylon
Beg Me - Shiloh Walker
Tempt Me - Shiloh Walker
Jazz Baby - Lorelie Brown
Playboy Prankster - Pamela Britton
Just Like That - Erin Nicholas
Sweet Inspiration - Penny Watson
Breathe - Donna Alward
My Gigolo - Molly Burkhart
Scent of Persuason - Nikki Duncan

Blog Archive