November 13, 2008
8:15 AM
|
Edit Post
I reviewed this book for ROOB at the author's request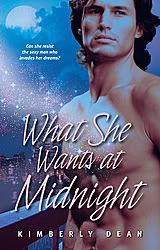 Back cover:
The man of Devon Bradshaw's dreams is exactly that — in her dreams.
For the past seven months, he has watched her with dark, haunting eyes while she sleeps. Though she yearns to caress those powerful muscles and feel the intense heat radiating from his body, she can't even see his face.

Cael Oneiros is a Dream Wreaker, descended from Greek gods, and ever since his first night at Devon's bedside, he's wanted to fill the luscious redhead's sweet dreams with steamy satisfaction. It tortures him not to touch her, not to stay by her side until dawn -- but without his help, none of his other mortal charges can sleep.

Desperate to touch her dream man, Devon casts a love spell...and is stunned when it works. With a little mandrake, some mugwort, and a few rose petals, she finally has her legs wrapped around Cael's muscular body -- and the sex is a mind-blowing pleasure ride she could never have dreamed up. But her magic didn't come with a warning label, and while she's burning up the sheets every night with her sexy sandman, her love spell has consequences she didn't expect....
Doesn't every woman want a mysterious hot man to visit her dreams at night?

Devon Bradshaw is no different only not being able to touch him or keep him with her for long, if only in her dreams, she does something that has severe consequences. Not only for herself, her dream man and those close to her but for others too.

Cael Oneiroi is a Dream Wreaker, descended from the Greek Gods and sons of Nyx and Hypnos, he and his brothers bestow dreams on humans. They help people dream. Without guiding their dreams they only make sure people have them.
Devon is one of his charges and he's is magnetically attracted to her but when Devon sets something in motion to keep him with her in what she thinks are her dreams, she disrupts the world and causes a disharmony that may even cost her the man of her dreams.

Devon is a photojournalist happy with her life until Cael walks into her dreams. He starts a yearning in her that is unfamiliar and she takes actions to explore this yearning but her actions seem to backfire since she doesn't know who or what Cael is.

There's an extensive cast of secondary characters. There are Cael's brothers, there's eight of them and Devon's best friend Tasha St. James. But also very minor secondary characters like the old man in the greenhouse, Tasha's neighbor, Devon's colleagues and Cael's charges.
Two secondary characters have a notable second storyline in the story: Tasha and her neighbor Jason Rappaport. I liked their storyline, as it was a nice and lighthearted opposite for the somewhat mysterious storyline with Devon and Cael.

I liked this book and had a few pleasant hours reading it. It was easy to read with a fluent writing style that enables you to go through the book very smoothly. I also loved the way Kimberly Dean managed to combine scientific facts about dreaming and sleeping into the story.

The love scenes are very explicit but sensual and tasteful. They are nicely balanced with the plot and the characters' development.

I did miss a bit of intensity and chemistry between the main characters, which for example I did find in the interactions between Tasha and Jason. Sometimes I felt as if their storyline was taking away to much focus from the main couple. This left me feeling not really connected with Devon and Cael and their storyline. I would have liked for them to be fleshed out more.
But the accessible writing did make up for that a bit. And I loved the last part of the book. In the end it all came together, a few lingering questions were answered and I understood why Tasha's storyline took such a prominent place in the book.

Kimberly Dean sets up the Dream Wreakers' world in this book, preparing things for Wreakers to come. I'm curious for the brothers' stories.
I wasn't really sure what to expect but WHAT SHE WANTS AT MIDNIGHT has whetted my appetite for more Dream Wreakers and any of the Oneiroi brothers can visit my dreams anytime!

Nice to meet you!
Pearl

Netherlands
39, married to my real life romance hero, addicted to TV shows, reading romance novels and Twitter. I'm a chronic (e)book hoarder and my absolute favorite genres within romance fiction are contemporary romance and romantic suspense, but I don't shy away from historical, paranormal or erotic romance either. Even the occasional (urban) fantasy romance, futuristic and sci fi romance may make it to my Mount TBR. This is my corner of the world wide web where I let you know what books I'm hoarding, reading and reviewing.
View my complete profile

My Book-Providers
Reviews by Rating

Reviews by Genre
Reviews by Type

Reviews by Publisher

Fellow Bloggers


GR Reading Challenge
Pearl
has read 10 books toward her goal of 50 books.

On My TBR Shelf
Unforgivable - Laura Griffin
Snapped - Laura Griffin
Darkness at Dawn - Elizabeth Jennings
Sizzle and Burn - Alexis Grant
No Mercy - Lori Armstrong
Animal Magnetism - Jill Shalvis
Crazy for Love - Victoria Dahl
Kink - Saskia Walker/Sasha White
So Sensitive - Anne Rainey
Dark Taste of Rapture - Gena Showalter
The Darkest Secret - Gena Showalter
Vampire in Atlantis - Alyssa Day
Vampire Dragon - Annette Blair
Captive Spirit - Anna Windsor
Chosen by Blood - Virna DePaul
Rebel - Zoe Archer
Stranger - Zoe Archer
A Taste of Desire - Beverley Kendall
Mistress by Midnight - Maggie Robinson
To Desire a Devil - Elizabeth Hoyt
To Tame a Dangerous Lord - Nicole Jordan

Digital TBR Next
Driven - Jayne Rylon (reread)
Shifting Gears - Jayne Rylon
Beg Me - Shiloh Walker
Tempt Me - Shiloh Walker
Jazz Baby - Lorelie Brown
Playboy Prankster - Pamela Britton
Just Like That - Erin Nicholas
Sweet Inspiration - Penny Watson
Breathe - Donna Alward
My Gigolo - Molly Burkhart
Scent of Persuason - Nikki Duncan

Blog Archive