September 21, 2007
6:30 PM
|
Edit Post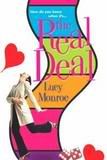 The most important thing in Amanda's life is negotiating a successful merger between her company and Brant Computers, a family-held competitor. It should be a done deal: Company president Eric Brant is on board with the idea. But when Amanda arrives in Eric's office, it is his cousin Simon Brant who greets her-and Simon is anything but agreeable. He's not about to give up control of the family company or lay off loyal workers. Squaring off against the sexy, brilliant, sexy, obstinate, sexy, eccentric, not to mention sexy Simon is completely frustrating-and a total turn-on. And when he walks out on her presentation, sidetracked by another one of his brilliant ideas, Amanda is shocked...and intrigued...no, furious!...and...and...and so attracted she can barely enter data into her Palm Pilot...

Simon has never met a woman as passionate and driven as Amanda, or as devastatingly attractive. He can't decide if he wants to put her on the next plane home-in the cargo hold-or kidnap her and spend a long weekend showing her exactly the kind of negotiating he likes best. Come to think of it, if the lady wants war, maybe they should engage in full-on battle...in the bedroom...and see who will be the victor. But when intimacy leads to an explosive passion, it might be time to think of a different, more permanent kind of merger...one that's less about business and all about pleasure...
I was in the mood for a nice and sweet contemporary romance after having read some heavy and intense paranormal and erotic romance novels so I took this one, at the same time starting a for me new author having bought Monroe's books based on excerpts on her website only.

The Real Deal is the story of Amanda and Simon. Both excelling in their professions but failing in the emotional department. Simon is an absent-minded genius inventor who can lock himself in his lab for days forgetting the world around him. Being a prodigy child he's always felt left out by the rest of the world, never fitting in with the crowd. Disappointed by women because they don't accept always coming after his work.
Amanda is a professional business-woman, disappointed and insecure because of a family that didn't want her and therefore neglected and ignored her and a cheating ex-husband who's only quest in life was making her feel bad about herself.
They meet because of negotiations for a merger between their companies and have their happy ever after with each other in the end after storyline that leaves you touched and breathless. In spite of the fact that sometimes you get this feeling they should just talk to each other in stead of assuming things that the reader knows are not the case, you also understand that they have these assumptions because they don't know better…it's the way they were taught to think because of their past experiences dealing with love. And in the end it makes their love stonger and more beautiful.

This book really took me by surprise. Starting it, thinking to read a few hours and then putting it in my bag to read while traveling to work, it wrapped me in it's wonderful grasp and didn't let me go until I turned the last page, hours and hours later.
And if you ask me what it was that had me entangled in it so much I cannot pinpoint it exactly.
It was a combination of several things: I adored the characters, both Simon and Amanda are so endearingly insecure of themselves. Both having different reasons for their insecurity and there's attraction they feel pulling them together against their own will. I thoroughly enjoyed watching Amanda open up to the possibility that she could be loved and not criticized by a handsome and wonderful man. I cheered for Simon when he realized that after all there was a woman who loved him totally, including all his flaws, insecurities and peculiarities. A woman he, for the first time in his life, was able to put before everything, even his work in his lab.
I loved the writing style, flowing, fast-paced despite the fact that there is no real action or suspense but the book did not need it, well-written characters you can identify with. As I said: it must have been a combination of all these things.

With The Real Deal Monroe delivered a witty and touching romance novel that goes straight to every romance-loving heart and nestles there firmly. She does a great job of writing Simon and Amanda both strong and insecure at the same time, their strength overcoming their insecurities enough not to make the characters come across as some whining wimps, of building up the sexual tension between them in a very sensual but playful way. The way Simon finally "conquers" Amanda is the way I would give up any essential bodypart to experience that.

After reading this one, Lucy Monroe's books certainly aren't going to stay on the TBR-pile for long because I can't wait to see what she makes of the paranormal, historical and romantic suspense genres.
Quotes:
Simon to Amanda: "Baby, how could I not love you? When I'm with you. I am whole. The shadows disappear; the frozen places in my soul melt."

Nice to meet you!
Pearl

Netherlands
39, married to my real life romance hero, addicted to TV shows, reading romance novels and Twitter. I'm a chronic (e)book hoarder and my absolute favorite genres within romance fiction are contemporary romance and romantic suspense, but I don't shy away from historical, paranormal or erotic romance either. Even the occasional (urban) fantasy romance, futuristic and sci fi romance may make it to my Mount TBR. This is my corner of the world wide web where I let you know what books I'm hoarding, reading and reviewing.
View my complete profile

My Book-Providers
Reviews by Rating

Reviews by Genre
Reviews by Type

Reviews by Publisher

Fellow Bloggers


GR Reading Challenge
Pearl
has read 10 books toward her goal of 50 books.

On My TBR Shelf
Unforgivable - Laura Griffin
Snapped - Laura Griffin
Darkness at Dawn - Elizabeth Jennings
Sizzle and Burn - Alexis Grant
No Mercy - Lori Armstrong
Animal Magnetism - Jill Shalvis
Crazy for Love - Victoria Dahl
Kink - Saskia Walker/Sasha White
So Sensitive - Anne Rainey
Dark Taste of Rapture - Gena Showalter
The Darkest Secret - Gena Showalter
Vampire in Atlantis - Alyssa Day
Vampire Dragon - Annette Blair
Captive Spirit - Anna Windsor
Chosen by Blood - Virna DePaul
Rebel - Zoe Archer
Stranger - Zoe Archer
A Taste of Desire - Beverley Kendall
Mistress by Midnight - Maggie Robinson
To Desire a Devil - Elizabeth Hoyt
To Tame a Dangerous Lord - Nicole Jordan

Digital TBR Next
Driven - Jayne Rylon (reread)
Shifting Gears - Jayne Rylon
Beg Me - Shiloh Walker
Tempt Me - Shiloh Walker
Jazz Baby - Lorelie Brown
Playboy Prankster - Pamela Britton
Just Like That - Erin Nicholas
Sweet Inspiration - Penny Watson
Breathe - Donna Alward
My Gigolo - Molly Burkhart
Scent of Persuason - Nikki Duncan

Blog Archive