September 20, 2007
6:28 PM
|
Edit Post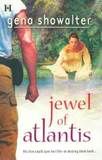 All Atlantis seeks the Jewel of Dunamis,
which legend claims can overcome any enemy. Grayson James, human agent of the ultra-secret Otherworld Bureau of Investigation, has orders to keep it from the wrong hands -- or destroy it. What he doesn't know is that Jewel is a woman, not a stone! But once he meets this precious gem, destroying her is the last thing on his mind . . .

Jewel, part goddess, part prophet, is a pawn
in Atlantis's constant power struggles. She needs Gray's help to win freedom and uncover the secrets of her mysterious origins. Gray needs her wisdom to navigate monster-ridden Atlantis. But need blossoms into passionate love as they fight demons, dragons, vampires -- and a prophecy that says the bond between them could destroy them both.
Before I started reading this book I thought it was purely one in the Atlantis-series but as it turns out to be one that connects this series with the Imperia-series, the hero Gray(son) James being Katie's brother. And Katie is the heroin in The Stone Prince (Imperia book 1).

With this book Showalter shows me once again why I love her books so much. She mixes an action-filled plot, witty characters and sparkling sensuality and paranormal magic in a way that doesn't fail to hit home with me. It's a perfect blend of the normal human world and the magical world of Atlantis.

Jewel and Gray are bound to meet and answer to a bond that was pre-destined for them a lifetime ago. Jewel has had visions of Gray for as long as she can remember and Gray has had dreams of Jewel not knowing who or what she is.
Given this fact, you feel their bond from the start. A bond that Jewel accepts from the start but Gray fights because he's convinced there's no place for love in his life.

Gray is the star of the show, the stronger character, carring the story for the most part, but Jewel is a pretty good side-kick who stands her ground firmly, both against Gray as against their enemies. Gray is so funny he's downright adorable but still very alpha and manly. He has a cocky arrogant streak that is more endearing than it is annoying. But Jewel is the perfect woman to bring him to his knees. She's a character who's a joy to read. Strong, willful, brave, loving and as lovely and innocent as heroins come accepting her life's destiny but not without a fight knowing she's supported by her mental bond with Gray.

The secondary characters were very intriguing too. I was introduced to a number of magical creatures and beings unknown to me but I was most intrigued by the Nymph King Valerian and the Vampire King Layel. Valerian already has his own book and it's waiting to be read in my TBR-pile. And Layel will have his own book in 2009 (The Blood King).
And off course it was a pleasure seeing Darius and Grace again, playing pretty important secondary roles in the book.

In short, Gena Showalter didn't fail to sweep me of my feet on a magical and witty journey through the heart of Atlantis, revealing a bit more of this intriguing world beneath the waves of the sea.
Quotes:
Jewel: "There will be no dying on your part, promise me."
Gray: "Off course there won't. You might have missed the memo, but I'm invincible."

Jewel: "Everytime you touch me, I feel flames licking me, burning me."
Gray: "It's my job—no, my privilege—to make the fire become an inferno." As he spoke, he traced his name on her thigh. She was his, that's all there was to it. Only his.

Nice to meet you!
Pearl

Netherlands
39, married to my real life romance hero, addicted to TV shows, reading romance novels and Twitter. I'm a chronic (e)book hoarder and my absolute favorite genres within romance fiction are contemporary romance and romantic suspense, but I don't shy away from historical, paranormal or erotic romance either. Even the occasional (urban) fantasy romance, futuristic and sci fi romance may make it to my Mount TBR. This is my corner of the world wide web where I let you know what books I'm hoarding, reading and reviewing.
View my complete profile

My Book-Providers
Reviews by Rating

Reviews by Genre
Reviews by Type

Reviews by Publisher

Fellow Bloggers


GR Reading Challenge
Pearl
has read 10 books toward her goal of 50 books.

On My TBR Shelf
Unforgivable - Laura Griffin
Snapped - Laura Griffin
Darkness at Dawn - Elizabeth Jennings
Sizzle and Burn - Alexis Grant
No Mercy - Lori Armstrong
Animal Magnetism - Jill Shalvis
Crazy for Love - Victoria Dahl
Kink - Saskia Walker/Sasha White
So Sensitive - Anne Rainey
Dark Taste of Rapture - Gena Showalter
The Darkest Secret - Gena Showalter
Vampire in Atlantis - Alyssa Day
Vampire Dragon - Annette Blair
Captive Spirit - Anna Windsor
Chosen by Blood - Virna DePaul
Rebel - Zoe Archer
Stranger - Zoe Archer
A Taste of Desire - Beverley Kendall
Mistress by Midnight - Maggie Robinson
To Desire a Devil - Elizabeth Hoyt
To Tame a Dangerous Lord - Nicole Jordan

Digital TBR Next
Driven - Jayne Rylon (reread)
Shifting Gears - Jayne Rylon
Beg Me - Shiloh Walker
Tempt Me - Shiloh Walker
Jazz Baby - Lorelie Brown
Playboy Prankster - Pamela Britton
Just Like That - Erin Nicholas
Sweet Inspiration - Penny Watson
Breathe - Donna Alward
My Gigolo - Molly Burkhart
Scent of Persuason - Nikki Duncan

Blog Archive