May 12, 2007
8:26 PM
|
Edit Post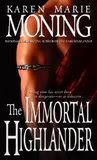 I read this book in March 2007
Enter a world of timeless seduction, of ancient intrigue and modern-day passion. Enter the dazzling world of Karen Marie Moning, whose acclaimed Highlander novels have captivated readers, spanning the continents and the centuries, bringing ancient Scotland vividly to life. In a new novel brimming with time-travel adventure and sensual heat, the nationally bestselling author of The Dark Highlander delivers a love story that will hold you in thrall-and a hero you will most certainly never forget. BEWARE: lethally seductive alpha male of immense strength and dark eroticism, do not look at him. Do not touch him. Do not be tempted. Do not be seduced.

With his long, black hair and dark, mesmerizing eyes, Adam Black is Trouble with a capital T. Immortal, arrogant, and intensely sensual, he is the consummate seducer, free to roam across time and continents in pursuit of his insatiable desires. That is, until a curse strips him of his immortality and makes him invisible, a cruel fate for so irresistible a man. With his very life at stake, Adam's only hope for survival is in the hands of the one woman who can actually see him.

Enter law student Gabrielle O'Callaghan, who is cursed with the ability to see both worlds: Mortal and Faery. From the moment she lays eyes on this stunning male, Gabby is certain of one thing: He could be her undoing. Thus begins a long, dangerous seduction. Because despite his powerful strength and unquenchable hungers, Adam refuses to take a woman by force. Instead, he will tease his way into Gabby's bed and make her want him just as he wants her.

Now, no matter how hard Gabby tries to avoid him, Adam is everywhere, invisible to all but her-perched atop her office cubicle in too-tight jeans, whispering softly from behind the stacks of the law library, stealing her breath away with his knowing smile…all the while tempting her with the promise of unimaginable pleasure in his arms. But soon danger will intrude on this sensual dance. For as Adam's quest to regain his immortality plunges them into a world of timeless magic and the deadly politics of the Faery queen's court, the price of surrender could be their very lives. Unless they can thwart the conspiracy that threatens both mortal and Faery realms…and give them a shot at a destiny few mortals ever know: glorious, wondrous, endless love.
What do you do when the one creature you've always been warned to stay away from, comes to you for help. You fall head over heels in love with him, screaming and kicking, but still....

Did I say in my last review, the one of The Dark Highlander that that book was the best in the series so far?
Well I have to amend that after reading this one!
Man, how does Moning do that? Just when I thought I had read the creme de la creme of The Highlanders she throws Adam Black at me.
Nothing, absolutely nothing in the previous books he made his appearance in could have prepared me for this Fae. Known to be the blackest of Fae's but oh how they were wrong.
I thought Dageus was a drool-worthy hero,but Adam wins it by a landslide.
Gabby was the heroin I was looking for in Chloe in The Dark Highlander: Fiery, stubborn, sharp-tongued and ready to take on Adam against all odds. I almost love Gabby more than Adam, but of course that's impossible.
Of course it was also a treat to see the MacKeltars and their lovely wives again. And the Fairy Queen managed to get a little bit of sympathy with me, I truly saw her in another light than in the previous books.

At the risk of starting to sound like a broken record again the plot was brilliant. It had everything! It was thrilling, moving and romantic.
The ending just took my breath away. Who knew Adam had that in him?
I certainly didn't.

It's getting better and better still with each new book in this series I plunge in so I have really high expectations of Spell of the Highlander....what will Cian bring? Well he's a MacKeltar so I'm sure it will be nothing less than good, really good!

Nice to meet you!
Pearl

Netherlands
39, married to my real life romance hero, addicted to TV shows, reading romance novels and Twitter. I'm a chronic (e)book hoarder and my absolute favorite genres within romance fiction are contemporary romance and romantic suspense, but I don't shy away from historical, paranormal or erotic romance either. Even the occasional (urban) fantasy romance, futuristic and sci fi romance may make it to my Mount TBR. This is my corner of the world wide web where I let you know what books I'm hoarding, reading and reviewing.
View my complete profile

My Book-Providers
Reviews by Rating

Reviews by Genre
Reviews by Type

Reviews by Publisher

Fellow Bloggers


GR Reading Challenge
Pearl
has read 10 books toward her goal of 50 books.

On My TBR Shelf
Unforgivable - Laura Griffin
Snapped - Laura Griffin
Darkness at Dawn - Elizabeth Jennings
Sizzle and Burn - Alexis Grant
No Mercy - Lori Armstrong
Animal Magnetism - Jill Shalvis
Crazy for Love - Victoria Dahl
Kink - Saskia Walker/Sasha White
So Sensitive - Anne Rainey
Dark Taste of Rapture - Gena Showalter
The Darkest Secret - Gena Showalter
Vampire in Atlantis - Alyssa Day
Vampire Dragon - Annette Blair
Captive Spirit - Anna Windsor
Chosen by Blood - Virna DePaul
Rebel - Zoe Archer
Stranger - Zoe Archer
A Taste of Desire - Beverley Kendall
Mistress by Midnight - Maggie Robinson
To Desire a Devil - Elizabeth Hoyt
To Tame a Dangerous Lord - Nicole Jordan

Digital TBR Next
Driven - Jayne Rylon (reread)
Shifting Gears - Jayne Rylon
Beg Me - Shiloh Walker
Tempt Me - Shiloh Walker
Jazz Baby - Lorelie Brown
Playboy Prankster - Pamela Britton
Just Like That - Erin Nicholas
Sweet Inspiration - Penny Watson
Breathe - Donna Alward
My Gigolo - Molly Burkhart
Scent of Persuason - Nikki Duncan

Blog Archive