May 18, 2007
4:50 PM
|
Edit Post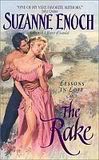 I read this book in April 2007
Three determined young ladies vow to give three of London's worst rakes their comeuppance - but when these rogues turn the tables, who truly learns a lesson in love?

Once upon a time, the notorious Viscount Dare charmed Lady Georgiana Halley out of her innocence - to win a wager, no less! - and now he must pay dearly. The, plan is simple: She will use every seductive wileshe knows to win Dare's heart...and then break it. But his smoldering gaze once again tempts Georgiana to give in to desire - and when he astonishes her with a marriage proposal, she wonders: Is he playing yet another game...or could it truly be love this time?
I liked the plot of this book. Why?
Because it took a whole other, refreshing look on the "teaching someone a lesson-and fall in love with them-story"
In the most romance books with this kind of plot it's the man who is the one teaching a lesson and in this one it's the woman.
The book was really fun to read! The way Georgie goes about it was at times hilarious. Her vicious remarks toward Tristan and the way he takes it were delightful.
The focus of the story is Georgie and Tristan's interactions with enough sensuality to make it a very nice read.
The secondary characters were great and blended well in the story. I really hated Amelia and loved Tristan's aunts and brothers and Georgie's aunt and friends.
Geogie is one tough cookie and determined to teach Tristan a lesson but that determination starts to falters when she discovers that he's not as bad as she thougt. But still she won't admit it to herself.
Tristan is a sincere and proud hero. He's not the insensitive rake he wants everyone to believe. This shows in his actions towards Georgie.
He turns out to be a true gentleman who has genuine feelings for her even though he has a hard time admitting it, even with himself.
I loved the way he kept giving her a fan everytime she broke one on him...
He's a man who pays attention to small details where the woman he loves is concerned...and that scores points in my book!
And his proposal to Georgie at the end of the book was just breathtaking and needless to say that I needed Kleenex...again!

I really enjoyed this book. Enoch has an easy to read writing style and the plot was fun and original. I'm looking forward to the next book in the series!
Quote:
Tristan during a session of the House of Lords: "Parliament isn't exactly your usual haunt."
Saint: "If I don't appear ever so often , they try to declare me dead and confiscate my property, It gets to be annoying.
I understood that this remark matches the abundance of arrogance Saint seems to have!

Nice to meet you!
Pearl

Netherlands
39, married to my real life romance hero, addicted to TV shows, reading romance novels and Twitter. I'm a chronic (e)book hoarder and my absolute favorite genres within romance fiction are contemporary romance and romantic suspense, but I don't shy away from historical, paranormal or erotic romance either. Even the occasional (urban) fantasy romance, futuristic and sci fi romance may make it to my Mount TBR. This is my corner of the world wide web where I let you know what books I'm hoarding, reading and reviewing.
View my complete profile

My Book-Providers
Reviews by Rating

Reviews by Genre
Reviews by Type

Reviews by Publisher

Fellow Bloggers


GR Reading Challenge
Pearl
has read 10 books toward her goal of 50 books.

On My TBR Shelf
Unforgivable - Laura Griffin
Snapped - Laura Griffin
Darkness at Dawn - Elizabeth Jennings
Sizzle and Burn - Alexis Grant
No Mercy - Lori Armstrong
Animal Magnetism - Jill Shalvis
Crazy for Love - Victoria Dahl
Kink - Saskia Walker/Sasha White
So Sensitive - Anne Rainey
Dark Taste of Rapture - Gena Showalter
The Darkest Secret - Gena Showalter
Vampire in Atlantis - Alyssa Day
Vampire Dragon - Annette Blair
Captive Spirit - Anna Windsor
Chosen by Blood - Virna DePaul
Rebel - Zoe Archer
Stranger - Zoe Archer
A Taste of Desire - Beverley Kendall
Mistress by Midnight - Maggie Robinson
To Desire a Devil - Elizabeth Hoyt
To Tame a Dangerous Lord - Nicole Jordan

Digital TBR Next
Driven - Jayne Rylon (reread)
Shifting Gears - Jayne Rylon
Beg Me - Shiloh Walker
Tempt Me - Shiloh Walker
Jazz Baby - Lorelie Brown
Playboy Prankster - Pamela Britton
Just Like That - Erin Nicholas
Sweet Inspiration - Penny Watson
Breathe - Donna Alward
My Gigolo - Molly Burkhart
Scent of Persuason - Nikki Duncan

Blog Archive