May 13, 2007
8:28 PM
|
Edit Post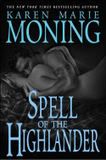 I read this book in March 2007
Powerful. Sensual. Seductive. He is all that is shamelessly erotic in a man. In her sexiest Highlander novel yet, New York Times bestselling author Karen Moning stirs up a sizzling brew of ancient mystery and modern passion as she brings together a devilishly handsome Celtic warrior trapped in time . . . and the woman who's about to pay the ultimate price for freeing him. Age-old secrets haunt them. Deadly danger and irresistible desire shadow their every move. It's a relationship for the ages. And all that separates them is a mere thirteen hundred years. . . .

Jessi St. James has got to get a life. Too many hours studying ancient artifacts has given the hardworking archaeology student a bad case of sex on the brain. So she figures she must be dreaming when she spies a gorgeous half-naked man staring out at her from inside the silvery glass of an ancient mirror. But when a split-second decision saves her from a terrifying attempt on her life, Jessi suddenly finds herself confronting six and a half feet of smoldering, insatiable alpha male.

Heir to the arcane magic of his Druid ancestors, eleven centuries ago Cian MacKeltar was trapped inside the Dark Glass, one of four coveted Unseelie Hallows, objects of unspeakable power. When the Dark Glass is stolen, an ancient enemy will stop at nothing to reclaim it, destroying everything in his path-including the one woman who may just hold the key to breaking the ninth-century Highlander's dark spell. For Jessi, the muscle-bound sex god in the mirror is not only tantalizingly real, he's offering his protection-from exactly what, Jessi doesn't know. And all he wants in exchange is the exquisite pleasure of sharing her bed.

Yet even as Cian's insatiable hunger begins to work its dark magic on Jessi, his ancient enemy is about to obtain the final and most dangerous of the Unseelie Hallows-and the ninth-century Highlander must stop him from getting it. Nothing less than the very fabric of the universe and two passionately entwined lives are at stake-as Cian and Jessi fight to claim the kind of love that comes along but once in an ice age. . .
And with this book we conclude the series for now.
I closed this book with mixed feelings: overwhelmed by another great story with an amazing plot, but also a bit sad because for now it's the last of the Highlanders and I really enjoyed this series.
The best part is that every book has a unique storyline to top it off so you can't get bored.
Moning has the power to draw you into the story and make you wish that it was happening to you…

It was not the best in the series (for me that's still Immortal Highlander) but I really loved it.
If you've read all the previous books in the series you know the main ingredients: a scrumptious Highlander, a feisty heroin, a lot of sensuality and a fast-paced plot.
Cian is a product of his times and to see him deal with a thoroughly modern Jessi is so much fun to read!
I really liked the parts where Cian tries his powers on Jessi and finds out they don't work on her. Simply hilarious!
Ms Moning wrote a thoroughly sexy, alpha-male hero but also a heroine who is his match.
Not to mention, I loved the appearances of the other MacKeltars.
It was a fun read with a mix of suspense, magic and of course, steamy love scenes.
This book is a bit lighter and funnier than some of the others but no less steamy and exciting.
The only problem I had, was that the book ended.

Nice to meet you!
Pearl

Netherlands
39, married to my real life romance hero, addicted to TV shows, reading romance novels and Twitter. I'm a chronic (e)book hoarder and my absolute favorite genres within romance fiction are contemporary romance and romantic suspense, but I don't shy away from historical, paranormal or erotic romance either. Even the occasional (urban) fantasy romance, futuristic and sci fi romance may make it to my Mount TBR. This is my corner of the world wide web where I let you know what books I'm hoarding, reading and reviewing.
View my complete profile

My Book-Providers
Reviews by Rating

Reviews by Genre
Reviews by Type

Reviews by Publisher

Fellow Bloggers


GR Reading Challenge
Pearl
has read 10 books toward her goal of 50 books.

On My TBR Shelf
Unforgivable - Laura Griffin
Snapped - Laura Griffin
Darkness at Dawn - Elizabeth Jennings
Sizzle and Burn - Alexis Grant
No Mercy - Lori Armstrong
Animal Magnetism - Jill Shalvis
Crazy for Love - Victoria Dahl
Kink - Saskia Walker/Sasha White
So Sensitive - Anne Rainey
Dark Taste of Rapture - Gena Showalter
The Darkest Secret - Gena Showalter
Vampire in Atlantis - Alyssa Day
Vampire Dragon - Annette Blair
Captive Spirit - Anna Windsor
Chosen by Blood - Virna DePaul
Rebel - Zoe Archer
Stranger - Zoe Archer
A Taste of Desire - Beverley Kendall
Mistress by Midnight - Maggie Robinson
To Desire a Devil - Elizabeth Hoyt
To Tame a Dangerous Lord - Nicole Jordan

Digital TBR Next
Driven - Jayne Rylon (reread)
Shifting Gears - Jayne Rylon
Beg Me - Shiloh Walker
Tempt Me - Shiloh Walker
Jazz Baby - Lorelie Brown
Playboy Prankster - Pamela Britton
Just Like That - Erin Nicholas
Sweet Inspiration - Penny Watson
Breathe - Donna Alward
My Gigolo - Molly Burkhart
Scent of Persuason - Nikki Duncan

Blog Archive