May 22, 2007
5:06 PM
|
Edit Post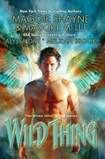 Animal Magnetism – Maggie Shayne
Listen to the secrets of a beautiful animal whisperer who's drawn intimately closer to danger, and t the most suspect of all male animals: man...
I liked this story very much. As known in Anthologies, the stories are too short for full indepth charactarization but Maggie Shayne did a good job nonetheless. The story is about Macy MacNamara, a vet who can "talk" to animals, and Jay Harris, a hot detective who brings a dog in that was shot by a serial rapist and the rest you can fill in yourself: vet and detective fall in love, have sex and in the meantime also solve the case of the serial rapist.
This sounds very shallow but the story absolutely wasn't! Ms Shayne has a fast-paced and appealing writing style and I would love to read more of her work.

Paradise - Meljean Brook
Follow the dark shadows that stalk both the living and the undead in a world of restless vampires and guardian angels...
I don't know what to think of this story, There were lots of interesting elements: Selah: a female Guardian Angel and Lucas Marsden: a male vampire, a very nasty Demon, a pact with Lucifer. But the mix of it into a story didn't quite do it for me.
It was well written but no heavy emotions were stirred while reading it. Whereas the previous story (by Shayne) left me wanting more and full length work, with this one I dare say I'll not be buying something by Meljean Brook soon.

Hunter Kiss – Marjorie M. Liu
Enter the forbidden and recklessly exciting world of the demon horde and their willing victims...
Great story despite being written in I-form (first person). I don't particularly like this form of writing but the story fascinated me so much that it didn't bother me at all and the characters, both main and secondary more than made up for it.
The story is about Maxine Kiss, a Demon Huntress and Grant Cooperon, an ex-priest who can read aura's and change them with the music he makes. Maxine has 5 demons tattooed all over her body; "The Boys". Leaving her body at sunset and returning at sunrise,they are her guarantee for immortality. They remind me of Kenyon's Simi (Acheron's demon).
It's an enticing, well written story that left me wanting more, full length work by Ms Liu
Quote:
...mouth curving into a smile that is more intimate than any touch; unspoken, secret, a riddle between my heart and his, where the truth is simple and profound: I belong with him. And he belongs with me.

Wild Hearts in Atlantis – Alyssa Day
Get swept away by the passions that rise out of the unfathomable depths of the lost city of Atlantis...
The fourth and last story brings me to known territory, since Alyssa Day's first Warriors of Poseidon full length novel (Atlantis Rising) is already on my bookshelf.
The story starts with the wit and banter between the Warriors I loved so much in Atlantis Rising so I started with a big smile.
And the only disappointment was the fact that this was an Anthology-length story: too short to make it really, really good.
When you have a limited amount of pages you must cram everything in that small amount and that takes away the intensity the full length books can create.
But that said it was nice to read Bastiens story, the Atlantean Warrior of Poseidon who finds his lifemate in Kat(herine) Fiero, half shapeshifter (panther)/half human.
Quote:
Bastien: Oh damn. Poseidon, please help your humble warrior here. Because I'm falling down a black pit of lust-induced stupidity.

Nice to meet you!
Pearl

Netherlands
39, married to my real life romance hero, addicted to TV shows, reading romance novels and Twitter. I'm a chronic (e)book hoarder and my absolute favorite genres within romance fiction are contemporary romance and romantic suspense, but I don't shy away from historical, paranormal or erotic romance either. Even the occasional (urban) fantasy romance, futuristic and sci fi romance may make it to my Mount TBR. This is my corner of the world wide web where I let you know what books I'm hoarding, reading and reviewing.
View my complete profile

My Book-Providers
Reviews by Rating

Reviews by Genre
Reviews by Type

Reviews by Publisher

Fellow Bloggers


GR Reading Challenge
Pearl
has read 10 books toward her goal of 50 books.

On My TBR Shelf
Unforgivable - Laura Griffin
Snapped - Laura Griffin
Darkness at Dawn - Elizabeth Jennings
Sizzle and Burn - Alexis Grant
No Mercy - Lori Armstrong
Animal Magnetism - Jill Shalvis
Crazy for Love - Victoria Dahl
Kink - Saskia Walker/Sasha White
So Sensitive - Anne Rainey
Dark Taste of Rapture - Gena Showalter
The Darkest Secret - Gena Showalter
Vampire in Atlantis - Alyssa Day
Vampire Dragon - Annette Blair
Captive Spirit - Anna Windsor
Chosen by Blood - Virna DePaul
Rebel - Zoe Archer
Stranger - Zoe Archer
A Taste of Desire - Beverley Kendall
Mistress by Midnight - Maggie Robinson
To Desire a Devil - Elizabeth Hoyt
To Tame a Dangerous Lord - Nicole Jordan

Digital TBR Next
Driven - Jayne Rylon (reread)
Shifting Gears - Jayne Rylon
Beg Me - Shiloh Walker
Tempt Me - Shiloh Walker
Jazz Baby - Lorelie Brown
Playboy Prankster - Pamela Britton
Just Like That - Erin Nicholas
Sweet Inspiration - Penny Watson
Breathe - Donna Alward
My Gigolo - Molly Burkhart
Scent of Persuason - Nikki Duncan

Blog Archive