May 4, 2007
8:08 PM
|
Edit Post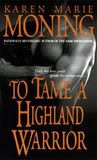 I read this book in February 2007




Only her love could gentle his savage soul--

He was born to a clan of warriors of supernatural strength, but Gavrael McIllioch abandoned his name and his Highland castle, determined to escape the dark fate of his ancestors. Hiding his identity from the relentless rival clan that hunted him, he called himself Grimm to protect the people he cared for, vowing never to acknowledge his love for ravishing Jillian St. Clair. Yet even from afar he watched over her, and when her father sent an urgent summons, "Come for Jillian," he raced to her side--into a competition to win her hand in marriage.

Why had he run from her so many years before? And why return now to see her offered as a prize in her father's manipulative game? Furious, Jillian vowed never to wed. But Grimm was the man she loved, the one who urged her to marry another. He tried to pretend indifference as she tempted him, but he could not deny the fierce desires that compelled him to abduct her from the altar. She was the only woman who could tame the beast that raged within him--even as deadly enemies plotted to destroy them both....


This is the second book in the Highlander Series and where in the first one love overcomes the boundaries of time, in this one love overcomes a legendary curse. And some legend it is! Gavrael the Beserker a.k.a Grimm Roderick has beserked his way right into my romantic heart.



It dit remind me a little of Rhage (from Ward's Lover Eternal). Grimm too is a man with a beast inside who emerges when danger threathens en only the love of his mate can tame the beast. There were more similarities like the fear of hurting loved ones when he is in Beserk-mode en the not remembering what happens when he's in that state. I really felt for Jillian not understanding why Grimm rejects her. She tries not to let him now by using harsh words but in her heart she feels truly rejected. At the same time I also feel Grimm's incapability to embrace the love he feels because of his fears and his past. But it's so clear that he lost his heart to the lovely Jillian a long time ago. In this book, not only the hero and heroin impressed me. Uncle Balder with his dry humor and remarks was great. Unfortunately no sign of the mysterious Adam Black this time but Hawk and Adrienne do appear in the beginning and the end.



My emotions weren't in overdrive as in BTHM but there were the occasional giggles and lumps in the throat.The book wasn't the emotional rollercoaster BTHM was, but nevertheless a great read..

Nice to meet you!
Pearl

Netherlands
39, married to my real life romance hero, addicted to TV shows, reading romance novels and Twitter. I'm a chronic (e)book hoarder and my absolute favorite genres within romance fiction are contemporary romance and romantic suspense, but I don't shy away from historical, paranormal or erotic romance either. Even the occasional (urban) fantasy romance, futuristic and sci fi romance may make it to my Mount TBR. This is my corner of the world wide web where I let you know what books I'm hoarding, reading and reviewing.
View my complete profile

My Book-Providers
Reviews by Rating

Reviews by Genre
Reviews by Type

Reviews by Publisher

Fellow Bloggers


GR Reading Challenge
Pearl
has read 10 books toward her goal of 50 books.

On My TBR Shelf
Unforgivable - Laura Griffin
Snapped - Laura Griffin
Darkness at Dawn - Elizabeth Jennings
Sizzle and Burn - Alexis Grant
No Mercy - Lori Armstrong
Animal Magnetism - Jill Shalvis
Crazy for Love - Victoria Dahl
Kink - Saskia Walker/Sasha White
So Sensitive - Anne Rainey
Dark Taste of Rapture - Gena Showalter
The Darkest Secret - Gena Showalter
Vampire in Atlantis - Alyssa Day
Vampire Dragon - Annette Blair
Captive Spirit - Anna Windsor
Chosen by Blood - Virna DePaul
Rebel - Zoe Archer
Stranger - Zoe Archer
A Taste of Desire - Beverley Kendall
Mistress by Midnight - Maggie Robinson
To Desire a Devil - Elizabeth Hoyt
To Tame a Dangerous Lord - Nicole Jordan

Digital TBR Next
Driven - Jayne Rylon (reread)
Shifting Gears - Jayne Rylon
Beg Me - Shiloh Walker
Tempt Me - Shiloh Walker
Jazz Baby - Lorelie Brown
Playboy Prankster - Pamela Britton
Just Like That - Erin Nicholas
Sweet Inspiration - Penny Watson
Breathe - Donna Alward
My Gigolo - Molly Burkhart
Scent of Persuason - Nikki Duncan

Blog Archive