May 9, 2007
8:20 PM
|
Edit Post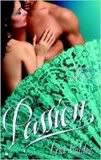 I read this book in March 2007
A woman called Passion.
A man who would make her true to her name

In her second year of mourning, lovely young widow Passion Elizabeth Dare never dreamed she would be with a man again--and certainly not a complete stranger. But amidst the crowds of London's Crystal Palace, Passion finds herself discreetly, yet insistently, pursued by a sensual gentleman who awakens her long-supressed desires. After a loveless marriage of restrained propriety, Passion abandons herself to true bliss for the first time.

Intoxicated by his encounter with the beautiful stranger, Mark Randolph Hawkmore, Earl of Langley, cannot wait to see her again. As a series of rapturous rendezvous follows, he and his mystery lover find something rare and wonderful blossoming between them. But a blackmail scheme against the Earl threatens to destroy everything. As a scandal brews, each will have to choose between duty and desire...their love for their families--and their love for each other.

This book starts with a bang.
The title promises passion and passion is what it delivers from the very beginning.
Two strangers meet at an exihibition in the Crystal Palace and before you know it their are doing their thing behind a huge screen, in public so to speak.
To be honest I thought that if this was what the book was going to be about I would read it quickly and put it into the not-worth-the-time-pile without any further ado.
But it turned out to be a treasure in disguise because it's not only passion that you get. It's also quenched desires and needs that break free into a love so deep, pure and honest, it touched me deep within my heart.

Mind you, if you prefer a proper, sweet and nice historical romance, don't read this book.
If you prefer a passionate, hot and intense historical romance and you don't mind graphic and explicit sexscenes, DO read this book.
This one is not for the faint-hearted, it's borderline erotica.
Ms Valdez tells it like it is. No eufemisms, no embellishing language, no metaphores. Sex is sex, hot passionate and explicit. But also romantic and genuinly respectful despite the graphic use of language.
It suits the purpose and the story, intense and powerful.

I just loved Mark and Passion. The initial in-your-face lust between them develops into a beautiful love-story and for this you can't but give credit to the amazing talent of Ms Valdez. She pens down characters that are so three-dimensional, they just jump of the page. Not just the hero and heroin but also the secondary characters as the evil mothers, the docile cousin, Mark's brother and Passion's sisters.
Mark and Passion are clear and honest in their feelings, no lying, conniving or deceiving. And that's what make them so easy to like, despite Passion's determination to do the right thing and Mark's sometimes foul mouth.
They are so in tune with each other, from the very start. They are so in sync, both sexually and emotionally.
He needs to be loved, she needs to love for they both suffered cold indifference, he by his mother, she by her deceased husband.
He makes her forget to be dutiful, responsible and inhibited.
She makes him forget to be cold, distant and distrusting of women.

Halfway through the book the tone changes from passionate lust to wrenching heartbreak . I literally teared up when they realized they loved each other but could not be together because of the machinations of two evil witches of mothers, which lead to Mark being married of to Passion's cousin.
You just feel the heartbreaking pain coming of the pages.
Their declarations of love when they say their goodbyes are utterly beautiful.
And this last part of the book, has earned Ms Valdez her 5 stars in my book! For me this was definitely a page-turner and I can't wait for the rest of this series. If they are as intense and beautiful as this one, I'm saving them 3 more spots on my keepers-shelf!
Rating: 10 out of 10
Nice to meet you!
Pearl

Netherlands
39, married to my real life romance hero, addicted to TV shows, reading romance novels and Twitter. I'm a chronic (e)book hoarder and my absolute favorite genres within romance fiction are contemporary romance and romantic suspense, but I don't shy away from historical, paranormal or erotic romance either. Even the occasional (urban) fantasy romance, futuristic and sci fi romance may make it to my Mount TBR. This is my corner of the world wide web where I let you know what books I'm hoarding, reading and reviewing.
View my complete profile

My Book-Providers
Reviews by Rating

Reviews by Genre
Reviews by Type

Reviews by Publisher

Fellow Bloggers


GR Reading Challenge
Pearl
has read 10 books toward her goal of 50 books.

On My TBR Shelf
Unforgivable - Laura Griffin
Snapped - Laura Griffin
Darkness at Dawn - Elizabeth Jennings
Sizzle and Burn - Alexis Grant
No Mercy - Lori Armstrong
Animal Magnetism - Jill Shalvis
Crazy for Love - Victoria Dahl
Kink - Saskia Walker/Sasha White
So Sensitive - Anne Rainey
Dark Taste of Rapture - Gena Showalter
The Darkest Secret - Gena Showalter
Vampire in Atlantis - Alyssa Day
Vampire Dragon - Annette Blair
Captive Spirit - Anna Windsor
Chosen by Blood - Virna DePaul
Rebel - Zoe Archer
Stranger - Zoe Archer
A Taste of Desire - Beverley Kendall
Mistress by Midnight - Maggie Robinson
To Desire a Devil - Elizabeth Hoyt
To Tame a Dangerous Lord - Nicole Jordan

Digital TBR Next
Driven - Jayne Rylon (reread)
Shifting Gears - Jayne Rylon
Beg Me - Shiloh Walker
Tempt Me - Shiloh Walker
Jazz Baby - Lorelie Brown
Playboy Prankster - Pamela Britton
Just Like That - Erin Nicholas
Sweet Inspiration - Penny Watson
Breathe - Donna Alward
My Gigolo - Molly Burkhart
Scent of Persuason - Nikki Duncan

Blog Archive