April 15, 2008
12:42 PM
|
Edit Post
This book was released on April 1st and I reviewed it for REALMS ON OUR BOOKSHELVES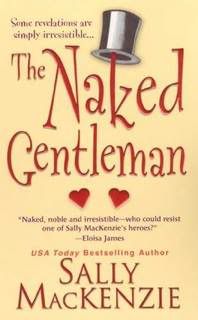 HE COULDN'T REFUSE
John Parker-Roth cannot believe that marriage is necessary for his happiness. He would far rather pursue his interest in horticulture, but if one day he should find a female who shared his passion for flowers-a level-headed, calm sort of female-he might reconsider. Certainly the lovely young woman who has just tumbled into his lap will not do, as she possesses neither of those admirable qualities. Yet Miss Margaret Peterson does have many things in her favor. To begin with, she is a true English rose, blushing a delectable pink. And she is not entirely clothed. Her full mouth begs to be kissed. If only she would not wriggle so. Oh, dear. He cannot ignore the sudden vision of her in his bed, but he must.
What? Is Meg actually asking him to kiss her? Well, well, well. John Parker-Roth is a gentleman, first and foremost. And he cannot turn down a lady's request.
John Parker-Roth (Parks) and Margaret Peterson (Meg) met each other in Lizzie and Robbie's book (The Naked Earl) and were immediately drawn to each other and not only because of their shared interest in horticulture. But both are reluctant to give into their feelings. Then things change quickly when Parks saves Meg from a determined and unwanted suitor in a dark corner of a garden. This lands them in a delicate situation and they are discovered by the ton's biggest gossip.
Parks does the honorable thing and offers for Meg but Meg declines not wanting to trap him when he was just being her savior. Her begins the song and dance of courting between two people meant for each other. Their love story unfolds in the midst of balls, house parties, meddling friends and relatives and under the watchful eye of the ton.

Meg is a lovely heroine; she is strong-minded, determined and intelligent. She is practical in her reasons for choosing a husband but goes about it in a way that's not very sensible and that's is where her friends and relatives come in and draw the line.
Parks is the epitome of properness and decorum. He seems only to be interested in horticulture after a not so successful venture into the marriage mart. But then he finds Meg who ignites very passionate feelings in him and not only because she's interested in horticulture.
The characters were all very well developed and lovely. Parks and Meg sparkled and sizzled together! Their chemistry brings out the wilder side in them and that was a delight to read.

The secondary characters were all equally complementing to the romance between Parks and Meg. Old friends from the previous books make their appearance and are even developed further in this book, though they never take over the focus from the main couple. Although some pages were dedicated to secondary characters and their own romances, this never bothered me. On the contrary, it made the book more appealing.
Along with the familiar secondary characters, there are some new ones who contribute to the humor that I liked so much in this book. No laugh-out-loud humor but witty bantering and funny situations that fit right in the whole feeling of the book.

There is no other real plot in the book other than the developing romance between Meg and Parks and the circumstances that lead to their marriage. The book is character-driven more than action-driven, focusing on Meg, Parks and everybody interfering in their relationship. No mysteries to solve, no thefts, no threats. Just the journey of two people finding love and companionship, sprinkled with a healthy dose of humor and sensuality, which I truly enjoyed reading.
Despite that there was no other plot than the romance, it still was fast-paced and hard to put down. I finished it before I knew it and with a satisfied feeling. The writing style is uncomplicated and easy to read but still fitting the Regency-period it's set in.
MacKenzie manages to take it up a notch with every book, keeping it refreshingly original with each one being different in plot and romance. But still they are kept together by the recurring (secondary) characters.

If you like an uncomplicated and fun Regency read I do recommend The Naked Gentleman. It's witty, it's endearing and it's very sexy. It will most definitely keep you entertained for a few enjoyable hours. The first line of the opening chapter plastered a smile on my face and it stayed there until the very last page.
Sally MacKenzie again hasn't failed to please me with this fourth installment of the Naked Nobility-series. I can't wait for the next naked nobleman and his heroine.
Quote:
Meg: "Lady Dawson, I have been trying to explain. Mr. Parker-Roth and I do not converse." The man is too busy doing other things with his tongue to have a conversation.

Nice to meet you!
Pearl

Netherlands
39, married to my real life romance hero, addicted to TV shows, reading romance novels and Twitter. I'm a chronic (e)book hoarder and my absolute favorite genres within romance fiction are contemporary romance and romantic suspense, but I don't shy away from historical, paranormal or erotic romance either. Even the occasional (urban) fantasy romance, futuristic and sci fi romance may make it to my Mount TBR. This is my corner of the world wide web where I let you know what books I'm hoarding, reading and reviewing.
View my complete profile

My Book-Providers
Reviews by Rating

Reviews by Genre
Reviews by Type

Reviews by Publisher

Fellow Bloggers


GR Reading Challenge
Pearl
has read 10 books toward her goal of 50 books.

On My TBR Shelf
Unforgivable - Laura Griffin
Snapped - Laura Griffin
Darkness at Dawn - Elizabeth Jennings
Sizzle and Burn - Alexis Grant
No Mercy - Lori Armstrong
Animal Magnetism - Jill Shalvis
Crazy for Love - Victoria Dahl
Kink - Saskia Walker/Sasha White
So Sensitive - Anne Rainey
Dark Taste of Rapture - Gena Showalter
The Darkest Secret - Gena Showalter
Vampire in Atlantis - Alyssa Day
Vampire Dragon - Annette Blair
Captive Spirit - Anna Windsor
Chosen by Blood - Virna DePaul
Rebel - Zoe Archer
Stranger - Zoe Archer
A Taste of Desire - Beverley Kendall
Mistress by Midnight - Maggie Robinson
To Desire a Devil - Elizabeth Hoyt
To Tame a Dangerous Lord - Nicole Jordan

Digital TBR Next
Driven - Jayne Rylon (reread)
Shifting Gears - Jayne Rylon
Beg Me - Shiloh Walker
Tempt Me - Shiloh Walker
Jazz Baby - Lorelie Brown
Playboy Prankster - Pamela Britton
Just Like That - Erin Nicholas
Sweet Inspiration - Penny Watson
Breathe - Donna Alward
My Gigolo - Molly Burkhart
Scent of Persuason - Nikki Duncan

Blog Archive