April 1, 2008
As of this month I want to make a summary looking back on what I did the previous month books-wise. This can be about anything concerning the books I've bought, read, reviewed, discovered etc.
March has been a good month readingwise! Where December and January were terrible on the bookreading-count due to many personal circumstances and February was back to average, this month I was on fire!
This was a result of more time to read because the problematic circumstances are clearing up nicely plus amazing and compelling books that kept drawing me to them every spare minute.
- I discovered some new (at least to me) and promising authors:
Sydney Croft, Deborah Cooke, Jaci Burton, Jami Alden, Alyssa Brooks
. Their books are either on the wishlist or were ordered. These discoveries were all made cruising along several author's blogs and websites so if you want to keep your wishlist manageable I do not advise you to do that. My wishlist hasn't been manageable for over a year now, I don't think that's ever going to change *wink*
- I re-acquainted myself with
Nicole Jordan
(one of the first authors I read in English) with the first two books of her lovely new regency trilogy:
The Courtship Wars Trilogy
- I went on a shopping spree (partially sponsored by hubby dear and some giftcertificates from my employer for an online bookstore) buying romantic suspense like crazy:
Cindy Gerard's Bodyguard Series
and
Marliss Melton's Navy Seals Series
- I was blown away by my first
Shannon McKenna
-book. A book that had been on my shelves and TBR-pile, together with her other books, for over 6 months and I'm really kicking myself for not starting on this author sooner
- I indulged myself in the medieval paradise created by
Paula Quinn
reading her Risande Trilogy. Again books that were on my shelves and TBR-pile for a long time: I'm almost ashamed to say it but for nearly a year. All I can say is: If you have anything by Paula on your shelf, READ IT! You won't be disappointed!
- I dove deeper into the magical world of the
Magic Series
by
Cheyenne McCray
...a series that's really starting to grow on me and I'm liking it better with every book
- I read two ARC's for REALMS ON OUR BOOKSHELVES: Book 4 in
Sally MacKenzie
's regency
Naked Nobility Series
and the first book of (my favourite author)
Gena Showalter
's new paranormal
Lords of the Underworld Series
. As soon as they're placed on
REALMS ON OUR BOOKSHELVES
I'll let you know.
- I won a goodiebag in the Easter-contest organised by the ladies of REALMS ON OUR BOOKSHELVES with lots of bookmarks, coverflats, collectorcards and other goodies including this wonderful and very appropiate button: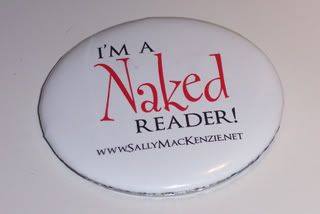 I close this month with utter frustration of not having received Midnight Rising by Lara Adrian yet. I pre-ordered it, it was released on March 25th and I still haven't got it. I did the same with Midnight Awakening (the previous book) and got it the day after release but unfortunately no such luck with Midnight Rising.
And this is one of the few books I really was anxiously anticipating. Usually I have previous books of a series on the TBR-pile but not with the Midnight Breed Series, I have read the previous three and am dying to continue...
I start April right in the middle of my second Shannon McKenna book: STANDING IN THE SHADOWS and I can say that's a very nice start and I hope April will be as good a reading-month as March has been.
Nice to meet you!
Pearl

Netherlands
39, married to my real life romance hero, addicted to TV shows, reading romance novels and Twitter. I'm a chronic (e)book hoarder and my absolute favorite genres within romance fiction are contemporary romance and romantic suspense, but I don't shy away from historical, paranormal or erotic romance either. Even the occasional (urban) fantasy romance, futuristic and sci fi romance may make it to my Mount TBR. This is my corner of the world wide web where I let you know what books I'm hoarding, reading and reviewing.
View my complete profile

My Book-Providers
Reviews by Rating

Reviews by Genre
Reviews by Type

Reviews by Publisher

Fellow Bloggers


GR Reading Challenge
Pearl
has read 10 books toward her goal of 50 books.

On My TBR Shelf
Unforgivable - Laura Griffin
Snapped - Laura Griffin
Darkness at Dawn - Elizabeth Jennings
Sizzle and Burn - Alexis Grant
No Mercy - Lori Armstrong
Animal Magnetism - Jill Shalvis
Crazy for Love - Victoria Dahl
Kink - Saskia Walker/Sasha White
So Sensitive - Anne Rainey
Dark Taste of Rapture - Gena Showalter
The Darkest Secret - Gena Showalter
Vampire in Atlantis - Alyssa Day
Vampire Dragon - Annette Blair
Captive Spirit - Anna Windsor
Chosen by Blood - Virna DePaul
Rebel - Zoe Archer
Stranger - Zoe Archer
A Taste of Desire - Beverley Kendall
Mistress by Midnight - Maggie Robinson
To Desire a Devil - Elizabeth Hoyt
To Tame a Dangerous Lord - Nicole Jordan

Digital TBR Next
Driven - Jayne Rylon (reread)
Shifting Gears - Jayne Rylon
Beg Me - Shiloh Walker
Tempt Me - Shiloh Walker
Jazz Baby - Lorelie Brown
Playboy Prankster - Pamela Britton
Just Like That - Erin Nicholas
Sweet Inspiration - Penny Watson
Breathe - Donna Alward
My Gigolo - Molly Burkhart
Scent of Persuason - Nikki Duncan

Blog Archive