November 9, 2007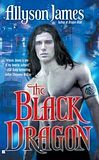 Love slave...
Saba Watanabe's enslavement to the black dragon Malcolm left the powerful witch shaken and vulnerable. But when she's assaulted by a white dragon in human form, the only one who can help her is the dangerously seductive Malcolm. With his attraction for Saba still a feverish high; Malcolm agrees to help her track down the white dragon terrorizing the San Francisco streets.

Dragon warrior...
But Malcolm, too, has become vulnerable -victim of a spell cast to drain him of his strength- and Saba may be the only one who can rescue him. The key to their survival is in a mysterious book hidden in the world of Dragonspace. When its profound secrets fall into the hands of the enemy, the life of every dragon in existence is threatened, and Saba must not only battle her desire for Malcolm but learn to use her rising powers to save his kind.
The story of Malcolm and Saba started in Dragon Heat as a subplot but one with a real potential and this potential was certainly met beyond expectation in their own book.
I just love it when expectations created in a first book of a series are adequately met in the following installment and Allyson James did just that with this book.
In book 1 of the series we meet both Malcolm and Saba and you just feel the have a story between them that, if well-written, will have a great impact on you.

Despite the fact that there is a lot going on in the book like the introduction of a new "type" of dragon (the white dragon), murders, magic and a lot more it was never chaotic or hard to follow.
It was action-packed, magical, sensual with humans, witches, dragons, both good and evil. And next to a wonderful love story full of sensuality that survives time, space and species, you also receive a vast amount of knowledge on Japanese and Chinese traditions and culture, computer programming and database knowledge.
This combination of both mystical and mundane things at the same time was perfectly balanced which made it a pleasure to read and a real keeper for me.

Both Saba and Malcolm are complex and layered characters. The connection between them is very intense and strong and one they both can't escape as much as they try to.
Especially Malcolm who is an extremely powerful and intelligent dragon. So mathematical and dispassionate to the point he analyzes and calculates everything including his love for Saba, which is something that can't be analyzed. He is used to everyone obeying him without difficulty or questions and he is fascinated by Saba who resists his mark and control.
Saba is a witch more powers than she would imagine and she is much stronger than she thinks. Her insecurity leads her to doubt herself and her love for Malcolm shows her that she is powerful in her own ways.
The secondary characters are a special and nice addition to Saba and Malcolm. There is a distinction between more and less important secondary characters. This distinction leads my speculations to new heights wondering which characters will have their own book in future installments of this series. I'm really hoping for a book for Axel, the intriguing, witty demon-god with a great sense of humor.
Of course Lisa and Caleb make an appearance and have an important role in the unraveling of some subplots. It was lovely to see how they were doing after their own book. The interactions between Malcolm and Caleb were as witty as in book 1. They are both territorial dragons and their bantering shows this in a real funny way. But still when necessary they will work together to save their loved ones.

Allyson James has a way with plots that are able to draw you into a world so life-like and realistic despite the magic and fantasy. Almost making me believe these worlds she creates are really out there somewhere.
The plot kept me glued to the pages. Fast-paced, fascinating and well written. Every turn in the plot stirring up more angles and questions leading up to a climax in which every piece of the puzzle falls into the right place. Entwining several subplots into one major plot with ease and simplicity.
Her writing style is a delight to read, making complicated and unfamiliar concepts clear and easy to take in.
Her skills in world building are amazing were dragons and witches are concerned. With The Black Dragon she has layered and deepened the series and I'm eagerly anticipating the next installment in this enchanting dragon-series.

Allyson James is masterfully skilled in creating this world that takes you away for many enjoyable hours, regretting it when the book comes to an end because you want to stay in this magical and mystical world of witches, dragons, humans, gods, evil, sacrifice and love. All I can say is: sit back, relax and enjoy this magical ride to the fullest!
Quote:
Malcolm raised his head and found her smiling at him. Smiling at him for punishing her for using his true name. Smiling at him for losing himself in her. He'd snarled at her, shouted, mistrusted her and made love to her to regain his power over her – and she smiled.
Her smile was the most beautiful thing he'd ever seen in his long life.

Nice to meet you!
Pearl

Netherlands
39, married to my real life romance hero, addicted to TV shows, reading romance novels and Twitter. I'm a chronic (e)book hoarder and my absolute favorite genres within romance fiction are contemporary romance and romantic suspense, but I don't shy away from historical, paranormal or erotic romance either. Even the occasional (urban) fantasy romance, futuristic and sci fi romance may make it to my Mount TBR. This is my corner of the world wide web where I let you know what books I'm hoarding, reading and reviewing.
View my complete profile

My Book-Providers
Reviews by Rating

Reviews by Genre
Reviews by Type

Reviews by Publisher

Fellow Bloggers


GR Reading Challenge
Pearl
has read 10 books toward her goal of 50 books.

On My TBR Shelf
Unforgivable - Laura Griffin
Snapped - Laura Griffin
Darkness at Dawn - Elizabeth Jennings
Sizzle and Burn - Alexis Grant
No Mercy - Lori Armstrong
Animal Magnetism - Jill Shalvis
Crazy for Love - Victoria Dahl
Kink - Saskia Walker/Sasha White
So Sensitive - Anne Rainey
Dark Taste of Rapture - Gena Showalter
The Darkest Secret - Gena Showalter
Vampire in Atlantis - Alyssa Day
Vampire Dragon - Annette Blair
Captive Spirit - Anna Windsor
Chosen by Blood - Virna DePaul
Rebel - Zoe Archer
Stranger - Zoe Archer
A Taste of Desire - Beverley Kendall
Mistress by Midnight - Maggie Robinson
To Desire a Devil - Elizabeth Hoyt
To Tame a Dangerous Lord - Nicole Jordan

Digital TBR Next
Driven - Jayne Rylon (reread)
Shifting Gears - Jayne Rylon
Beg Me - Shiloh Walker
Tempt Me - Shiloh Walker
Jazz Baby - Lorelie Brown
Playboy Prankster - Pamela Britton
Just Like That - Erin Nicholas
Sweet Inspiration - Penny Watson
Breathe - Donna Alward
My Gigolo - Molly Burkhart
Scent of Persuason - Nikki Duncan

Blog Archive