November 5, 2007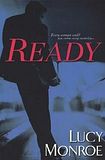 As a writer, Lise Barton is used to coming up with wild scenarios for her characters, but the one that's playing out for her right now is no fiction—it's frighteningly real. Someone is stalking her, someone who knows where she lives and what she does. Someone who has even threatened her family—her brother, his wife, and their precious baby girl. Lise isn't about to let someone hurt them, so she packs up and leaves Texas for the anonymity of Seattle. And then the threats start again…

Joshua Watt's mission is simple: Go to Seattle and bring Lise home for Thanksgiving or he'll never hear the end of it from his sister. It's not like "Aunt Lise" to stay away from their adorable niece, and Joshua's pretty sure he's the reason for it. He's spent months trying to forget the taste of her lips, the feel of her soft hair in his fingers. Yeah, okay, he wants her—badly—but family comes first. But the minute he sees the fear in Lise's eyes, his survival instincts kick in. The former Army Ranger isn't about to let some creep terrorize an innocent woman—not on his watch. He's going to do what it takes to protect Lise and try to keep his personal feelings out of it. Because if there's one thing he's learned, it's that sex and work don't mix. Not ever. So far…

They're the good guys fighting the bad guys. They'll get the job done—if the price is right and so is the cause. And what cause could be nobler than the heart's desire? Rough and ready, tough and tender—when it comes to love and security, these hunks are definitely for hire...
And this is the first tough guy that has been gunned down by a love that conquers all! Even a hardened mercenary, nicknamed "Wolf" determined to never let himself fall into the trap of romantic love. He's been burned once and isn't ready to be trapped into the claws of betrayal ever again.
But he didn't count on Lise Barton. A heroine you just have to love for her bravery, her sassy comebacks and her pure loving heart. She first comes across as demure and shy but under the influence of her love for and the protection from Joshua she turns out to be his equal in every way, his own she-wolf.
Joshua is to die for! He's a tough soldier turned mercenary but with a heart of gold and when he finally admits how much he feels for Lise he's absolutely adorable.

I really think I'm starting to repeat myself where Lucy Monroe is concerned but her writing just gets to me on a level I really haven't encountered in any writer of contemporary romance so far.
Even in this book, where the focus is more on the suspense (finding the stalker is the main focus of the story) than on the romance.
It didn't bother me because the suspense was killing and Monroe did an amazing job of building up the suspense and gradually luring you into the mystery of the stalker and his motives.
And next to that there was the love story between Lise and Joshua flowing of the pages and effortlessly mixing with the suspense.
If I must mention something that was less satisfying it was the capture of the stalker. I would have liked that to have been more elaborate since it was a bit wrapped up quickly after the superb build up. But this did not affect my opinion in the least because Monroe more than made up for that with the love-scenes. They were every bit a breathtaking as the suspense was.

Two important secondary characters in the book were Nitro and Hotwire. They are Joshua's buddies who help him protect Lise and find the stalker.
The three of them can really knock a girl of her feet...Nitro is intense and brooding, Hotwire is all charm.
They are also the hero's of the other two books in the Mercenary trilogy and I can't wait to read their stories. If they are half as exciting as Joshua's...I'm really in for a treat!

Lucy Monroe wrote a delightful book that keeps you on the edge of your seat with the suspense and warms your heart with the romance.
Quote
Lise to Joshua:
But most of all, I love the man your past has made you to be, the man who looks at the present with the eyes of a protector and the heart of a warrior

Nice to meet you!
Pearl

Netherlands
39, married to my real life romance hero, addicted to TV shows, reading romance novels and Twitter. I'm a chronic (e)book hoarder and my absolute favorite genres within romance fiction are contemporary romance and romantic suspense, but I don't shy away from historical, paranormal or erotic romance either. Even the occasional (urban) fantasy romance, futuristic and sci fi romance may make it to my Mount TBR. This is my corner of the world wide web where I let you know what books I'm hoarding, reading and reviewing.
View my complete profile

My Book-Providers
Reviews by Rating

Reviews by Genre
Reviews by Type

Reviews by Publisher

Fellow Bloggers


GR Reading Challenge
Pearl
has read 10 books toward her goal of 50 books.

On My TBR Shelf
Unforgivable - Laura Griffin
Snapped - Laura Griffin
Darkness at Dawn - Elizabeth Jennings
Sizzle and Burn - Alexis Grant
No Mercy - Lori Armstrong
Animal Magnetism - Jill Shalvis
Crazy for Love - Victoria Dahl
Kink - Saskia Walker/Sasha White
So Sensitive - Anne Rainey
Dark Taste of Rapture - Gena Showalter
The Darkest Secret - Gena Showalter
Vampire in Atlantis - Alyssa Day
Vampire Dragon - Annette Blair
Captive Spirit - Anna Windsor
Chosen by Blood - Virna DePaul
Rebel - Zoe Archer
Stranger - Zoe Archer
A Taste of Desire - Beverley Kendall
Mistress by Midnight - Maggie Robinson
To Desire a Devil - Elizabeth Hoyt
To Tame a Dangerous Lord - Nicole Jordan

Digital TBR Next
Driven - Jayne Rylon (reread)
Shifting Gears - Jayne Rylon
Beg Me - Shiloh Walker
Tempt Me - Shiloh Walker
Jazz Baby - Lorelie Brown
Playboy Prankster - Pamela Britton
Just Like That - Erin Nicholas
Sweet Inspiration - Penny Watson
Breathe - Donna Alward
My Gigolo - Molly Burkhart
Scent of Persuason - Nikki Duncan

Blog Archive