January 4, 2009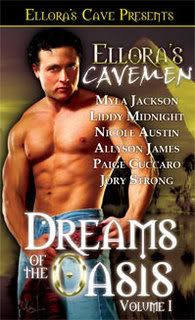 Back Cover:
It's hell to be a dragon enslaved. Arys, a powerful silver dragon in human form, is bound to a witch who uses his magic and his body to pleasure her in every way imaginable. When Arys spies Naida, a young woman just coming into her powers, watching Arys performing erotic acts with the witch, he knows that Naida is the key to his freedom.
First he must convince Naida she's his true mate and that the power of their sexual play, and her love, will release him.
There isn't much to tell about the content of this story. Silver dragon Arys enslaved by a witch who holds his true name and therefore can compel him to do her bidding, the witch Clymenestra. This time when he's summoned from Dragonspace to provide her his blood for a spell, he encounters a maiden whose blood is also needed for the spell, Naida. Soon Arys knows that Naida is his life mate, the only one who can free him from his enslavement.

This extremely short novella is definitely set in the same world as Allyson James' books in the Here Be Dragons series and it loosely follows the same concept but that is where the comparison ends.
Significant differences in language use, eroticism and time period set this novella apart from the full-length books. The writing to me was less fluent and the use of language was understandably less modern because it took place in an undisclosed time period in the past and not in our modern day world. There is no real plot except for Clymenestra trying to steal Arys' power and Arys wanting to get out of his enslavement.

This story was much more erotic and that's not surprising considering the publisher is Ellora's Cave. The love scenes are very explicit and because of the lack of room for world building or character development and the fact that the love scenes take up most of the 32 pages the story counts, the eroticism is the focal point of the story.

I would not recommend this novella as a first encounter with Allyson James' work. Since I've read more of her work I have other books to compare it to, and it doesn't come close to the high quality, perfectly set up world of Dragons or the wonderful intriguing world of the Shareem. I read the story because it's set in the world of the Here Be Dragons series and would only tell people to read it in order to do the same but not to have a first taste of Allyson James' writing and definitely not if you're not open to erotica.


Nice to meet you!
Pearl

Netherlands
39, married to my real life romance hero, addicted to TV shows, reading romance novels and Twitter. I'm a chronic (e)book hoarder and my absolute favorite genres within romance fiction are contemporary romance and romantic suspense, but I don't shy away from historical, paranormal or erotic romance either. Even the occasional (urban) fantasy romance, futuristic and sci fi romance may make it to my Mount TBR. This is my corner of the world wide web where I let you know what books I'm hoarding, reading and reviewing.
View my complete profile

My Book-Providers
Reviews by Rating

Reviews by Genre
Reviews by Type

Reviews by Publisher

Fellow Bloggers


GR Reading Challenge
Pearl
has read 10 books toward her goal of 50 books.

On My TBR Shelf
Unforgivable - Laura Griffin
Snapped - Laura Griffin
Darkness at Dawn - Elizabeth Jennings
Sizzle and Burn - Alexis Grant
No Mercy - Lori Armstrong
Animal Magnetism - Jill Shalvis
Crazy for Love - Victoria Dahl
Kink - Saskia Walker/Sasha White
So Sensitive - Anne Rainey
Dark Taste of Rapture - Gena Showalter
The Darkest Secret - Gena Showalter
Vampire in Atlantis - Alyssa Day
Vampire Dragon - Annette Blair
Captive Spirit - Anna Windsor
Chosen by Blood - Virna DePaul
Rebel - Zoe Archer
Stranger - Zoe Archer
A Taste of Desire - Beverley Kendall
Mistress by Midnight - Maggie Robinson
To Desire a Devil - Elizabeth Hoyt
To Tame a Dangerous Lord - Nicole Jordan

Digital TBR Next
Driven - Jayne Rylon (reread)
Shifting Gears - Jayne Rylon
Beg Me - Shiloh Walker
Tempt Me - Shiloh Walker
Jazz Baby - Lorelie Brown
Playboy Prankster - Pamela Britton
Just Like That - Erin Nicholas
Sweet Inspiration - Penny Watson
Breathe - Donna Alward
My Gigolo - Molly Burkhart
Scent of Persuason - Nikki Duncan

Blog Archive