January 19, 2009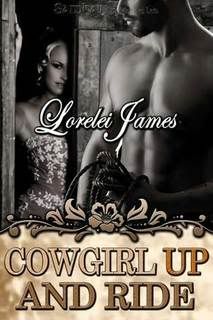 Back Cover:
...Ridin' the edge of lust is fun—until someone falls in love.
Goody-two boots AJ Foster has waited her entire life for her dream cowboy Cord McKay to see her as more than the neighbor girl in pigtails. Now that she's old enough to stake her claim on him, she's pulling out all the sexual stops and riding hell-bent for leather—straight for his libido.
Divorced rancher Cord has sworn off all women…until innocent AJ suggests he teach her how to ride bareback—and he realizes she doesn't mean horses or bulls. Between his responsibilities running his massive ranch, missing his young son and dealing with the sexual shenanigans of his brother and cousins, Cord is more than willing to take AJ up on her offer. On a trial basis.

The fun and games tie them both up in knots. AJ isn't willing to settle for less than the whole shootin' match with her western knight. But for Cord, even though the sexy cowgirl sets his blood ablaze, he's determined to resist her efforts to lasso his battered heart. Sweet, determined AJ has the power to heal—or heel—the gruff cowboy…unless Cord's pride keeps him from admitting their relationship is more than a simple roll in the hay.

Warning: this book contains: raunchy sex scenes that'll work you into a lather faster than a winded horse, graphic language, resourceful use of baling twine, ménage a trois, ménage a quatage, and yippee! hot nekkid lovin'.
AJ (Amy Jo) Foster has had a crush on Cord McKay, who is thirteen years her senior, since she was 5 years old. After years of admiring him from the sidelines, watching him get married, father a son, get divorced and babysitting his son, now that AJ is twenty-two she's decided she's waited long enough for him to notice her and she makes a bold move by seducing him into a sexual relationship with her. Cord doesn't know what hits him when AJ makes him a proposition he can't refuse and so they embark on a relationship that ends up way different than he had envisioned.

AJ is a twenty-two-year-old who is wise beyond her years. She has dealt with responsibility at a very young age, being a child of elderly parents. This has always been of great impact on the way she lives her life. Combined with her air of innocence it makes her an intriguing character that's easy to relate to. She is smart-mouthed and has a fiery sense of humor.

Cord is gruff and brooding and has had it with women, after a failed marriage and a non-pleasant divorce. His only preoccupation is his son Ky and he certainly is done with love and women. But AJ blindsides him and before he knows what hit him he's involved with a headstrong and seductive woman he can't get out of his mind.

Like in the previous books there are many secondary characters, mostly former heroes and heroines (Colby/Channing, Carter/Macie and Cash/Gemma) giving peeks into their lives as a couple. There's also a small side story about Kade McKay, he a cousin of this branch of the McKays and the hero of the next book. I've also finished that book but his story starts in this one. And a promising start it is.

The dynamics and relations between the McKay siblings and their cousins are deepened out more in each next installment and this one wasn't different. It is the reason the amount of secondary characters is never bothersome and doesn't take away the focus from the main couple. Arguments and talks between Cord, Colt, Colby, Kane and Kade are additions to their character developments and their backgrounds. Lorelei James does this in an excellent way, giving the books depth to go along with the hot sex and creating well-rounded characters with an extensive background.

She doesn't back away from heavy themes as alcoholism and escaping into self-sabotaging behavior. There was some less light-hearted stuff going on in this book, such as the death of a secondary character, that gave this book a different but welcome kind of intensity compared to the other books

This is the story of the oldest McKay brother and it was just as good as the previous one that was of the youngest (Carter). Lorelei James offers a totally different story from the previous books still containing all the great elements the other books also had: true emotions, conflicts and hot, explicit love scenes. And of course a nice warm-up for the next book with some enticing scenes.

She is great in combining several plotlines that don't seem to be connected into a coherent overall picture, all the while providing intensity, sexuality and emotions, strengthening the bonds and relations both the romantic and the non-romantic ones. Each next book gives me a look deeper into the dynamics of a family and I'm liking that even more than the scorching sex scenes.

Of course again the ending was marked with what, for me, is becoming a Lorelei James trademark: the heart wrenching emotions, this time with a few tragedies added to it. But ultimately with a happy end that was so romantic it made my heart hurt, but in a very good way.

Even though the sexual themes of male/male action, bondage and mild spanking seem to be recurring in every book, every couple gives them a new and refreshing vibe. James is good at providing unique and independent installments and still keeping it a tight-knit series as a whole. This deserves my praise because the danger of becoming repetitive and the books becoming interchangeable is right around the corner.

I know most addictions are bad, but my addiction to Lorelei James' books is one I'm not willing to part with. She can keep these books coming for a long time because I'm enjoying them something fierce and I'm not willing to let this habit go yet.
Quotes:
Oh man. Just looking at him made her melt. What would it be like to touch him? Feel that rough skin all over hers?

He took her mouth like he wanted to take her body—a slow build up, then wham! A no-holds-barred, hot, wet, hard swamping of her senses until she couldn't breathe.

She melted. The feeling of rightness, of inevitability, flowed over as sweetly as it had when she'd been a young girl. But unlike then, she now knew real, true love earned through trial and error was better than any one-sided fairy tale love from afar.


Nice to meet you!
Pearl

Netherlands
39, married to my real life romance hero, addicted to TV shows, reading romance novels and Twitter. I'm a chronic (e)book hoarder and my absolute favorite genres within romance fiction are contemporary romance and romantic suspense, but I don't shy away from historical, paranormal or erotic romance either. Even the occasional (urban) fantasy romance, futuristic and sci fi romance may make it to my Mount TBR. This is my corner of the world wide web where I let you know what books I'm hoarding, reading and reviewing.
View my complete profile

My Book-Providers
Reviews by Rating

Reviews by Genre
Reviews by Type

Reviews by Publisher

Fellow Bloggers


GR Reading Challenge
Pearl
has read 10 books toward her goal of 50 books.

On My TBR Shelf
Unforgivable - Laura Griffin
Snapped - Laura Griffin
Darkness at Dawn - Elizabeth Jennings
Sizzle and Burn - Alexis Grant
No Mercy - Lori Armstrong
Animal Magnetism - Jill Shalvis
Crazy for Love - Victoria Dahl
Kink - Saskia Walker/Sasha White
So Sensitive - Anne Rainey
Dark Taste of Rapture - Gena Showalter
The Darkest Secret - Gena Showalter
Vampire in Atlantis - Alyssa Day
Vampire Dragon - Annette Blair
Captive Spirit - Anna Windsor
Chosen by Blood - Virna DePaul
Rebel - Zoe Archer
Stranger - Zoe Archer
A Taste of Desire - Beverley Kendall
Mistress by Midnight - Maggie Robinson
To Desire a Devil - Elizabeth Hoyt
To Tame a Dangerous Lord - Nicole Jordan

Digital TBR Next
Driven - Jayne Rylon (reread)
Shifting Gears - Jayne Rylon
Beg Me - Shiloh Walker
Tempt Me - Shiloh Walker
Jazz Baby - Lorelie Brown
Playboy Prankster - Pamela Britton
Just Like That - Erin Nicholas
Sweet Inspiration - Penny Watson
Breathe - Donna Alward
My Gigolo - Molly Burkhart
Scent of Persuason - Nikki Duncan

Blog Archive