January 9, 2009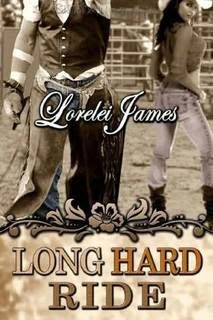 Back Cover:
...One lucky woman…three sexy cowboys…she's in for the ride of her life!..

Channing Kinkaid itches for a change; a wild western adventure with an untamed man. Determined to shed her inhibitions and embrace the steamier, seamier side of life, she sets her sights on hooking up with a real chaps-and-spurs-wearing cowboy. Enter Colby McKay—bull rider, saddle bronc buster and calf roper. From the moment he sets lust-filled eyes on the sweet and fiery Channing, he knows he's found the woman who's up to the challenge of cutting loose. What rough and rowdy cowboy could resist a no-holds-barred sexual romp with a sassy young thing starring as his personal buckle bunny?

Intrigued by Channing's bold proposition of horsing around on the road, Colby impulsively sweetens the deal; sexual escapades not only in his bed, but in the bedrolls of his rodeo traveling partners, Trevor and Edgard. Although Channing's secretly longed to be the sole focus of more than one man's passions, Colby's demand for complete submission behind closed doors will test her willful nature. Can Channing give up total control? Especially when not all is as it seems with the sexy trio? Or will the cowboys have to break out the bullropes and piggin' string to break in this headstrong filly?

Warning: This title contains the following: lots of explicit sex, going strong long after the cows come home, graphic language that'd make your mama blush, light bondage with bullropes, ménage a trois, and – yee-haw! – hot nekkid cowboy man-love.
When Channing Kinkaid finds out the rodeo cowboy she run away with is married, she leaves him and takes up the offer of the intriguing Colby McKay, the "king" of the rodeo circuit, to join him and his buddies, also known as the bad boys of the circuit, for a week as their buckle bunny.
For Channing a secret dream comes true when she goes on a trip to fulfill her every sexual fantasy but she does not only that, she also finds her true self, and love and a future with Colby McKay. For Colby the trip is an eye-opener too; for the first time in his life he wants to commit to one woman, and one woman only: Channing Kinkaid.

Channing is sassy, self-reliant and a spitfire. She is adventurous, rebellious and headstrong. But she's also yearning for acceptance, to belong somewhere. She has always felt unaccepted by her parents and her environment. Even when she tried to please them at the expense of her own happiness. She never had the feeling she fit in.
Colby is a true cowboy, smooth, charming and a sweet-talker. But he's also direct and dominant, both in and out of bed. His sudden strong feelings towards Channing take him by surprise and he doesn't handle admitting to them quite that subtle.
The chemistry between Colby and Channing is off the scale. It's clear from the beginning that there's more between them than just a romp in the hay, so to speak.

If you're not into explicit erotica that contains subjects as threesomes, male-on-male action and bondage this book is not for you. I found it hot and steamy, keeping the sexual tension at a high throughout the whole book. It never died down and kept me in a continued state of sensual bliss and for me it al worked and clicked together. The erotic steaminess and the genuine emotions between not only the main characters but also between important secondary characters were blended together in a smooth and fluent way. Lorelei James manages to make the scenes (both erotic and other) very intense but playful at the same time. It definitely isn't dime-a-dozen erotica.

It's a layered, steamy erotic romance with enough depth and emotion to it to enthrall and entice me. It kept drawing my attention to it every moment I stopped reading until I read the very last satisfying word. The combination of hot sex, genuine feelings and conflicts, humor, rodeo-action and multiple little storylines hinting at future stories was one that hit the mark with me. Even the male-on-male action did something to me. It was my first taste of it and I wasn't expecting it but Lorelei James brought it in a very tasteful and functional way, easing me into the accepting and embracing it fully. Not that I'm rushing out now to buy gay romance but within this story it worked for me.
All elements blended together perfectly. There wasn't a single moment where the erotica took over. It matched flawlessly with the story around it. The emotions were build up throughout the story to a peak at the end that was just heart wrenching, bringing tears to my eyes, seeing the struggles of two people who love each other but are afraid to make the jump of putting their hearts in each others' hands.

Lorelei James took me on a tour of the Wild West through Oklahoma, Colorado, Nebraska and Wyoming and on the way I learned a lot about rodeo, stock and cowboys. She did the nearly impossible here, making me read about cowboys and I can honestly say her writing is the only reason I'm letting western-themed books on to my reading list. Anyone who knows me, and my preferences in regard to romance, knows that that is the one theme that has never made it to my collection. Now thanks to Lorelei James' red-hot Rough Riders I've found me some cowboys to keep.

With LONG HARD RIDE Lorelei James delivers a story that is as graphic as it is emotional. It is fiercely erotic and at the same time it has the depth I look for in the books I read. To sum it up: This is unadulterated erotica with the best to offer in terms of both emotional romance and scorching sex scenes.
Quotes:
"I like your fire. A woman like you could burn a man up. And I'd enjoy every hot second as I went down in flames."

Colby kissed her, not like he wanted to devour her, but with pureness. Gentleness. With his heart and soul wide open. (...) She drank him in and filled him back up, sharing, drowning in everything they freely gave to each other.


Nice to meet you!
Pearl

Netherlands
39, married to my real life romance hero, addicted to TV shows, reading romance novels and Twitter. I'm a chronic (e)book hoarder and my absolute favorite genres within romance fiction are contemporary romance and romantic suspense, but I don't shy away from historical, paranormal or erotic romance either. Even the occasional (urban) fantasy romance, futuristic and sci fi romance may make it to my Mount TBR. This is my corner of the world wide web where I let you know what books I'm hoarding, reading and reviewing.
View my complete profile

My Book-Providers
Reviews by Rating

Reviews by Genre
Reviews by Type

Reviews by Publisher

Fellow Bloggers


GR Reading Challenge
Pearl
has read 10 books toward her goal of 50 books.

On My TBR Shelf
Unforgivable - Laura Griffin
Snapped - Laura Griffin
Darkness at Dawn - Elizabeth Jennings
Sizzle and Burn - Alexis Grant
No Mercy - Lori Armstrong
Animal Magnetism - Jill Shalvis
Crazy for Love - Victoria Dahl
Kink - Saskia Walker/Sasha White
So Sensitive - Anne Rainey
Dark Taste of Rapture - Gena Showalter
The Darkest Secret - Gena Showalter
Vampire in Atlantis - Alyssa Day
Vampire Dragon - Annette Blair
Captive Spirit - Anna Windsor
Chosen by Blood - Virna DePaul
Rebel - Zoe Archer
Stranger - Zoe Archer
A Taste of Desire - Beverley Kendall
Mistress by Midnight - Maggie Robinson
To Desire a Devil - Elizabeth Hoyt
To Tame a Dangerous Lord - Nicole Jordan

Digital TBR Next
Driven - Jayne Rylon (reread)
Shifting Gears - Jayne Rylon
Beg Me - Shiloh Walker
Tempt Me - Shiloh Walker
Jazz Baby - Lorelie Brown
Playboy Prankster - Pamela Britton
Just Like That - Erin Nicholas
Sweet Inspiration - Penny Watson
Breathe - Donna Alward
My Gigolo - Molly Burkhart
Scent of Persuason - Nikki Duncan

Blog Archive