January 21, 2009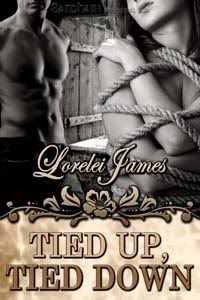 Back Cover:
...The strongest bonds are the ones unseen.
Businesswoman Skylar Ellison is firmly in control of her life. So getting tangled up with a sexy Wyoming cowboy—and conceiving a baby in the parking lot of a honky-tonk—wasn't in her plan. Since it appears the daddy has taken off for greener pastures, the only thing to do is pull up her bootstraps and carry on alone.
Cattle rancher Kade McKay returns home after a year on the range, and is knocked for a loop when he learns he's the father of a three-month-old baby girl. When Skylar refuses to marry him, Kade grits his teeth, moves in and plays house by her rules to prove he's a man in for the long haul.

Despite Skylar's insistence they are to remain strictly parenting partners, their old passions flare hot as a brush fire, spurring Kade to demand absolute sexual surrender from the headstrong woman. Skylar willingly submits her body to the hot-blooded cowboy but she's leery of handing Kade the reins to her heart. Can Kade convince Skylar the wicked sex games aren't a temporary distraction? Or will he have to bust out the ropes to show her he wants to be tied to her…forever?

Warning: this book contains: no holes barred kinky sex scenes, wicked rope play, blunt language, and yowza! lots of hot cowboy nekkidness.
Skylar Ellison ends up pregnant after one encounter with Kade McKay whom she had believed was his twin brother Kane the whole time they were dating. Misunderstandings and tragedies in Kade's family are the cause that Kade only finds out he has a daughter when she's 3 months old already. He doesn't hesitate for a moment and asks Skylar to marry him, but she refuses. When he decides to move in with her to get to know his daughter and be there for her, Skylar can't refuse, but Kade does not only win his daughter's heart, in the process he also makes Skylar realize that despite the misunderstandings in the past he is the right and only man for her.

I loved Skylar and Kade. Even if the book isn't the most intense one up till now, they are my favorite characters so far. Kade is so cute with his daughter Eliza. From the moment he finds out he's a father he is a true hands-on daddy.
Skylar's insecurities and her need to be in control of everything do have a straining effect on the relationship at first. It is understandable though because she has her reasons for wanting control and tempering her past impulsive behavior. Lorelei James' strong character development shows best in Skylar in this book.

A case of mistaken identity, forgetting protection in the throws of passion, a stubborn businesswoman and a tenacious cowboy are the elements of another great book by Lorelei James. It's filled with control-issues, difficult pasts and sibling relationships

Again I truly enjoyed this book in the series. Even though it is very different from the previous books and seems a bit more sedated and less intense, especially in the first half of the book. The strong emotions are still there. The standard sexual themes that were in all previous books weren't all represented in this one.

The sexual play only included bondage and one-on-one in all positions imaginable, but no multiple partners or male action in this installment. This didn't influence my wonderful reading experience with the book because these subjects wouldn't have fitted with the rest of the book and the story of Skylar and Kade.

Lorelei James is not afraid to touch subjects in her book that aren't cut-and-dry simple, and I'm not just talking about sexual subjects. She delves into emotional issues and dilemmas as well. Next to the emotional stuff, she is also able to capture the funny moments in life so I went from laughing-out-loud to teary-eyed numerous times while reading.

As with the other books in this series, the book isn't just about the leading couple. It's about two whole families, the McKays and the Wests, with all their complications, troubles, happy moments and tragedies. And next to the great family dynamics and the main characters' relationship the story is sprinkled with knowledge of rodeo and ranching. Contrary to the book before this one the rodeo theme did appear again, even if it wasn't a big part.

I'm still addicted to Lorelei James' writing and with this book she proves again that she can vary with themes, storylines and emotional issues, providing a variation so it never becomes boring or repetitive to read the books back-to-back.
Quotes:
Mercy. She was all curves: hips, ass, thighs, and breasts. He loved women who looked like women and not a skeleton with skin.

Kade kissed her in a brutal show of male possession, of frustration, of absolute pure animal attraction, of a man choosing his mate and marking her his.

"Why are you doing this?"
"Because I can." He zigzagged his tongue up the column of her throat and blew softly on the wetness just to have her trembling in his arms. "Because you are as temptin' as sin. Because you're beautiful. Because this is how I see you. In my head. In the dark. In the flesh. So when I f**k you every way my sex-addled brain can dream up, you'll know I wasn't kiddin' about how hot you can make me burn."


Nice to meet you!
Pearl

Netherlands
39, married to my real life romance hero, addicted to TV shows, reading romance novels and Twitter. I'm a chronic (e)book hoarder and my absolute favorite genres within romance fiction are contemporary romance and romantic suspense, but I don't shy away from historical, paranormal or erotic romance either. Even the occasional (urban) fantasy romance, futuristic and sci fi romance may make it to my Mount TBR. This is my corner of the world wide web where I let you know what books I'm hoarding, reading and reviewing.
View my complete profile

My Book-Providers
Reviews by Rating

Reviews by Genre
Reviews by Type

Reviews by Publisher

Fellow Bloggers


GR Reading Challenge
Pearl
has read 10 books toward her goal of 50 books.

On My TBR Shelf
Unforgivable - Laura Griffin
Snapped - Laura Griffin
Darkness at Dawn - Elizabeth Jennings
Sizzle and Burn - Alexis Grant
No Mercy - Lori Armstrong
Animal Magnetism - Jill Shalvis
Crazy for Love - Victoria Dahl
Kink - Saskia Walker/Sasha White
So Sensitive - Anne Rainey
Dark Taste of Rapture - Gena Showalter
The Darkest Secret - Gena Showalter
Vampire in Atlantis - Alyssa Day
Vampire Dragon - Annette Blair
Captive Spirit - Anna Windsor
Chosen by Blood - Virna DePaul
Rebel - Zoe Archer
Stranger - Zoe Archer
A Taste of Desire - Beverley Kendall
Mistress by Midnight - Maggie Robinson
To Desire a Devil - Elizabeth Hoyt
To Tame a Dangerous Lord - Nicole Jordan

Digital TBR Next
Driven - Jayne Rylon (reread)
Shifting Gears - Jayne Rylon
Beg Me - Shiloh Walker
Tempt Me - Shiloh Walker
Jazz Baby - Lorelie Brown
Playboy Prankster - Pamela Britton
Just Like That - Erin Nicholas
Sweet Inspiration - Penny Watson
Breathe - Donna Alward
My Gigolo - Molly Burkhart
Scent of Persuason - Nikki Duncan

Blog Archive