January 5, 2009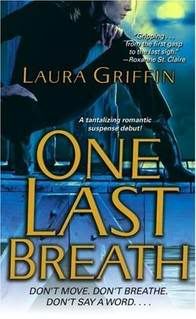 Back Cover:
He's an ex-cop. She's an ex-wife. And they're both out for revenge on the same man....

When pampered former cheerleader Feenie Malone takes a job writing fluff pieces for her South Texas paper, she has no idea she's about to stumble into a juicy news story that could launch her career -- if it doesn't get her killed first. Almost as soon as she breaks out her press pass, she crosses paths with Marco Juarez, the macho PI obsessed with solving his sister's murder. The information he has might be the perfect lead -- but his dangerously sexy looks could be a deadly distraction.

Juarez has zero patience for reporters, especially mouthy blond ones. But with the evidence pointing to Feenie's ex-husband, Marco thinks she could be useful. Confident he can keep her on a tight leash, he lets her in on his investigation. He quickly discovers he's underestimated his new partner, as well as the danger they both face. Now he must protect her -- to the very last breath...
A cheating ex-husband and a disappeared, murdered sister seem to be two things that have nothing in common. This changes when the journalist ex-wife and the former detective turned PI brother join forces to get to the bottom of what is going on. Marco Juarez and Feenie Malone soon find out that their problems are linked in a way they couldn't have dreamed up. In their search for the truth, they fall in love and it's a long road to closure and happiness.

Marco is a typical ex-cop. He is rugged, determined, purposeful and a bit bossy. The loss of his sister has left him full of guilt towards her and the rest of his family, which is why he dugs his heels into the investigation of her disappearance and doesn't let go until he has found answers and exacted his revenge. He has this protective streak that is heartwarming.

Feenie may appear the proverbial dumb and naive blond at first glance but that's just outer appearance. She is smart and has her mouth ready. Her appearance hides an intelligent woman who won't let misfortune get her down. She has an impulsive, defiant streak that could drive any man crazy.

My first encounter with Laura Griffin's work was last year through an ARC for ROOB (THREAD OF FEAR). I liked that book so much that it led me into buying all of Laura Griffin's available books immediately. ONE LAST BREATH has proved that I won't regret that decision for a second. The focus is again on the suspense and the romance is imbedded into the story in a very subtle way. Griffin has a way of writing such compelling suspense with a carefully set up plot that I don't miss the explicit love scenes I do need in other romance novels. This doesn't mean that there aren't any romantic scenes in the book, there are a few and they are great. The romance and attraction between Feenie and Marco is genuine and has a very realistic feel to it. It doesn't feel forced in any way. It's there; it's just not the focal point of the book. Anything else wouldn't fit the total package and vibe of the book. The book is about the suspense and the romance is a nice added bonus.

I love Griffin's writing. It's extensive without taking away suspense or pace. It's descriptive without being repetitive. She describes procedures, action sequences, fights, weapons and other elements that go with romantic suspense without getting to technical and still gave me the feeling I had knowledge of what she was writing about.

Her writing has a way of pulling you into the story, unable to let it go. You become invested in the characters and the plot, wanting everything to work out in the end both romantically and plot wise. In this book she wrote a suspense-plot that was set up in a way that had me wondering what the outcome would be, who was behind everything and what their motives were. Secondary to the amazing suspense story is the romance between her characters. You become involved in the main couple' life. They are everyday people, with everyday problems. You follow them from discovering their feelings for each other, through the acting on those feelings, to the acceptance and acknowledgement of their mutual love. This all against a background formed by the nail biting suspense-plot that is put together excellently.

I also like the way Griffin connects her books to each other. In THREAD OF FEAR she prepared me for the next book of that series with some strategic and subtle scenes between the secondary characters who are the heroine and the hero of that next book. In ONE LAST BREATH she does the same with two secondary characters. I must admit that I have knowledge beforehand of who the next book's main characters are because I already have it on my bookshelves, but even if I didn't know, the sparks flying between them in this book are a good indication. Needless to say I'm anxious to start in the next book, ONE WRONG STEP, soon.

Laura Griffin is definitely doing a great job of making her books indispensable on my bookshelves, giving me suspense that is so good I don't miss the heavy romance. For me her writing is the ultimate crimes-show episode poured into a book!
Quote:
Her nerves threatened to bubble over, so she sat on the edge of the bed and tried to get a grip. He watched her watching him take of his boots and jeans. It occurred to her that she should be doing something right now, something sensual and alluring, but her mind drew a complete blank. All she could do was stare at him and feel her blood rush.

Nice to meet you!
Pearl

Netherlands
39, married to my real life romance hero, addicted to TV shows, reading romance novels and Twitter. I'm a chronic (e)book hoarder and my absolute favorite genres within romance fiction are contemporary romance and romantic suspense, but I don't shy away from historical, paranormal or erotic romance either. Even the occasional (urban) fantasy romance, futuristic and sci fi romance may make it to my Mount TBR. This is my corner of the world wide web where I let you know what books I'm hoarding, reading and reviewing.
View my complete profile

My Book-Providers
Reviews by Rating

Reviews by Genre
Reviews by Type

Reviews by Publisher

Fellow Bloggers


GR Reading Challenge
Pearl
has read 10 books toward her goal of 50 books.

On My TBR Shelf
Unforgivable - Laura Griffin
Snapped - Laura Griffin
Darkness at Dawn - Elizabeth Jennings
Sizzle and Burn - Alexis Grant
No Mercy - Lori Armstrong
Animal Magnetism - Jill Shalvis
Crazy for Love - Victoria Dahl
Kink - Saskia Walker/Sasha White
So Sensitive - Anne Rainey
Dark Taste of Rapture - Gena Showalter
The Darkest Secret - Gena Showalter
Vampire in Atlantis - Alyssa Day
Vampire Dragon - Annette Blair
Captive Spirit - Anna Windsor
Chosen by Blood - Virna DePaul
Rebel - Zoe Archer
Stranger - Zoe Archer
A Taste of Desire - Beverley Kendall
Mistress by Midnight - Maggie Robinson
To Desire a Devil - Elizabeth Hoyt
To Tame a Dangerous Lord - Nicole Jordan

Digital TBR Next
Driven - Jayne Rylon (reread)
Shifting Gears - Jayne Rylon
Beg Me - Shiloh Walker
Tempt Me - Shiloh Walker
Jazz Baby - Lorelie Brown
Playboy Prankster - Pamela Britton
Just Like That - Erin Nicholas
Sweet Inspiration - Penny Watson
Breathe - Donna Alward
My Gigolo - Molly Burkhart
Scent of Persuason - Nikki Duncan

Blog Archive