January 10, 2009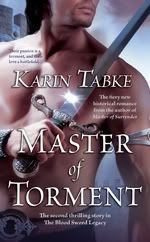 Back Cover:
Wulfson of Trevelyn, trusted knight of William the Conqueror, has never met a man he could not master. But in the tempestuous young widow Tarian of Trent, known as the Lady Warrior, Wulf may finally have met his match. Ordered by the king to eliminate her traitorous bloodline, Wulf captures the lady but hesitates to execute his orders, falling captive himself to her seductive dark beauty.

To Lady Tarian's dismay, neither her fighting spirit nor her wiles are sufficient to bend Wulfson completely to her will. As she and Wulfson try to stay one step ahead of the angered King, Tarian vows she will not be the loser in their passionate battle, but her own desire for this overpowering stranger threatens not only her body, and her heart, but both of their lives.
King William the Conqueror wants Tarian Godwinson dead and sends his Blood Swords, led by Wulfson of Trevelyn, to kill her in order to protect his kingdom from future threats. When Wulfson arrives at her stronghold, she's been held captive by her dead husband's uncle who is forcing her to marry him for selfish and inappropriate reasons. Wulfson is utterly intrigued by the little lady warrior and soon he is torn between his loyalty and duty to his king and his feelings for the only woman who has ever made him feel and think twice about his given orders.

Because of her heritage Tarian has learned at a young age to fend for herself both in the figurative sense as well as literally with a sword. When in a fight for her life she's left a widow, the vultures start to circle her. There a people who want her safe because of her bloodline, there are people who want her dead because of her bloodline and there are people who plain want her. Tarian soon discovers the motive for the Blood Swords being in her castle and Wulfson's order to kill her. She tries to use her wits to escape her faith, by trapping Wulfson but her plan backfires when she finds herself at his mercy and at the mercy of her powerful feelings for him.

Tarian is known as the lady warrior. She wields a sword like any man can and has stood by her former king and uncle in many battles against the Normans. She used to her hoyden life and no one has cared enough for her to keep her from it. She is willful, strong and proud. She relies only on herself, her nurse Edie and the captain of her guard Gareth. She's also resilient and tenacious. Whatever resistance or misfortune she encounters, she faces it with her clever thinking and her honed battle skills.

Wulfson is the captain of William's private guard, the Blood Swords. He is a seasoned warrior, capable of enduring battle and torture. He is commanding and merciless and up to his encounter with Tarian, he is cold and jaded. No woman ever had the ability to make him turn his head before, or care about her well-being.

There is an abundance in secondary characters, some of which have a bigger role than others. The most important roles are for the people surrounding Tarian, even though the Blood Swords also have a commanding presence in the story. I also got a little glimpse of Rohan, the hero of book 1, who was conveniently present to give Wulf some pointers on how to recognize the love of his life. There was one very irritating secondary character in the form of Tarian's deceased husband's uncle Rangor of Lerwick. He was the proverbial insect you keep swatting at, but refuses to die or go away.

Karin Tabke has once again thrown me in the medieval era with another compelling and rich read. This time in the midst of the intriguing schemes of the Normans, Saxons and Welsh, with a splendid combination of romance and history. She is very consequent in the use of language and very thorough in the historical details. This creates a realistic historical vibe without taking away the reading pace or the intensity of the romance. She not only gave me lifelike historical fiction, but she also gave me a wonderful, heartrending love story that was very unique compared to other Norman/Saxon love stories I have read.

And Karin Tabke knows her love scenes. They are pretty hot and explicit but still they match the rest of the book and the time-period perfectly. They were a true addition to the whole, completing the romance and fitting in with the historical plot. The chemistry between Wulf and Tarian is there from the beginning, but she builds up the tension gradually both sexually and emotionally. They grow into their relationship and deal with the dilemmas they have to face in giving into the feelings between them. This all without losing the traits of their personalities that make them who they are.

I liked this book even more than I did MASTER OF SURRENDER and I think that's partly because of Tarian's character. She is the driving force of this book, taking every situation in stride and making decisions to save herself even if they don't make her happy. She never takes the easy way out and fights for her freedom. The combination of her with Wulf in my opinion was a stronger one than the one of Rohan and Isabel. Also, partly because the plot arc in MASTER OF TORMENT is just that bit more conflicted to make it a rather troublesome journey and we all know satisfaction is better when the effort, to get to it, is greater.

Even when you are very familiar with medieval history, be it from non-fiction or from other historical romance novels, in this second installment of the Blood Sword Legacy series Karin Tabke has provided a refreshing read. It's a rich, action-filled and fast-paced story full of historical details, a story of loyalty, alliances and betrayal. It's also a love story between two adversaries that's full of dilemma and difficulty, laced with the longing for freedom and independence.

And so another member of William the Conqueror's elite death squad meets his match in battle and love. I enjoyed it immensely and am anxiously awaiting the next Blood Sword to meet his match.
Quotes:
He made her body sizzle and burn as his fingers and lips tortured her flesh. He pushed her to a place she had never imagined, and though she felt as if she stood on the edge of a precipice and wanted to jump off and fly with the eagles, she hung there suspended by wild intense longing.

Wulf to Tarian: "Methinks you are but a hissing kitten with only sharp claws to do her bidding. You will find we Norman dogs digest kittens to break the fast.


Nice to meet you!
Pearl

Netherlands
39, married to my real life romance hero, addicted to TV shows, reading romance novels and Twitter. I'm a chronic (e)book hoarder and my absolute favorite genres within romance fiction are contemporary romance and romantic suspense, but I don't shy away from historical, paranormal or erotic romance either. Even the occasional (urban) fantasy romance, futuristic and sci fi romance may make it to my Mount TBR. This is my corner of the world wide web where I let you know what books I'm hoarding, reading and reviewing.
View my complete profile

My Book-Providers
Reviews by Rating

Reviews by Genre
Reviews by Type

Reviews by Publisher

Fellow Bloggers


GR Reading Challenge
Pearl
has read 10 books toward her goal of 50 books.

On My TBR Shelf
Unforgivable - Laura Griffin
Snapped - Laura Griffin
Darkness at Dawn - Elizabeth Jennings
Sizzle and Burn - Alexis Grant
No Mercy - Lori Armstrong
Animal Magnetism - Jill Shalvis
Crazy for Love - Victoria Dahl
Kink - Saskia Walker/Sasha White
So Sensitive - Anne Rainey
Dark Taste of Rapture - Gena Showalter
The Darkest Secret - Gena Showalter
Vampire in Atlantis - Alyssa Day
Vampire Dragon - Annette Blair
Captive Spirit - Anna Windsor
Chosen by Blood - Virna DePaul
Rebel - Zoe Archer
Stranger - Zoe Archer
A Taste of Desire - Beverley Kendall
Mistress by Midnight - Maggie Robinson
To Desire a Devil - Elizabeth Hoyt
To Tame a Dangerous Lord - Nicole Jordan

Digital TBR Next
Driven - Jayne Rylon (reread)
Shifting Gears - Jayne Rylon
Beg Me - Shiloh Walker
Tempt Me - Shiloh Walker
Jazz Baby - Lorelie Brown
Playboy Prankster - Pamela Britton
Just Like That - Erin Nicholas
Sweet Inspiration - Penny Watson
Breathe - Donna Alward
My Gigolo - Molly Burkhart
Scent of Persuason - Nikki Duncan

Blog Archive