January 13, 2009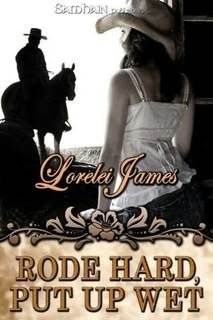 Back Cover:
...Workin' up a hot, sticky sweat is pure pleasure with a hard-ridin' cowboy…or two.

Struggling stock contractor Gemma Jansen swallows her pride and tracks down circuit rider Cash Big Crow to offer him a job managing her ranch. Cash agrees on one condition: theirs won't be strictly a working relationship. She's the boss during the day, but once she's corralled in the bedroom, Cash calls the shots. Despite concerns about their age difference, Gemma consents. Cash suspects the sexy widow hides an untapped wild streak. He intends to loosen her tightly held reins of control—even if he has to break out his horsewhip to do it.

But Cash is in for a surprise. Gemma proves a rough and ready participant in any leather-n-lace game Cash dreams up. Between riding herd on his wayward daughter, Macie, and rowdy cowboy Carter McKay doggin' Macie's every boot step, Cash struggles to hide his true feelings for Gemma – except this time, Gemma's grabbed the bull by the horns and she's playing for keeps. Summer's going to be a hot one at the Bar 9.

Warning: this book contains: explicit sex nine ways 'til Sunday – including ménage a trois, inventive use of ropes, naughty girls getting spanked, stubborn men getting hog-tied, graphic language and whoo-wee! hot nekkid cowboy action.
After her husband's death Gemma Jansen has been trying to continue his rodeo-stock contracting business but with the ol' boy mentality on the rodeo circuit it's hard for a woman so she decides to concentrate on managing her ranch. She needs a foreman on the ranch and decides to ask Cash Big Crow for the job.
Cash has always had a thing for Gemma but she turned him down a year ago when he tried to explore the attraction between them. Now he seizes the opportunity and he agrees to be Gemma's foreman on the condition that it will be more than a working relationship.
Cash and his daughter Macie Honeycutt had plans to spend the summer traveling together but now with the job on Gemma's ranch he has to change their plans. Macie decides to spend the summer there too and she meets Carter McKay, the youngest McKay brother and the sparks fly from the moment they lay eyes on each other. It turns out to be a summer that will change four lives in ways they never could have imagined.

Gemma is a widow who's sensible, independent and knows what she wants in life. She has a bit of complex about her age and that leads to insecurity sometimes but still she's no lady to mess with. She knows Cash is the man for her but she lets unimportant things get in the way, and discovers things aren't so complicated when she lets go of her inhibitions.
Cash is a bit more complicated than Gemma. He has a strained relationship with his daughter because of his absence when she was growing up. To compensate he is very protective of Macie now and that creates even more tension between them. He's bossy and bold but when it comes to Gemma he hides his true feelings behind sexual dominance, in fear of her rejection.

Macie is something else. She is headstrong, smart-mouthed and feisty. She grew up with her mother because who had nothing good to say about her father and the non-existent relationship with her father has had a lot of impact on her self-esteem and her relationships with men. She is distant with them, never letting down her guard.
Carter seems a sweet-talking, laid-back kind of guy but beneath that exterior is a very complex man. He has always felt the misfit of the McKay and underfoot at the family ranch for being different. He didn't have ranching aspirations but went to college to get a degree in art. He is the artist of the McKay family and as with many artists he has the artistic temper to go with it. He may seem different than his brothers but deep down the McKay blood runs deep and wild when it comes to sex and sensuality.

Colby and Channing from book 1 show up and it was nice seeing them again. But there were also some less important but no less intriguing secondary characters such as the McKay sister Keely and Jack Donohue who's Carter's best friend. Trevor from book one had an important role in Cash and Gemma's story and he too is fleshed out some more. I can't wait to get his full story.
With two couples and this many supporting characters you would think things could get too crowded but this wasn't the case. The two stories had to be told in one book because of the connections between the main characters and the secondary cast complemented them just perfectly.

In this book there are 2 main couples. The lives of these 4 characters are entwined and therefore the book consists of two individual love stories that are linked together by familial and working relations. One story is that of Gemma and Cash. The other is that of Cash's daughter Macie and Gemma's part-time ranch hand Carter. Both relationships are laced with complications, complexes and insecurities. But the sexual attraction is also very strong. It was amazing to read the different nuances in the love scenes between Gemma/Cash and Macie/Carter.
Lorelei James managed to capture the difference between sexuality at a later, more mature stage in life and sexuality in the prime of your life, young and still without too many emotional hang-ups. The dynamics between Carter and Macie were very different from those between Gemma and Cash and still both couples had an intense emotional romance spiced with hot and kinky love scenes.

Lorelei James writes characters that are fleshed out extensively, creating a foundation for the reader to get to know them thoroughly and in doing so, having no trouble relating to them and sympathizing with them. Little by little you get to know their life stories, their background and you understand their decisions they have made and are making. In this book all four main characters start out with their guards way up because of different reasons and bit by bit they open up to the ones they care about. It builds and builds towards an ending that was heartbreaking for both couples but all their conflicts get resolved and they come out of it stronger and happier. The writing is both emotional and playful containing quick-witted bantering that alternates with deep emotional outbursts.

As said, with RODE HARD, PUT UP WET you get two-for-one. They both formed the primary storyline instead of one being the main love story and the other the secondary romance. I loved it. It was an intricate, layered erotic romance, focusing not only on the romantic and sexual relationships but also on a complicated and strained father/daughter relationship and the struggles of a family member who feels left out and underfoot because he's different from his brothers. It's about true romance, passionate love and hot bed play, though the bed seems to be optional in Lorelei James' work.

In this book there isn't much information about rodeo but plenty of ranching and art. There's more information and background on the McKay siblings of which there are 6. Five brothers (Cord, Colby, Colt, Cameron and Carter) and a baby sister Keely. They all have their specific personalities and quirks and now that I've got two of them down I can't wait for the other four to follow.

Lorelei James is an artist within the erotica genre. With this second book of the Rough Riders she again gave me the perfect mix of what I want erotica: sex and emotions. Her books are so much more than a few raunchy love scenes linked together by a love story. They are intense romances and interpersonal relationships, laced with some delicious and explicit sex scenes.
Emotional and intense scenes that provide in depth exploration of the character and their backgrounds are alternated with flaming sex scenes in which themes as male/male action, mild spanking and threesomes aren't left untouched and they are as tasteful as they are hot.
Quotes:
The way he was looking at her made her feel like she'd suddenly developed a case of sunstroke. No man ever acted like he wanted to crawl inside her head, mark her soul his and claim her body as his own.

When he stood in front of her, he curled his hands around her head and slanted his mouth over hers. He kissed her like she was air, like she was food, like she was everything. Damn him.


Nice to meet you!
Pearl

Netherlands
39, married to my real life romance hero, addicted to TV shows, reading romance novels and Twitter. I'm a chronic (e)book hoarder and my absolute favorite genres within romance fiction are contemporary romance and romantic suspense, but I don't shy away from historical, paranormal or erotic romance either. Even the occasional (urban) fantasy romance, futuristic and sci fi romance may make it to my Mount TBR. This is my corner of the world wide web where I let you know what books I'm hoarding, reading and reviewing.
View my complete profile

My Book-Providers
Reviews by Rating

Reviews by Genre
Reviews by Type

Reviews by Publisher

Fellow Bloggers


GR Reading Challenge
Pearl
has read 10 books toward her goal of 50 books.

On My TBR Shelf
Unforgivable - Laura Griffin
Snapped - Laura Griffin
Darkness at Dawn - Elizabeth Jennings
Sizzle and Burn - Alexis Grant
No Mercy - Lori Armstrong
Animal Magnetism - Jill Shalvis
Crazy for Love - Victoria Dahl
Kink - Saskia Walker/Sasha White
So Sensitive - Anne Rainey
Dark Taste of Rapture - Gena Showalter
The Darkest Secret - Gena Showalter
Vampire in Atlantis - Alyssa Day
Vampire Dragon - Annette Blair
Captive Spirit - Anna Windsor
Chosen by Blood - Virna DePaul
Rebel - Zoe Archer
Stranger - Zoe Archer
A Taste of Desire - Beverley Kendall
Mistress by Midnight - Maggie Robinson
To Desire a Devil - Elizabeth Hoyt
To Tame a Dangerous Lord - Nicole Jordan

Digital TBR Next
Driven - Jayne Rylon (reread)
Shifting Gears - Jayne Rylon
Beg Me - Shiloh Walker
Tempt Me - Shiloh Walker
Jazz Baby - Lorelie Brown
Playboy Prankster - Pamela Britton
Just Like That - Erin Nicholas
Sweet Inspiration - Penny Watson
Breathe - Donna Alward
My Gigolo - Molly Burkhart
Scent of Persuason - Nikki Duncan

Blog Archive