October 29, 2007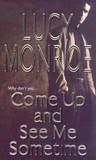 Like father, like daughter.
That's what businessman Alex Trahern thinks about Isabel Harrison. If the prestigious headhunter thinks she can steal his top employee, just like her father stole his dad's ideas, she's dead wrong. Alex is always a man with a plan, and his plan is to get revenge on John Harrison through his daughter. But there's no contingency plan for the impact Isabel's sparkling green eyes and honey brown hair have on the decidedly non-business side of his brain…

If at first you don't succeed, change the game.
After some relationship flameouts, Isabel's decided to leave love out of it and approach her search for a husband like finding a suitable job candidate. And according to her list of requirements, Alex Trahern certainly has potential. He's sexy. (Check.) Forceful and fascinating. (Check, check.) Also arrogant, obnoxious, and way too hot for her own good. (Erase. Start over.) Now, if only she could find out what he's really after…
Hatred and love truly are two sides of the same coin and this book proves that.
Alex is dead set on getting his revenge on the man he blames for his father's death and even achieving this through the man's daughter is not beneath him. But what he didn't count on was the attraction and later love he develops for Isabel and thus messing up his initial plans. The choice between having his revenge or having love, trust and a family is a hard one for him but of course in the end he makes the right on.
But the road to this right choice is a long, hard and sensual one, dealing with a woman who is loving, trusting and innocent but certainly isn't willing to be used as a means to an end.
Isabel develops throughout the book from being introvert, practical and self-protecting to the open and passionate woman that was lurking inside her but never had the chance to come out.
Because of disappointing relationships in the past Isabel has made a list of requirements her future husband should have, but never in her wildest dreams would she expect that the man who met al these requirements was also the man who was bound on revenge on her father.

Lucy Monroe does an outstanding job again with the plot and the characters. They both have issues, big issues and slowly but surely she works them out in a way that leaves you breathless with every turn of the page. She has a way of taking people who at first glance are so no right for each other, putting them together in a setting of suspense and making it work. I can see the scenes so vividly in front of me while reading it's as if I'm watching an episode of a series on television.

The contemporary books she writes (I haven't read her historical or paranormal books yet) are delightful, recognizable and on such a high level emotionally they really pulled my heartstrings on many occasions. The interactions, dialogues and love scenes between the hero and heroine are finger licking good and touching at the same time.
This was a love story that really touched me. Alex trying not to let his feelings for Isabel get in the way of his revenge and failing miserably.
Isabel trying to make the very best of the relationship once she's given into it but running into Alex' suspicions and mistrust every time.

With this book Lucy Monroe is on her way to the top of my favorite authors list, making romantic suspense one of my favorite genres.

Nice to meet you!
Pearl

Netherlands
39, married to my real life romance hero, addicted to TV shows, reading romance novels and Twitter. I'm a chronic (e)book hoarder and my absolute favorite genres within romance fiction are contemporary romance and romantic suspense, but I don't shy away from historical, paranormal or erotic romance either. Even the occasional (urban) fantasy romance, futuristic and sci fi romance may make it to my Mount TBR. This is my corner of the world wide web where I let you know what books I'm hoarding, reading and reviewing.
View my complete profile

My Book-Providers
Reviews by Rating

Reviews by Genre
Reviews by Type

Reviews by Publisher

Fellow Bloggers


GR Reading Challenge
Pearl
has read 10 books toward her goal of 50 books.

On My TBR Shelf
Unforgivable - Laura Griffin
Snapped - Laura Griffin
Darkness at Dawn - Elizabeth Jennings
Sizzle and Burn - Alexis Grant
No Mercy - Lori Armstrong
Animal Magnetism - Jill Shalvis
Crazy for Love - Victoria Dahl
Kink - Saskia Walker/Sasha White
So Sensitive - Anne Rainey
Dark Taste of Rapture - Gena Showalter
The Darkest Secret - Gena Showalter
Vampire in Atlantis - Alyssa Day
Vampire Dragon - Annette Blair
Captive Spirit - Anna Windsor
Chosen by Blood - Virna DePaul
Rebel - Zoe Archer
Stranger - Zoe Archer
A Taste of Desire - Beverley Kendall
Mistress by Midnight - Maggie Robinson
To Desire a Devil - Elizabeth Hoyt
To Tame a Dangerous Lord - Nicole Jordan

Digital TBR Next
Driven - Jayne Rylon (reread)
Shifting Gears - Jayne Rylon
Beg Me - Shiloh Walker
Tempt Me - Shiloh Walker
Jazz Baby - Lorelie Brown
Playboy Prankster - Pamela Britton
Just Like That - Erin Nicholas
Sweet Inspiration - Penny Watson
Breathe - Donna Alward
My Gigolo - Molly Burkhart
Scent of Persuason - Nikki Duncan

Blog Archive