October 27, 2007
8:42 PM
|
Edit Post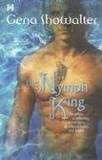 Enter a mythical world of dragons, demons and Nymphs…enter a world of dark seduction and powerful magic…enter Atlantis…
Females young and old, beautiful and plain crave Valerian's touch. None can resist his blatant sensuality and potent allure…until he steals Shaye Holling from a Florida beach and holds her prisoner in his underwater kingdom.
The cynical Shaye wants nothing to do with the mighty warlord, but she's inexplicably drawn to him. For underneath the the warrior's arrogant beauty lies a complex and powerful man. A man whose caress is like fire…
Now Valerian must fight for the privilege of claiming her as his own. Because ther's one thing Shaye doesn't know…That when a nymph discovers his true mate she's his for life.
I don't know how she does it but Showalter did it to me again:
She enchanted me with another story of Atlantis.

The Atlantis of the Nymphs this time, creatures of sexual desires and power and Valerian being their king is an exquisite specimen.
Valerian is self-assured and a bit arrogant but Shaye hold's her own with him and they both have their reasons for their attitudes.
Valerian enjoys his freedom to enjoy the females he entrances and doesn't have any need to find his mate so finding her knocks him off his feet.
Shaye certainly is not interested in men or love because loving someone only means rejection and hurt.
But they both get what they want the least anyway and they grow to accept it after some struggling.
Shaye is as endearing as she is cynical and Valerian finds out that the tables are turned on him now that he is left craving and wanting in stead of being craved and wanted.
With this change of roles Valerian is the one instantly accepting Shaye as his lifemate and Shaye is the one fighting this to the bone, determined not to give an inch of leverage.
Determined not to give in to the lure and temptation of the physical attraction Valerian poses for her at first and the emotional attraction as the lovestory unfolds.
The more Shaye gives Valerian the cold shoulder, denying her attraction to him in order to protect herself from getting hurt or rejected, the more Valerian shows patience and gentleness, killing her coldness with kindness.

I laughed, I cried, I empathized, I got angry, I got hot and bothered, in short, covered the whole spectrum of emotions again.
The interactions and dialogues between Valerian and Shaye were delightful and sizzling. Both Shaye's resistance and Valerian's determination were never annoying or irritating.
Next to their lovestory we also have the love triangle between Shiwavn, Joahim (Valerian's cousin) and Brenna, a secondary storyline just as intense as the main one but never taking over the focus.
And of course let's not forget the plot of the wars between the different "people" of Atlantis, in this book especially the on between the Nymphs and the Dragons after the Nymphs took over one of the portals to the surface meant to be guarded by the Dragons.
The secondary characters were again complementary and as well-written as the primary.
Showalter has a way with dialogues and characters that is very appealing to me. Fluently, well-developed, well- written, fun and entertaining.
She is definitely at the top of my favourite list with all her series and not in the least this Atlantis series.
She kept me flipping the pages until I closed it and left the world of Atlantis eager for the next installment, which will be the story of Layel, king of the Vampires.

Gena Showalter delivers another lovestory oozing with sensual pleasure, a fierce heroine, a scrumptious hero and an action-filled plot!
Quote
All six the warriors were suddenly looking at her as if she'd make a tasty meal, no silverware required. Strangely enough, she wanted to splay herself on a table, naked, offering her body as the dinner buffet. All you can eat. No charge.

Nice to meet you!
Pearl

Netherlands
39, married to my real life romance hero, addicted to TV shows, reading romance novels and Twitter. I'm a chronic (e)book hoarder and my absolute favorite genres within romance fiction are contemporary romance and romantic suspense, but I don't shy away from historical, paranormal or erotic romance either. Even the occasional (urban) fantasy romance, futuristic and sci fi romance may make it to my Mount TBR. This is my corner of the world wide web where I let you know what books I'm hoarding, reading and reviewing.
View my complete profile

My Book-Providers
Reviews by Rating

Reviews by Genre
Reviews by Type

Reviews by Publisher

Fellow Bloggers


GR Reading Challenge
Pearl
has read 10 books toward her goal of 50 books.

On My TBR Shelf
Unforgivable - Laura Griffin
Snapped - Laura Griffin
Darkness at Dawn - Elizabeth Jennings
Sizzle and Burn - Alexis Grant
No Mercy - Lori Armstrong
Animal Magnetism - Jill Shalvis
Crazy for Love - Victoria Dahl
Kink - Saskia Walker/Sasha White
So Sensitive - Anne Rainey
Dark Taste of Rapture - Gena Showalter
The Darkest Secret - Gena Showalter
Vampire in Atlantis - Alyssa Day
Vampire Dragon - Annette Blair
Captive Spirit - Anna Windsor
Chosen by Blood - Virna DePaul
Rebel - Zoe Archer
Stranger - Zoe Archer
A Taste of Desire - Beverley Kendall
Mistress by Midnight - Maggie Robinson
To Desire a Devil - Elizabeth Hoyt
To Tame a Dangerous Lord - Nicole Jordan

Digital TBR Next
Driven - Jayne Rylon (reread)
Shifting Gears - Jayne Rylon
Beg Me - Shiloh Walker
Tempt Me - Shiloh Walker
Jazz Baby - Lorelie Brown
Playboy Prankster - Pamela Britton
Just Like That - Erin Nicholas
Sweet Inspiration - Penny Watson
Breathe - Donna Alward
My Gigolo - Molly Burkhart
Scent of Persuason - Nikki Duncan

Blog Archive