October 17, 2007
6:39 PM
|
Edit Post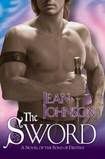 Eight brothers, born in four sets of twins, two years apart to the day-they fulfall the Curse of Eight Prophecy. To avoid tempting their destiny, the brothers are exiled to Nightfall Isle, a land where women are strictly forbidden. But, when the youngest of the mage-brothers rescues a woman from another universe, their world is altered forever.

Kelly Doyle wasn't just having a bad day, she was having a bad decade. Threatened, attacked, and accused of dabbling in witchcraft, Kelly has just about had it with her narrow-minded neighbors in her small town. And now she has somehow landed in another, magical dimension—the only woman in a magical realm inhabited by eight men who are desperately in need of a woman's touch.

Now, with Kelly in their midst, Saber, the eldest of the eight, is forced to confront the curse that plagues them-if he falls in love, disaster is imminent. But in the aftermath of a mysterious attack, Saber and Kelly find themselves drawn to each other, despite the threat of the looming Prophecy. Their passion only grows stronger, and they soon give in to temptation. If only the fates didn't take such things so seriously...
Jean Johnson knows how to treat us to delicious males, a feisty and strong heroine and a magical fantasyworld blended into an original, unique and well-written plot, sprinkled with sensual tension and erotic love scenes.

This was a perfect combination of magic, fantasy, 21st century girlpower, a bit of history, intriguing, exiled mage-brothers of which hero Saber is the first to fullfill his dreaded and prophesied destiny, and of course love, a beautiful, profound love.

The story kept me intrigued and fascinated from the first page to the last. There were so many things I loved about it: the storylines, the intensity between Kelly and Saber, the worldbuilding and last but not least: those brothers, twins but each unique and special in their own way.
I really wouldn't mind being swept away to this Isle of Nightfall and having eight magical brothers at my beg and call.
I adored the witty, sarcastic bantering between all the brothers and the battle of wits between Kelly and Saber.

The characters in the book, both main and secondary were all very likable and easy to relate to. I really appreciated it that Johnson had Kelly doubting her feelings for Saber not immediately falling head over heels but gradually acknowledging her feellings for him truly were feelings of love. Johnson does this in a writing style that's really believable and admirable.
The bond and love for each other between the brothers is one of the things that I found most attracting and it matched perfectly with the way Kelly is almost immediately embraced by all the brothers despite her fiery character and the way she starts ordering them around.

My favourite scene in the book was the wedding.
The ceremony was lovely, the vows were touching, the exchange of gifts was endearing and the weddingnight was steaming.

This book was so much more than an average fantasy romance.
The story- and worldbuilding was perfectly done, taking the reader slowly but surely to an ending that only promises more to come.
With all the information on the curse, the prophecy and the brothers, given little by little, perfectly dosed, you know it's all far from done. This book is just the beginning, the tip of the iceberg.
From the very start you know there is much more than meets the eye. This just makes the anticpation for the books to come greater because you know none of them will be able to escape his destiny. Though in my opinion destiny and prophecy receive a little magical helping hand.

In short, an intriguing, fascinating and compelling book and defenitely a series to treasure for it's ability to swep you of your feet.
Quotes:
His lips nipped hers, his tongue flicked in a taste, and her onw opened to tangle with him in a hot, wet, oh-my-good-morning! kind of kiss.

"Excuse us, dear Brother, but we did not go to all the trouble of fixing up your bedchamber just to have you go at it like rabbits right here in the chapel."
(Koranen to Saber after the wedding)

Nice to meet you!
Pearl

Netherlands
39, married to my real life romance hero, addicted to TV shows, reading romance novels and Twitter. I'm a chronic (e)book hoarder and my absolute favorite genres within romance fiction are contemporary romance and romantic suspense, but I don't shy away from historical, paranormal or erotic romance either. Even the occasional (urban) fantasy romance, futuristic and sci fi romance may make it to my Mount TBR. This is my corner of the world wide web where I let you know what books I'm hoarding, reading and reviewing.
View my complete profile

My Book-Providers
Reviews by Rating

Reviews by Genre
Reviews by Type

Reviews by Publisher

Fellow Bloggers


GR Reading Challenge
Pearl
has read 10 books toward her goal of 50 books.

On My TBR Shelf
Unforgivable - Laura Griffin
Snapped - Laura Griffin
Darkness at Dawn - Elizabeth Jennings
Sizzle and Burn - Alexis Grant
No Mercy - Lori Armstrong
Animal Magnetism - Jill Shalvis
Crazy for Love - Victoria Dahl
Kink - Saskia Walker/Sasha White
So Sensitive - Anne Rainey
Dark Taste of Rapture - Gena Showalter
The Darkest Secret - Gena Showalter
Vampire in Atlantis - Alyssa Day
Vampire Dragon - Annette Blair
Captive Spirit - Anna Windsor
Chosen by Blood - Virna DePaul
Rebel - Zoe Archer
Stranger - Zoe Archer
A Taste of Desire - Beverley Kendall
Mistress by Midnight - Maggie Robinson
To Desire a Devil - Elizabeth Hoyt
To Tame a Dangerous Lord - Nicole Jordan

Digital TBR Next
Driven - Jayne Rylon (reread)
Shifting Gears - Jayne Rylon
Beg Me - Shiloh Walker
Tempt Me - Shiloh Walker
Jazz Baby - Lorelie Brown
Playboy Prankster - Pamela Britton
Just Like That - Erin Nicholas
Sweet Inspiration - Penny Watson
Breathe - Donna Alward
My Gigolo - Molly Burkhart
Scent of Persuason - Nikki Duncan

Blog Archive