October 10, 2007
6:37 PM
|
Edit Post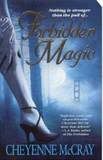 D'Anu witch Silver Ashcroft knows she walks a perilous line by practicing gray magic. But it's the only way to protect herself from the evil that surrounds her. After the horrors she has witnessed, Silver thinks she is ready for anything...until the most intensely arousing being she has ever encountered swiftly—and sensuously—proves her wrong...

Hawk is a Tuatha D'Danann warrior—powerful beings descended from the Fae. And for him duty has always come before pleasure. Then, clad only in moonlight, Silver Ashcroft welcomes him to her city of San Francisco and makes his blood sing with a passion beyond compare. She is the embodiment of fantasies he never knew he had, but the terrifying reality of his mission lurks in every shadow...

Only the strongest will survive the upcoming battle, and the forces of darkness are more powerful than ever. Now, warrior and witch must trust in their hearts above all else—for to claim victory, they first must claim each other...
Silver Ashcroft is a witch in the D'Anu Coven of San Francisco. Her Coven practices white magic and white magic only but secretly Silver practices gray magic, this is magic that uses forces outside the witches themselves and using this magic entails the danger of succumbing to black magic, the evil kind of magic.
While saving a child from warlocks' blood magic rituals she meets Hawk, a warrior of the Tuatha D' Danann who is sent to her from Otherworld because the seer of the Elvins had a vision of Fomorii being summoned by warlocks to destroy and take over the world. The Fomorii are the former seagods, now demons who will stop at nothing short of taking over Earth. Only Silver has the power to summon the D'Danann Enforcers for help in the battle against them.
From their first meeting the attraction between them sizzles of the pages but widower Hawk has no place in his hart for another woman but the wife he lost and although he doesn't fight the attraction he has a hard time admitting that he's falling in love with Silver.

In this book no one is who they seem to be and little by little McCray lifts up the veil covering some of the characters.
I liked all the characters in the book, both primary and secondary. Silver and Hawk had a nice chemistry going, both strong, proud and filled with the need to protect their loved ones.
The witches and warriors were essential additions to the story and the Balor High Priest, Darkwolf and Fomorii leader Junga were interesting representatives of evil, especially Darkwolf. He's obsessed with Silver, and not only for her magical powers. I have a feeling he hasn't quite resigned to the fact that Silver is Hawk's woman. But while reading I also got this nagging feeling that they were just the tip of the iceberg where evil is concerned.
Some of the secondary characters already have their own books written, but I'm very curious to know if Jake, the human captain of the PSF (paranormal special forces) team will be paired of with one of female D'Danann warriors.

I thought this was a very entertaining story.
Introducing a world of D'Anu witches, Balor warlocks, Fomorii demons, Elvins and Fae warriors of the Tuatha D'Danann.
A world of black, white and gray magic fighting against each other for different reasons: world domination, power, protecting loved ones.
The book is not fast-paced but certainly action-filled and intriguing.
With a lot of details on witchcraft and magical beings.
You can sense from reading the book that McCray has researched the magical world thoroughly, which results in an in-depth, well written description of the battle between good and evil magic.
And in the midst of this battle she manages to write a sensual, erotic and wonderful love-story between D'Anu witch Silver Ashcroft and Tuatha D'Danann warrior Hawk. The mix between plot and erotic scenes is balanced out quite nicely. None of them to overbearing but just right.
I tend to classify this book as erotica because of the explicitness of the sex-scenes, not the abundance of them. The erotic parts blend into the story perfectly and never take the focus away from the story at hand but rather complementing the developing love between Silver and Hawk.
There were some interesting twists in the plots I didn't see coming and this made the book more than an average paranormal love-story.
Although the book ends with a HEA (happily ever after) for Silver and Hawk you sense that the battle between good and evil has just begun and will continue in the following books.

For me Cheyenne McCray has created a compelling and intriguing world that captured my attention from the first page and kept it with her perfect mix of action, sensuality and magic.

Nice to meet you!
Pearl

Netherlands
39, married to my real life romance hero, addicted to TV shows, reading romance novels and Twitter. I'm a chronic (e)book hoarder and my absolute favorite genres within romance fiction are contemporary romance and romantic suspense, but I don't shy away from historical, paranormal or erotic romance either. Even the occasional (urban) fantasy romance, futuristic and sci fi romance may make it to my Mount TBR. This is my corner of the world wide web where I let you know what books I'm hoarding, reading and reviewing.
View my complete profile

My Book-Providers
Reviews by Rating

Reviews by Genre
Reviews by Type

Reviews by Publisher

Fellow Bloggers


GR Reading Challenge
Pearl
has read 10 books toward her goal of 50 books.

On My TBR Shelf
Unforgivable - Laura Griffin
Snapped - Laura Griffin
Darkness at Dawn - Elizabeth Jennings
Sizzle and Burn - Alexis Grant
No Mercy - Lori Armstrong
Animal Magnetism - Jill Shalvis
Crazy for Love - Victoria Dahl
Kink - Saskia Walker/Sasha White
So Sensitive - Anne Rainey
Dark Taste of Rapture - Gena Showalter
The Darkest Secret - Gena Showalter
Vampire in Atlantis - Alyssa Day
Vampire Dragon - Annette Blair
Captive Spirit - Anna Windsor
Chosen by Blood - Virna DePaul
Rebel - Zoe Archer
Stranger - Zoe Archer
A Taste of Desire - Beverley Kendall
Mistress by Midnight - Maggie Robinson
To Desire a Devil - Elizabeth Hoyt
To Tame a Dangerous Lord - Nicole Jordan

Digital TBR Next
Driven - Jayne Rylon (reread)
Shifting Gears - Jayne Rylon
Beg Me - Shiloh Walker
Tempt Me - Shiloh Walker
Jazz Baby - Lorelie Brown
Playboy Prankster - Pamela Britton
Just Like That - Erin Nicholas
Sweet Inspiration - Penny Watson
Breathe - Donna Alward
My Gigolo - Molly Burkhart
Scent of Persuason - Nikki Duncan

Blog Archive