October 13, 2007
6:38 PM
|
Edit Post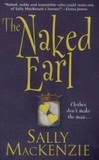 He Took Her By Surprise
When a naked earl climbs through the window into her bedchamber, Lady Elizabeth Runyon does the proper thing: She screams. Loudly. And then…well, Lizzie has had enough of being proper. She wishes to be bold. Wanton, even. She won't be commanded to put on her nightgown. Just this once, she will be absolutely daring…

She Returned the Favor
Robert Hamilton, Earl of Westbrooke, has no intention of being tricked into marriage by a detestable female, and if he has to flee naked across a rooftop, he will. Jolly good there's an open window waiting--as well as an undressed, slightly drunk, and alluringly beautiful Lady Elizabeth. Oh, dear. If they are caught together, he might have to marry her. The idea is delicious…and the temptation is irresistible…
And again I thoroughly enjoyed another installment in the Naked Nobility series.
After reading about them in The Naked Duke and the Naked Marquis they finally took center stage in their own book, Robert Hamilton (Robbie), Earl of Westbrooke and Elizabeth Runyon (Lizzie), sister of the Duke of Alvord.
They have been in love with each other ever since they were children. But ever since a humiliating experience in a brothel Robbie has trouble performing bedroom duties and he considers himself "defective". His secret problem also prevents him from offering marriage to the woman he's loved forever: Lizzie. Still he is extremely and endearingly jealous of every man who dares even to look in Lizzie's direction.
However a plan to trap Robbie into marriage and humiliate Lizzie, both part of an act of revenge, backfires and sends them straight into each other's naked arms and eventually into a marriage.

Two elements that come back in all the books are: nakedness of either or both hero and/or heroine and revenge on either hero or heroine. These elements provide not only the connection between the books but are also the things that make them different from each other, therefore making it a series that you won't get bored with quickly.
I must say that Ms Mackenzie's plots and writing style gets better with each book she releases. Where in The Naked Duke it was a nice plot and story, I must classify The Naked Earl as intriguing and exciting.
While Robbie and Lizzie's love-story is the main focus, the secondary characters and subplots are present enough to intrigue you into wanting to know more about some of these secondary characters but never so overbearing that they take over the book. In short, it proved to be an excellent mix.

In this book MacKenzie also sets the stage for the next book where secondary characters Meg and Parks are the main characters. Like she did with Robbie and Lizzie in the previous books.
Unfortunately I have to wait until next year to enjoy the next story in this series.

I highly recommend this book and series if you're in the mood for a witty story filled with funny situations and dialogues mixed with well-written characters and sensual love scenes.
Quotes:
She tasted of life, of hope, of all that he wanted and could not have

"Did I hurt you?" (Robbie)
"No." She flexed her hips again and wiggled. He gasped. "Stop talking and move!" (Lizzie)

Nice to meet you!
Pearl

Netherlands
39, married to my real life romance hero, addicted to TV shows, reading romance novels and Twitter. I'm a chronic (e)book hoarder and my absolute favorite genres within romance fiction are contemporary romance and romantic suspense, but I don't shy away from historical, paranormal or erotic romance either. Even the occasional (urban) fantasy romance, futuristic and sci fi romance may make it to my Mount TBR. This is my corner of the world wide web where I let you know what books I'm hoarding, reading and reviewing.
View my complete profile

My Book-Providers
Reviews by Rating

Reviews by Genre
Reviews by Type

Reviews by Publisher

Fellow Bloggers


GR Reading Challenge
Pearl
has read 10 books toward her goal of 50 books.

On My TBR Shelf
Unforgivable - Laura Griffin
Snapped - Laura Griffin
Darkness at Dawn - Elizabeth Jennings
Sizzle and Burn - Alexis Grant
No Mercy - Lori Armstrong
Animal Magnetism - Jill Shalvis
Crazy for Love - Victoria Dahl
Kink - Saskia Walker/Sasha White
So Sensitive - Anne Rainey
Dark Taste of Rapture - Gena Showalter
The Darkest Secret - Gena Showalter
Vampire in Atlantis - Alyssa Day
Vampire Dragon - Annette Blair
Captive Spirit - Anna Windsor
Chosen by Blood - Virna DePaul
Rebel - Zoe Archer
Stranger - Zoe Archer
A Taste of Desire - Beverley Kendall
Mistress by Midnight - Maggie Robinson
To Desire a Devil - Elizabeth Hoyt
To Tame a Dangerous Lord - Nicole Jordan

Digital TBR Next
Driven - Jayne Rylon (reread)
Shifting Gears - Jayne Rylon
Beg Me - Shiloh Walker
Tempt Me - Shiloh Walker
Jazz Baby - Lorelie Brown
Playboy Prankster - Pamela Britton
Just Like That - Erin Nicholas
Sweet Inspiration - Penny Watson
Breathe - Donna Alward
My Gigolo - Molly Burkhart
Scent of Persuason - Nikki Duncan

Blog Archive