June 10, 2007
5:28 PM
|
Edit Post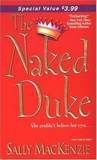 THE SURPRISE OF HER LIFE
Sophisticated. Scandalous. In fact, Miss Sarah Hamilton, a proper Philadelphian, finds London society altogether shocking. How can it be that she has awakened from her innocent slumber to find herself in bed next to a handsome–and exceedingly naked–man? The laughing onlookers standing in the doorway are no help whatsoever and surely this amorous lunatic cannot be a duke, as he claims. She is compromised – though she most certainly will not marry him!

THE SWEETEST MOMENT OF HIS
James, the Duke of Alvord, is enchanted by his unexpected bedmate–and not at all afraid of her pink-cheeked fury. True, the circumstances and place of their meeting are most unusual, but the spirited American who's pummeling him with a pillow is an imcomparable beauty. If Sarah will only listen to his perfectly reasonable explanation, James is sure that he dan capture her heart...forever.
It took some effort to obtain this book but it was well worth it.
I had so much fun reading it. It was easy to read and fast-paced. I couldn't put it away as curious as I was to find out what would happen next to James and Sarah.

The characters are lovely and endearing. James is supposed to be a rake but the actually is far from it. But he's no whimp either! He knows waht he wants and will not deter from his goal once he has his eye one something, or in this case: someone. He falls in love inmediately with Sarah and does everything to get her to marry him despite the threats on his and eventually her life too, by his evil cousin Richard.
Sarah is very innocent and pure. She can't believe James really wants her but she proves she's not immune to his charmes and in the end she does fall for him. She doesn't agree with the way things are done in England but James shows her that not everyone acts in the scandalous ways some other English noblemen do.

The secondary characters are very nice as well. And you just know the story of Robbie and Lizzie is also going to be told in the future. And as it turns out it is, in "The Naked Earl" (book 3 in the series). Both friendly and hostile secondary characters are well-written and add a nice touch to the whole story.

The story was not intense or very exciting but it certainly was a nice and pleasant read if you want a good Regency. It's the first book in a series and I'm looking forward to the next books.

Nice to meet you!
Pearl

Netherlands
39, married to my real life romance hero, addicted to TV shows, reading romance novels and Twitter. I'm a chronic (e)book hoarder and my absolute favorite genres within romance fiction are contemporary romance and romantic suspense, but I don't shy away from historical, paranormal or erotic romance either. Even the occasional (urban) fantasy romance, futuristic and sci fi romance may make it to my Mount TBR. This is my corner of the world wide web where I let you know what books I'm hoarding, reading and reviewing.
View my complete profile

My Book-Providers
Reviews by Rating

Reviews by Genre
Reviews by Type

Reviews by Publisher

Fellow Bloggers


GR Reading Challenge
Pearl
has read 10 books toward her goal of 50 books.

On My TBR Shelf
Unforgivable - Laura Griffin
Snapped - Laura Griffin
Darkness at Dawn - Elizabeth Jennings
Sizzle and Burn - Alexis Grant
No Mercy - Lori Armstrong
Animal Magnetism - Jill Shalvis
Crazy for Love - Victoria Dahl
Kink - Saskia Walker/Sasha White
So Sensitive - Anne Rainey
Dark Taste of Rapture - Gena Showalter
The Darkest Secret - Gena Showalter
Vampire in Atlantis - Alyssa Day
Vampire Dragon - Annette Blair
Captive Spirit - Anna Windsor
Chosen by Blood - Virna DePaul
Rebel - Zoe Archer
Stranger - Zoe Archer
A Taste of Desire - Beverley Kendall
Mistress by Midnight - Maggie Robinson
To Desire a Devil - Elizabeth Hoyt
To Tame a Dangerous Lord - Nicole Jordan

Digital TBR Next
Driven - Jayne Rylon (reread)
Shifting Gears - Jayne Rylon
Beg Me - Shiloh Walker
Tempt Me - Shiloh Walker
Jazz Baby - Lorelie Brown
Playboy Prankster - Pamela Britton
Just Like That - Erin Nicholas
Sweet Inspiration - Penny Watson
Breathe - Donna Alward
My Gigolo - Molly Burkhart
Scent of Persuason - Nikki Duncan

Blog Archive