June 28, 2007
5:33 PM
|
Edit Post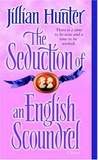 It would have been the wedding of the year-had the groom, Sir Nigel Boscastle, bothered to put in an appearance. To the shock of her distinguished guests, the respectable Lady Jane Welsham is left humiliated at the altar. Yet truth be told, although outwardly ruined she is elated to have escaped marriage to a man she does not love.

Enter Grayson Boscastle, the irresistible Marquess of Sedgecroft (and cousin to Nigel). Grayson's duty is clear: salvage the young lady's pride and reestablish the family's good name, while repairing his own tarnished reputation as one of London's most notorious scoundrels. Their whirlwind affair is the talk of the ton. Yet nothing is as it seems between the bewitching Lady Jane, who knows that her wedding was cleverly sabotaged, and her charming rogue, as they are drawn into an amusing game of seduction and secrets.
This book was funny as well as very romantic.
I loved everything: the story, the characters, the romance, the writingstyle.
This is a series I'm really going to enjoy reading.
Grayson is a hero to die for, Jane is a heroin you can really relate to.
Their interactions are romantic and fun, their chemistry is hot.
Grayson is endearing and in the way he wants to do the right thing by Jane, by his family and by the memory of his late father and brother.
Jane is endearing in the way she doesn't stand in the way of Nigel's true happiness in spite of it causing trouble for herself.
The siblings, both Boscastle and Welsham are a delight to read about.
I loved the way Jane and Grayson tried to trick and seduce eachother at every opportunity without knowing they each know of each other's schemes.

Jillian Hunter had a way of writing that enthralls you despite of it being simple and straight forward. The dialogues and interactions are simply great.

I can only say that I want more of this and luckily for me there are at least 5 more books in this series to come.

Nice to meet you!
Pearl

Netherlands
39, married to my real life romance hero, addicted to TV shows, reading romance novels and Twitter. I'm a chronic (e)book hoarder and my absolute favorite genres within romance fiction are contemporary romance and romantic suspense, but I don't shy away from historical, paranormal or erotic romance either. Even the occasional (urban) fantasy romance, futuristic and sci fi romance may make it to my Mount TBR. This is my corner of the world wide web where I let you know what books I'm hoarding, reading and reviewing.
View my complete profile

My Book-Providers
Reviews by Rating

Reviews by Genre
Reviews by Type

Reviews by Publisher

Fellow Bloggers


GR Reading Challenge
Pearl
has read 10 books toward her goal of 50 books.

On My TBR Shelf
Unforgivable - Laura Griffin
Snapped - Laura Griffin
Darkness at Dawn - Elizabeth Jennings
Sizzle and Burn - Alexis Grant
No Mercy - Lori Armstrong
Animal Magnetism - Jill Shalvis
Crazy for Love - Victoria Dahl
Kink - Saskia Walker/Sasha White
So Sensitive - Anne Rainey
Dark Taste of Rapture - Gena Showalter
The Darkest Secret - Gena Showalter
Vampire in Atlantis - Alyssa Day
Vampire Dragon - Annette Blair
Captive Spirit - Anna Windsor
Chosen by Blood - Virna DePaul
Rebel - Zoe Archer
Stranger - Zoe Archer
A Taste of Desire - Beverley Kendall
Mistress by Midnight - Maggie Robinson
To Desire a Devil - Elizabeth Hoyt
To Tame a Dangerous Lord - Nicole Jordan

Digital TBR Next
Driven - Jayne Rylon (reread)
Shifting Gears - Jayne Rylon
Beg Me - Shiloh Walker
Tempt Me - Shiloh Walker
Jazz Baby - Lorelie Brown
Playboy Prankster - Pamela Britton
Just Like That - Erin Nicholas
Sweet Inspiration - Penny Watson
Breathe - Donna Alward
My Gigolo - Molly Burkhart
Scent of Persuason - Nikki Duncan

Blog Archive