June 5, 2007
5:19 PM
|
Edit Post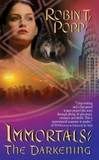 A werewolf and bounty hunter, Lexi was badass to the bone. She had no problem protecting herself in the seedy underground vampire clubs of New York City. Until the Immortal she had tried to summon actually appeared. It wasn't the intricate tattoos around his well-defined muscles that intimidated her; it was the raw power she saw shimmering in his golden brown eyes, power mingled with lust. Though she longed to give in to the passion and pleasure he promised, they first had a curse to break, a brother to find, and a whole legion of vampires to prevent from joining...
Different vibe but definitely a great next installment of this wonderful series that's becoming a sure keeper on my shelves.
If I wasn't hooked after the Calling I would have been reeled in with the Darkening. Robin Popp continues the rollercoaster ride for me in an intense story that wrapped me in a blanket of magic, suspense, raw sexuality and a whirlwind of emotions. I'm still all tingly inside and goosebumped all over after reading last few chapters!!

The story of Darius the Immortal trapped by his mother in the realm of Ravenswood because of her fear of losing him to earth's vile temptations like the other Immortals were. Therefore condemned to train endlessly for fighting evil in a fight that he would never engage in.
But then the Calling spell is used and it's so powerful he's briefly yanked away from his safe haven and his life has meaning once again.

On the earthly realm he teams up with Lexi Corvin, both fire-witch and werewolf, earning her living as a bounty hunter. A combination that's so powerful she's no woman you would want to mess with. She kicks ass!

If I thought The Calling was magical...that was nothing compared to this world inhabited by immortals, witches, vampires, shapeshifters, succubus, leprechauns and woodnymphs. And of course the big, bad, ancient demon and Tain also make there stunning appearances.
Tain's motivations intrigue me and I can't wait to see if he's really the Immortal gone rogue these two books want me to believe. I think this one lifts a bit of the veil covering Tain's true destiny for the reader able to read between the lines.

Of course another author means a different focus so The Darkening was not as witty, funny as The Calling was and this was not the beautifully written love-story but a darker, intenser story of how strong sexual atrraction turns into a love as beautiful and strong as Adrian and Amber's.
The book entranced me and kept pulling me into this fascinating world of magic and Immortals. Rooting for life magic in their struggle against death magic personified by the ancient demon, Amadja.

The secondary characters weren't as well developed and the love-scenes weren't as steamy hot as in Ashley's book (hey, she also writes erotica so she's an expert on steamy hot scenes!) but there was so much other enticing stuff going on that I enjoyed the read just as much, if not more because I got a deeper glimpse of this truly amazing world these authors have created and are creating. It leaves me wanting more and more and more.
So I say to Robin T. Popp: Thanks for keeping me on the rollercoaster and to Joy Nash I say: Bring.It.On! And hit me with some more of this good stuff!

Nice to meet you!
Pearl

Netherlands
39, married to my real life romance hero, addicted to TV shows, reading romance novels and Twitter. I'm a chronic (e)book hoarder and my absolute favorite genres within romance fiction are contemporary romance and romantic suspense, but I don't shy away from historical, paranormal or erotic romance either. Even the occasional (urban) fantasy romance, futuristic and sci fi romance may make it to my Mount TBR. This is my corner of the world wide web where I let you know what books I'm hoarding, reading and reviewing.
View my complete profile

My Book-Providers
Reviews by Rating

Reviews by Genre
Reviews by Type

Reviews by Publisher

Fellow Bloggers


GR Reading Challenge
Pearl
has read 10 books toward her goal of 50 books.

On My TBR Shelf
Unforgivable - Laura Griffin
Snapped - Laura Griffin
Darkness at Dawn - Elizabeth Jennings
Sizzle and Burn - Alexis Grant
No Mercy - Lori Armstrong
Animal Magnetism - Jill Shalvis
Crazy for Love - Victoria Dahl
Kink - Saskia Walker/Sasha White
So Sensitive - Anne Rainey
Dark Taste of Rapture - Gena Showalter
The Darkest Secret - Gena Showalter
Vampire in Atlantis - Alyssa Day
Vampire Dragon - Annette Blair
Captive Spirit - Anna Windsor
Chosen by Blood - Virna DePaul
Rebel - Zoe Archer
Stranger - Zoe Archer
A Taste of Desire - Beverley Kendall
Mistress by Midnight - Maggie Robinson
To Desire a Devil - Elizabeth Hoyt
To Tame a Dangerous Lord - Nicole Jordan

Digital TBR Next
Driven - Jayne Rylon (reread)
Shifting Gears - Jayne Rylon
Beg Me - Shiloh Walker
Tempt Me - Shiloh Walker
Jazz Baby - Lorelie Brown
Playboy Prankster - Pamela Britton
Just Like That - Erin Nicholas
Sweet Inspiration - Penny Watson
Breathe - Donna Alward
My Gigolo - Molly Burkhart
Scent of Persuason - Nikki Duncan

Blog Archive