June 1, 2007
5:16 PM
|
Edit Post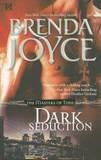 Highland warriors sworn to protect Innocence through the ages….
Malcolm of Dunroch has been chosen by the secret Brotherhood, a nameless society of pagan knights sworn to defend mankind. He is a novice to his extraordinary—and dangerous--powers. But he has already broken his vows--for an innocent woman's death is on his hands. Malcolm is determined to fight his dark sexuality, denying himself all pleasure…until fate sends him another Innocent, the beautiful bookseller, Claire Camden.

Desire is the first weapon...
Since her mother's murder, Claire has done everything possible to make a safe, secure life for herself in a city where danger lurks on every street corner, especially in the dark of the night. But nothing can prepare her for the powerful and sexual medieval warrior who sweeps her back into his time—a treacherous, frightening world where the hunters and the hunted are one and the same. Claire needs Malcolm to survive, yet she must somehow keep the dangerously powerful Master at arm's length. For she has no wish to die in his bed like the others—in the throes of dark, forbidden pleasure…
After having read Moning's Highlanders I was craving for some Highlanders who could entice me the way they had….and I'll be looking no further. Brenda Joyce has provided them with the Masters of Time-series.

This was Charmed meets Highlander in a sizzling paranormal debut of historical romance author Brenda Joyce.
I haven't read any of Joyce's historicals but if they are only half as good as this paranormal debut, they are definitely worth a try.
Dark Seduction was a brilliant mix of suspense, magic and sensuality. A combination of time-travel, medieval and paranormal with a great plot and a terrific beginning of a very promising series.

Joyce gave us a strong and special heroin, a scrumptious, fierce hero and some fine secondary characters, mainly other Masters who in the future will have their own books (I can't wait!!).
The story was easy to read and fast-paced. A bit chaotic chronologically in the beginning but that feeling disappeared as soon as you get into the wonderful story of Malcolm and Clair.
Malcolm refuses to fall in love with Clair because as a Master anything can and will be used against you by evil. And Clair refuses to fall in with Malcolm because she knows she must eventually return to her own time. But of course nor evil neither time can stop true and genuine love.

But not only hero and heroin entice you, Royce, Aidan, MacNeill, Ironheart and even the evil of evilest Moray are powerfull secondary characters who give the book just that little bit extra to make it great.
Quotes:

If he could make her throb greedily in a near climax with his tongue down her throat, she knew she'd die and go to heaven when they made love.

The wave of pleasure threatened to crest, break. He stared, slowly sitting up. Aye, he cared for her, but it was too late.
For she stood there, shaking and panting, swollen and wet.
Rating: 8 out of 10
Nice to meet you!
Pearl

Netherlands
39, married to my real life romance hero, addicted to TV shows, reading romance novels and Twitter. I'm a chronic (e)book hoarder and my absolute favorite genres within romance fiction are contemporary romance and romantic suspense, but I don't shy away from historical, paranormal or erotic romance either. Even the occasional (urban) fantasy romance, futuristic and sci fi romance may make it to my Mount TBR. This is my corner of the world wide web where I let you know what books I'm hoarding, reading and reviewing.
View my complete profile

My Book-Providers
Reviews by Rating

Reviews by Genre
Reviews by Type

Reviews by Publisher

Fellow Bloggers


GR Reading Challenge
Pearl
has read 10 books toward her goal of 50 books.

On My TBR Shelf
Unforgivable - Laura Griffin
Snapped - Laura Griffin
Darkness at Dawn - Elizabeth Jennings
Sizzle and Burn - Alexis Grant
No Mercy - Lori Armstrong
Animal Magnetism - Jill Shalvis
Crazy for Love - Victoria Dahl
Kink - Saskia Walker/Sasha White
So Sensitive - Anne Rainey
Dark Taste of Rapture - Gena Showalter
The Darkest Secret - Gena Showalter
Vampire in Atlantis - Alyssa Day
Vampire Dragon - Annette Blair
Captive Spirit - Anna Windsor
Chosen by Blood - Virna DePaul
Rebel - Zoe Archer
Stranger - Zoe Archer
A Taste of Desire - Beverley Kendall
Mistress by Midnight - Maggie Robinson
To Desire a Devil - Elizabeth Hoyt
To Tame a Dangerous Lord - Nicole Jordan

Digital TBR Next
Driven - Jayne Rylon (reread)
Shifting Gears - Jayne Rylon
Beg Me - Shiloh Walker
Tempt Me - Shiloh Walker
Jazz Baby - Lorelie Brown
Playboy Prankster - Pamela Britton
Just Like That - Erin Nicholas
Sweet Inspiration - Penny Watson
Breathe - Donna Alward
My Gigolo - Molly Burkhart
Scent of Persuason - Nikki Duncan

Blog Archive