June 19, 2007
5:31 PM
|
Edit Post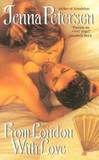 Meredith Sinclair is everything a lady of society should be. She sparkles at every party, men fall at her feet and every woman longs to be like her. But beneath that popular exterior lurks a serious spy. And her newest assignment is very personal.

She is sent to investigate Tristan Archer's involvement in the robbery of a painting that may have hidden secret information about the British Army's movements in France. Meredith knows she shouldn't grow to close to a potential traitor, but many years ago Tristan saved her life. And it's harder and harder to believe he could be so wrong when his kisses are so right.

Will the evidence break her heart... or will her heart set them both free?
Man oh man, Jenna Petersen sure knows how to write books that make you go through every emotion.
I felt everything the hero and heroin were going through just because of her writing-style.
It's intense and very vivid...it just sizzles of the pages.
After reading Scandalous I had high expectations for the Lady Spies-trilogy and I must say those expectations were certainly met.
It was a little less in playing havoc with my emotions than Scandalous but that didn't make it a less wonderful read.

And also a great concept for a regency-trilogy: Take three widows of the ton and train them to become the best spies of the country. No one will suspect the popular ladies to be the ones who solve cases of theft, murder and treason. Of course comparison with the hit-series from the seventies is inevitable when you have three lady-spies and there boss is called Charlie, but I thought it still was a nice concept. While reading I pictured myself in a beautiful gown roaming the ballrooms and at the same time decoding letters, picking locks, dodging bullets and bringing traitors to justice.

This is the first book in the trilogy and tells the story of Meredith Sinclair and Tristan Archer.
Tristan is suspected of treason and Meredith is the spy assigned to bring him to justice because they have a prior connection.
The attraction and sensuality between Meredith and Tristan is sparkling and intense. Both of them have their understandable reasons for not giving into it but of course ultimately it's unavoidable that they do.

I really liked the secondary characters, especially Meredith's fellow-spies Ana and Emily. Each of them have their own specialty and together they form a practically invincible team.
Another intriguing character in the book was Tristan's friend Phillip. I wonder if he gets his own story in the future...

Another thing I liked was the plot. You know it from the start but because Tristan's motivations are not clarified until the very end it keeps you on the edge. Although in various earlier parts in the book I really wanted Tristan to tell Meredith his reasons for doing what he was doing, this way was much better for the book!

I'm really looking forward to the next two books in the series since these are about the two fellow-spies who are secondary characters in this book.
Quote:
There was his name again, coming from her lips to arouse him. Just that whisper made him forget his position both in society and his current situation.

Nice to meet you!
Pearl

Netherlands
39, married to my real life romance hero, addicted to TV shows, reading romance novels and Twitter. I'm a chronic (e)book hoarder and my absolute favorite genres within romance fiction are contemporary romance and romantic suspense, but I don't shy away from historical, paranormal or erotic romance either. Even the occasional (urban) fantasy romance, futuristic and sci fi romance may make it to my Mount TBR. This is my corner of the world wide web where I let you know what books I'm hoarding, reading and reviewing.
View my complete profile

My Book-Providers
Reviews by Rating

Reviews by Genre
Reviews by Type

Reviews by Publisher

Fellow Bloggers


GR Reading Challenge
Pearl
has read 10 books toward her goal of 50 books.

On My TBR Shelf
Unforgivable - Laura Griffin
Snapped - Laura Griffin
Darkness at Dawn - Elizabeth Jennings
Sizzle and Burn - Alexis Grant
No Mercy - Lori Armstrong
Animal Magnetism - Jill Shalvis
Crazy for Love - Victoria Dahl
Kink - Saskia Walker/Sasha White
So Sensitive - Anne Rainey
Dark Taste of Rapture - Gena Showalter
The Darkest Secret - Gena Showalter
Vampire in Atlantis - Alyssa Day
Vampire Dragon - Annette Blair
Captive Spirit - Anna Windsor
Chosen by Blood - Virna DePaul
Rebel - Zoe Archer
Stranger - Zoe Archer
A Taste of Desire - Beverley Kendall
Mistress by Midnight - Maggie Robinson
To Desire a Devil - Elizabeth Hoyt
To Tame a Dangerous Lord - Nicole Jordan

Digital TBR Next
Driven - Jayne Rylon (reread)
Shifting Gears - Jayne Rylon
Beg Me - Shiloh Walker
Tempt Me - Shiloh Walker
Jazz Baby - Lorelie Brown
Playboy Prankster - Pamela Britton
Just Like That - Erin Nicholas
Sweet Inspiration - Penny Watson
Breathe - Donna Alward
My Gigolo - Molly Burkhart
Scent of Persuason - Nikki Duncan

Blog Archive