June 3, 2007
5:17 PM
|
Edit Post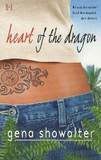 Grace Carlyle's world was about to change . . .
Searching for her missing brother, Grace Carlyle never dreamed she would discover a secret world populated by mythological monsters—or find herself facing a sword-wielding being whose looks put mortal men to shame. But there he was, Darius en Kragin, one of a race of shape-shifting warriors bound to guard the gates of Atlantis and kill al travelers who strayed within its borders.

Their forbidden love would either bring their worlds together—or tear them both apart…
Now Grace's life was in his hands, and Darius had to choose between his centuries-old vow and the woman who had slipped beneath his defenses and stolen the heart of Atlantis's fiercest dragon.
I've embarked on a for me new series by Showalter: Atlantis
And after a doubtful start I have to say I loved it.
The first three chapters weren't what I'm used to by Showalter and I was really fearing that her Atlantis-series was going to be a disappointment after her terrific Imperia-series.
I missed the humour and sparkles I've grown to love in her books.
But after chapter four I began to have that familiar smile plastered on my face again as humour, sparkly retorts and sensuality emerged from the pages.

Grace is a lovely woman, missing excitement and pleasure in her life but making the best of it nonetheless.
She's very funny and strong-willed and a perfect match for Darius, Guardian of the Mist of Atlantis. He lost his family to human travelers to Atlantis who slaughtered them and has since then learned to still his every emotion. Until he meets Grace who makes him feel and experience everything on the emotional scope, from anger and irritation to love and admiration. He in return proves to be the answer to everything Grace was missing in her life.
His feelings for Grace make him far more likeable for he turns into the kind of hero Showalter always reels me in with.

The book has the feel and touch of the Imperia-series but in a different setting: the world of Atlantis with all it's mythical creatures and history.
With this first book in the series I was not as enthralled as with the Imperia-series or her contemporary but it certainly hasn't disappointed me and Showalter stays on my auto-buy list and who knows maybe the next installments will have me raving and ranting again.
Quote:
He was a man of contradictions. With his swirling, ice-blue eyes, harsh, demanding tone and rocksolid muscles, he personified everything cold and callous, even incapable of offering warmth. And yet, when he touched her, she'd felt molten lava run through her veins.

Nice to meet you!
Pearl

Netherlands
39, married to my real life romance hero, addicted to TV shows, reading romance novels and Twitter. I'm a chronic (e)book hoarder and my absolute favorite genres within romance fiction are contemporary romance and romantic suspense, but I don't shy away from historical, paranormal or erotic romance either. Even the occasional (urban) fantasy romance, futuristic and sci fi romance may make it to my Mount TBR. This is my corner of the world wide web where I let you know what books I'm hoarding, reading and reviewing.
View my complete profile

My Book-Providers
Reviews by Rating

Reviews by Genre
Reviews by Type

Reviews by Publisher

Fellow Bloggers


GR Reading Challenge
Pearl
has read 10 books toward her goal of 50 books.

On My TBR Shelf
Unforgivable - Laura Griffin
Snapped - Laura Griffin
Darkness at Dawn - Elizabeth Jennings
Sizzle and Burn - Alexis Grant
No Mercy - Lori Armstrong
Animal Magnetism - Jill Shalvis
Crazy for Love - Victoria Dahl
Kink - Saskia Walker/Sasha White
So Sensitive - Anne Rainey
Dark Taste of Rapture - Gena Showalter
The Darkest Secret - Gena Showalter
Vampire in Atlantis - Alyssa Day
Vampire Dragon - Annette Blair
Captive Spirit - Anna Windsor
Chosen by Blood - Virna DePaul
Rebel - Zoe Archer
Stranger - Zoe Archer
A Taste of Desire - Beverley Kendall
Mistress by Midnight - Maggie Robinson
To Desire a Devil - Elizabeth Hoyt
To Tame a Dangerous Lord - Nicole Jordan

Digital TBR Next
Driven - Jayne Rylon (reread)
Shifting Gears - Jayne Rylon
Beg Me - Shiloh Walker
Tempt Me - Shiloh Walker
Jazz Baby - Lorelie Brown
Playboy Prankster - Pamela Britton
Just Like That - Erin Nicholas
Sweet Inspiration - Penny Watson
Breathe - Donna Alward
My Gigolo - Molly Burkhart
Scent of Persuason - Nikki Duncan

Blog Archive