June 11, 2007
5:29 PM
|
Edit Post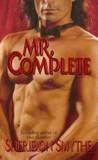 "This is your lucky night. I just happen to be wearing black silk boxers"
That was exactly the kind of confirmation Lydia Carmichael was looking for. Proof positive that the drop-dead gorgeous date provided by Mr. Complete Escort Services was a gigolo. All she had to do was lure that bad boy into her bad and she'd put the slimeballs out of business.

But Lydia soon learned she wasn't cut out for this kind of under-the-covers work. Luke was nog only Hot with a capital H, he was also a considerate, caring man.
As she discovered there was a lot more beneath the surface than his sexy underwear, she found herself wanting to leave her tidy white-cotton life behind.
If her secret wishes could come true, their bought-and-paid-for beginning would lead to a happilly-ever-after end that had nothing to do with money and everything to do with love.
When I read the blurb I thought it was going to be a raunchy, cheesy story on an escort-service and a woman trying to take them out of business.
But I was very pleasantly surprised!
The book was actually extremely funny, it had a good story going and the characters were fantastic. Not only Luke and Lydia as a perfect couple, Luke's employees, Lydia's aunt and Lydia's friend and associate were witty and smart. Luke's secretary, Mrs Scuttle was downright hilarious and the book wouldn't have been as funny without her in it.
But next to the fun, there was also the sexual tension between Luke and Lydia, which Lydia tries to deny, but fails miserably at it. And deeper feelings that utterly confuse Luke, since he was only trying to teach Lydia a lesson.
There is also Luke's evil foster brother trying to ruin him and in the end there's love and marriage-proposals all over the place.

A delicious read and a definite page-turner and I can't wait to read the other books in this series.
If this one's an indication, I won't be dissapointed.
If you're looking for a fun read to spent a few hours with, look no more. You've found it!

Nice to meet you!
Pearl

Netherlands
39, married to my real life romance hero, addicted to TV shows, reading romance novels and Twitter. I'm a chronic (e)book hoarder and my absolute favorite genres within romance fiction are contemporary romance and romantic suspense, but I don't shy away from historical, paranormal or erotic romance either. Even the occasional (urban) fantasy romance, futuristic and sci fi romance may make it to my Mount TBR. This is my corner of the world wide web where I let you know what books I'm hoarding, reading and reviewing.
View my complete profile

My Book-Providers
Reviews by Rating

Reviews by Genre
Reviews by Type

Reviews by Publisher

Fellow Bloggers


GR Reading Challenge
Pearl
has read 10 books toward her goal of 50 books.

On My TBR Shelf
Unforgivable - Laura Griffin
Snapped - Laura Griffin
Darkness at Dawn - Elizabeth Jennings
Sizzle and Burn - Alexis Grant
No Mercy - Lori Armstrong
Animal Magnetism - Jill Shalvis
Crazy for Love - Victoria Dahl
Kink - Saskia Walker/Sasha White
So Sensitive - Anne Rainey
Dark Taste of Rapture - Gena Showalter
The Darkest Secret - Gena Showalter
Vampire in Atlantis - Alyssa Day
Vampire Dragon - Annette Blair
Captive Spirit - Anna Windsor
Chosen by Blood - Virna DePaul
Rebel - Zoe Archer
Stranger - Zoe Archer
A Taste of Desire - Beverley Kendall
Mistress by Midnight - Maggie Robinson
To Desire a Devil - Elizabeth Hoyt
To Tame a Dangerous Lord - Nicole Jordan

Digital TBR Next
Driven - Jayne Rylon (reread)
Shifting Gears - Jayne Rylon
Beg Me - Shiloh Walker
Tempt Me - Shiloh Walker
Jazz Baby - Lorelie Brown
Playboy Prankster - Pamela Britton
Just Like That - Erin Nicholas
Sweet Inspiration - Penny Watson
Breathe - Donna Alward
My Gigolo - Molly Burkhart
Scent of Persuason - Nikki Duncan

Blog Archive